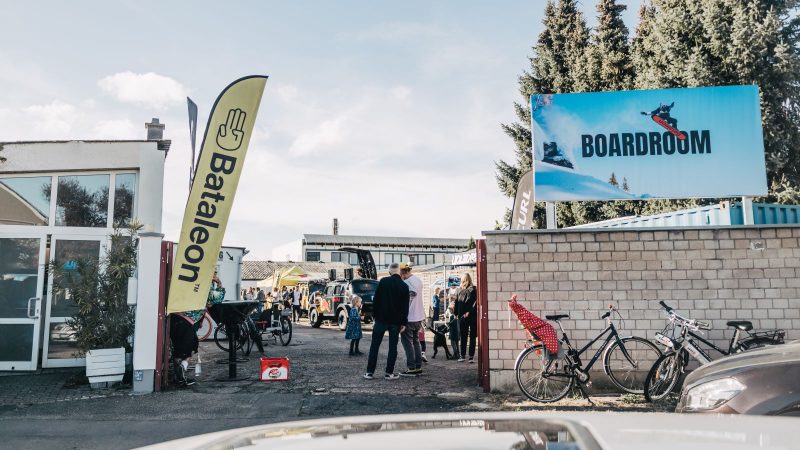 Gallery: Boardroom GmbH Shop Opens In Cologne
Rene Dicke (Agentur Blauer Himmel – Agency Bataleon, Rip Curl, …), Benjamin Süss (CEO – Wasserski Langenfeld, the biggest wakeboard cable in the world), and Johannes Degenhardt (CEO of Unit Parktech AG, an obstacle company for wakeboards, and Unit Surfpool) are setting up a pure snowboard store in the centre of Cologne.
The store, Boardroom GmbH is set out across 150 square metres and will stock all of the top snow brands, including Bataleon, Volcom, Burton, and Vans. The interior was designed by Armin Tigges, Head of Postwiesenpark, as part of an upcycling interior design project.
Shop Opening Date: 22.10.
Boardroom GmbH Features
Service Garage: Featuring machines which allow perfect board services.
Rental: In partnership with Bataleon and Volcom, all equipment is available for renting, so customers can look cool whilst riding…and on Instragram.
Snow School: In partnership with the Burton Learn To Ride School at "Stylefish" in Winterberg.
Travel: In partnership with Cologne Event Agency, the store will run local trips to Winterberg and weekly based tours to the Alps.
Opening Event – 22/10
Burton Riglet Park in our 400 square metre atrium
Further Kids Actions in Planning
Miniramp: We have our own 12m wide mini-ramp
Foodtrucks and Live Graffiti
Red Bull Music Truck with well known Local DJs
The owners report around 1000-1500 people attended the event