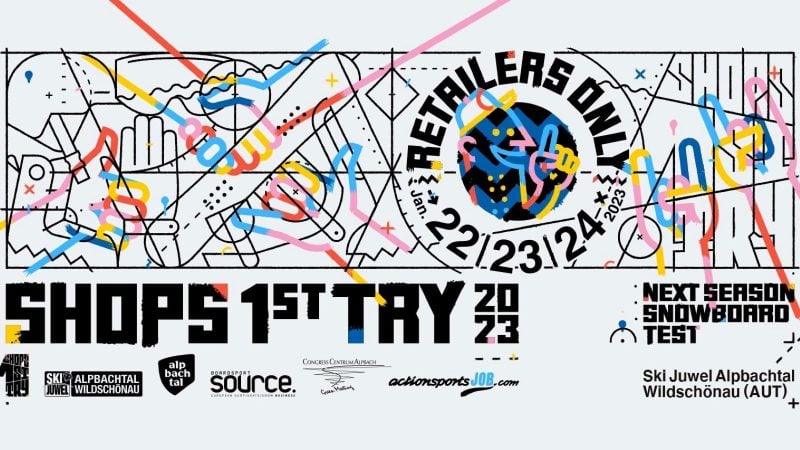 Shops 1st Try, Austrian On Snow Demo Preview
Shops 1st Try is back in full force!
After a 3-year covid enforced break Shops 1st Try is back at its regular location of Alpbachtal-Wildschönau, with its spacious test area across Alpbachtal's wide and varied terrain. The test village is at the PöglbahnParking area in Inneralpbach, at the bottom of the main SkiJuwel lifts and is open Sunday, Monday and Tuesday starting at 7.45am for registration and wrapping up at 3.30pm. The indoor exhibition area is open from 4.30pm to 10.30pm on the Sunday and Monday with the dinner starting on both nights from around 6pm. Currently over 90 brands have registered to exhibit, as always this is dominated by hardgoods brands with most boards, bindings and boot brands represented but also includes a significant number of goggles, accessories and outerwear brands.
Organisers decided to add another area for exhibitors right next to the existing outdoor village because existing exhibitors wanted to increase their stand size. This of course also allows some more brands, who registered late to be part of the event.
The full list is a who's who of snowboard brands. New brands to the event this year exhibiting indoors only are Evoc, db journey and exhibiting outdoors and indoors BeExtreme, Boomtag, Cardiff, Double Deck, Fjell Snowboards, Kemper Snowboards, Kohla, OES, Pallas, Spark R&D, Telos, Transform Gloves, and United Shapes. In the outdoor Micro Brand Area in the test village you will find Äsmo, Clew, DRIFT, Plum, Pro-Tec and Tempelton.
At the last Shops 1st Try dealers made a total of 8255 tests with the event attracting retailers from all over Europe. Of the 270 participating shops 35% of the shops were German and 20% Austrian with the rest spread out across Europe, with a good contingents from Switzerland the UK, Poland, Czech Republic and Benelux.
This on-snow demo has become the biggest single gathering of the snowboard community in Europe with many riders and industry figures flying in from North America and beyond to attend. On hand as always will be the 'Shred Buddies' (Pros, Ams and ambassadors) to ride with you and offer their views on the products being tested.
As usual there's a packed evening schedule. Proceedings kick off with Shops 1ST Try Industry Welcome Dinner by Alpbach Tourismus at the Hotel Alphof which is open to all exhibitors after a hard day of stand building on the first night. For the next two nights it's the Highlight Exhibition Dinners at the congress Centrum Alpbach open to retailers and brands. These evenings combine a relaxed dinner surrounded by product displays from exhibiting brands. The outerwear brands will be there in force, as this is the time of day when retailers have the time to talk about this product category after a full day of testing hardgoods. Organisers are also working on a book store that will introduce snowboarding books to retailers and The Highlight Exhibition Dinner will debut a book exhibition named Book-o-rama. Tassilo Hager (of Curator) has put together a fine selection of titles and the following authors will be attending the show: Patrick "Brusti" Armbruster with "Barely Made It", Peter Radacher with "A brief history of the snowboard", Carlos Blanchard presenting "Dreams" and of course Tassilo with his own books "CURATOR – Vol. 2 & 3" and "Snowboarding makes me happy." Not confirmed at time of printing is the appearance of Jeremy Jones with "The Art of Shralpinism: Lessons from the Mountains". Other books that will be presented: Club Sandwich by Matt Georges & Perly, Heroes by Jerome Tanon and Hunting for Bluebird by Vincent Skoglund.
During the evenings the Retailers Choice Board Design award by, ahem, BoardSport Source will be voted on. And for those with stamina join the parties planned at the Jakober Pub and Postalm. On Sunday, Mortal Kombat Sound and MC Ucee will turn the night into day in the Jakober Pub and more chilled music will be played by Tricky Duke and Oida Leck in the Post Alm. On Monday, DJ BRX and Laima will play in the Jacober Pub.
The event is open to retailers from all over Europe, so book your flights and register immediately. Closest airports are Innsbruck followed by Munich or take a train to Brixlegg and then catch a taxi up the hill to Alpbach. See you out testing or in the exhibition dinner! At Europe's biggest on snow event.