SUP11 City Tour Want To Break A World Record With Your Help
In an attempt to break a world record, the team at SUP11 City Tour are asking for volunteers to join the cause. There needs to be 1000 paddlers at the same time in the canals of Leeuwarden, Holland to beat the current record of 844 paddlers at one time that is currently held in Russia.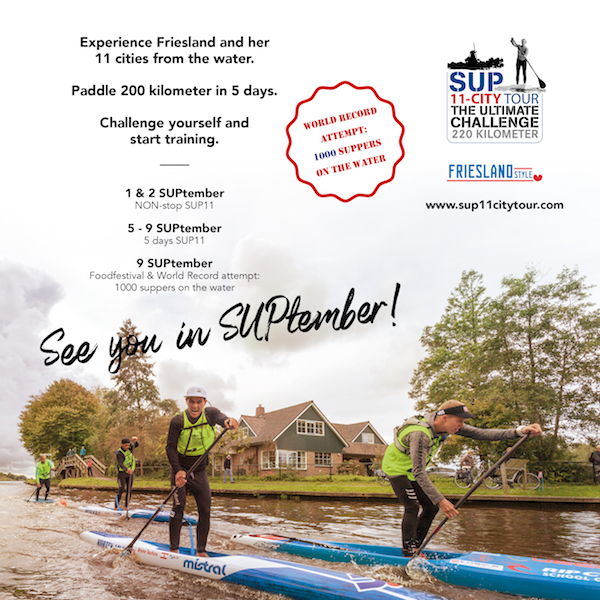 Press Release: In just over 155 days the 10th edition of the SUP11 City Tour will begin! This year we will attempt to get a WORLD RECORD – but we need YOU! Our dream is to break a world record and have 1000 paddlers on the canals on the final day in Leeuwarden, Holland – come rain or shine!
We'll paddle with 1000 other paddlers at the same time in the canals of the Cultural Capital of Europe!
In 2018 we will enter the history books and you can help us to write that history. How cool is that?!
Of course, you want to be part of it! And that is possible. We need you and all your friends, family and vague acquaintances to make it happen!
How?
You can register for the record attempt only € 10,- (incl tee + 2 x drink coin) or paddle the last stage of the SUP11 City Tour, then you paddle for the record anyway. For this day we have a special price of € 50, – (no tracker).
After breaking the World Record we like to celebrate this victory with you on our festival with food trucks, drinks, music and fun!
DATE REMINDER!
1-2 SUPtember: non-stop
4th of SUPtember: registration & prologue
5-9 SUPtember: 5 day event New option to choose:
– Paddle non-stop & 5 days
9th of SUPtember: record attempt to paddle with 1000 paddlers at the same time!
Enter here the record attempt!
Let us also know on Facebook if you are coming!