Issue Of 2018 International Report On Mountain & Snow Tourism
The 10th annual 2018 International Report on Snow & Mountain Tourism, written by Laurent Vanat, is now available to download. The report is a world-renowned reference for data about ski resorts tourism covering 67 countries across the globe.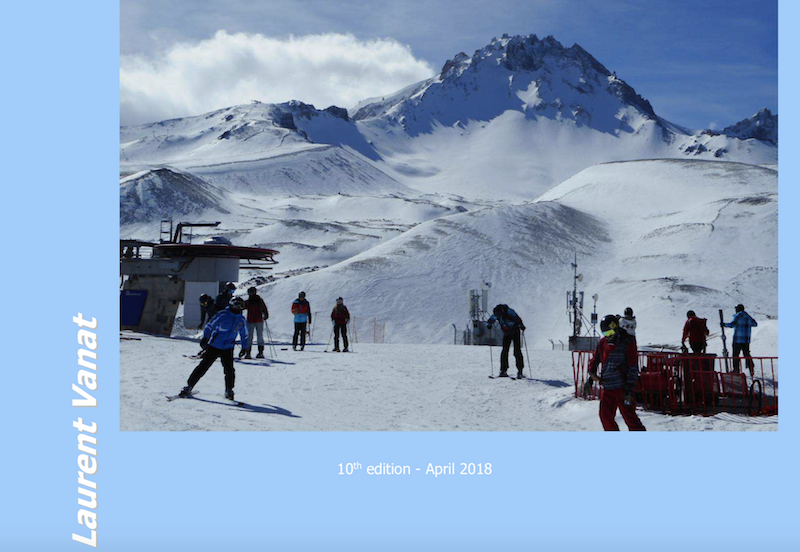 Press Release: This month of April 2018 sees the release of the 10th edition of the International Report on Snow & Mountain Tourism, which premiered at the Mountain Planet International Exhibition in Grenoble last week. On this occasion, to celebrate its 10th edition, this report, usually published only in English and Chinese, benefits from an exclusive French version.
This review of the global evolution of the ski industry shows following outlines:
– It is satisfactory to note that after 3 years of stagnation or decline, the total number of skier visits worldwide is now up 4% over the winter of 2016/17.
– The last few years have shown some changes. Western markets have seen a disruption in the business model with multi-resorts discounted seasonal passes, a phenomenon that already began to appear in North America for the past decade and is continuing to expand.
– In North America, there have been major consolidation operations among the major players in the industry, with high financial performance expectation. The result is ongoing rising prices, with a negative effect on the number of practicing skiers.
– In the Alps, the number of very large truly interconnected ski areas has increased, thanks to the construction of interconnection lifts in Austria.
–  And of course, the market is booming in China, where 57 new ski resorts have mushroomed in 2017.
The industry's fundamental challenges remain: demographic change, with baby boomer's retirement and low customer renewal, global competition of other vacation, leisure and recreation activities, and improving retention rates of beginners in offering up-to-date learning solutions.
The coming years promise to be exciting for the global ski market!
Coverage: There are currently 67 countries in the world that offer equipped outdoor ski areas covered with snow. Taking into account indoor facilities , mountaineering-only areas and other types of facilities such as dry slopes, the figure can be as high as 100 . Even if snow fields are much more numerous, about 2'000 ski resorts have been identified worldwide. Besides the major ski destinations in terms of skier visits, there are a number of other, smaller destinations, where skiing has been an industry for a long time, or is currently developing. The most obvious new destinations are Eastern Europe and China, but there are a number of other small players spread out across the globe: Cyprus, Greece, India, Iran, Israel, Lebanon, Lesotho, Morocco, New Zealand, Pakistan, South Africa, Turkey and many more.
Laurent Vanat: Besides his personal involvement in the sector of snow & mountain tourism, Laurent Vanat runs his own consulting firm specialized in business management, Laurent Vanat Consulting Ltd. He is working on economic aspects, in industries from all backgrounds, which go well beyond the snow and the mountain. One of his specialties is to assist companies in the study of their business plan. Laurent Vanat has been invited to present his report at various international meetings, including the OITAF Congress in Rio , those of the WTO in Andorra, Almaty, Tbilisi and Ulsan, ISPO in Beijing, Mountain Planet in Grenoble, various meetings of the FIS and the meetings of Grand Ski in Chambéry , among others.
You can download the full report from website www.vanat.ch  / page Publications