PUSHING BOARDERS Event Examines How Skateboarding Is A Tool For Social Change
PUSHING BOARDERS is an event that seeks to examine how skateboarding shapes communities and individual identities. It is a collaboration between London based non-profit groups; SkatePal, Re-verb Skateboarding, and Long Live Southbank (LLSB).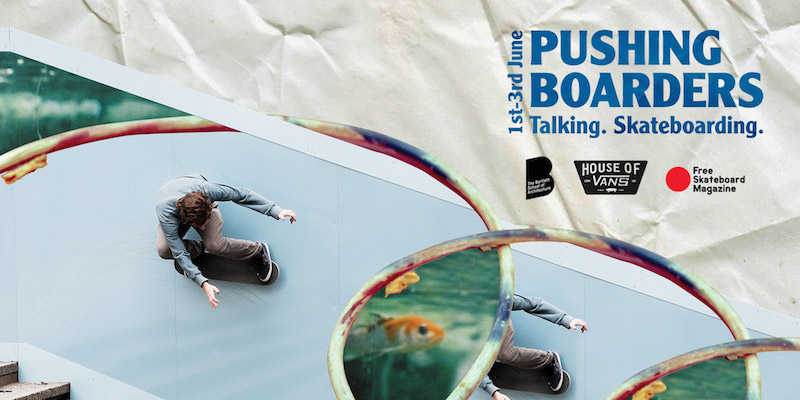 Press Release: A unique line-up of professional skateboarders, community leaders and renowned scholars from a wide variety of disciplines will be joining forces for the first time to examine the unconventional role of skateboarding in fields as diverse as urban planning policy, humanitarian aid, and gender identity.
Lucy Adams, Professional Skateboarder, said: "Pushing Boarders is a fantastic opportunity to show the social and cultural impact of skateboarding around the world and raise the profile of skateboarding in the UK as we see international experts in their fields come to London for this first-of-its kind meeting."
PUSHING BOARDERS is a collaboration between London based non-profit groups SkatePal, Re-verb Skateboarding, and Long Live Southbank – the organisation behind the successful campaign which saved the 'Undercroft' skate spot on London's South Bank from redevelopment. The event, which is a celebration of the social and cultural impact of skateboarding, will take place at the House of Vans London and The Bartlett School of Architecture, UCL from June 1st-3rd.
Highlights of the event include 'Globally Stoked' – a photography exhibition featuring images of emerging skate scenes from Peru to Palestine; 'Skateboarding is Not a Crime: How to Build a Skate-friendly City' – a debate between city officials and public space advocates; a discussion on experiences of race and identity within skate culture led by University of Southern California professor Neftalie Williams; and 'The Rise of Female Skateboarders' discussing how urban spaces, predominantly designed by men, affect and interact with female skaters.
Some of the biggest names in skateboarding and academia will travel to London to be part of the panel discussions over the course of the weekend, including: Elissa Steamer, the first woman to become a professional skateboarder; MIT-trained architect and pro-skater Alexis Sablone; UK pro-skater Lucy Adams; Skateboarding Coordinator for the City of Malmö Gustav Svanborg Eden; Founder of Skateistan Oliver Percovich; pro-skater and children's book author Karl Watson; and art historian and satirical skateboarding critic Ted Barrow.
Oliver Percovich, founder of Skateistan: "We've learned so much over the last ten years and Pushing Borders is a fantastic opportunity for us to share our experiences with other organisations who share our passion for empowering youth through skateboarding."
The weekend kicks off on Friday 1st June with the opening party at House of Vans featuring DJs and a skate film premiere. Talks take place over the Saturday and Sunday, with a free skate school, a street market and Drop-in 'PhD surgery' for anyone interested in writing their university thesis about skateboarding. The weekend concludes with a skate session at the legendary Southbank Undercroft.
Schedule | Venue:
Fri 1st June | 18:00 – 00:00 | Launch Party | House of Vans London
Sat 2nd June | 10:00 – 20:30 | Q&A discussions | The Bartlett School of Architecture, UCL
Sun 3rd June | 12:00 – 20:00 | Q&A discussions | House of Vans London