The 14th Annual Vans Rumble In The Park Contest Sponsored By Dickies, Gmunden, Austria
The 14th edition of the Vans Rumble In The Park event will be coming to Gmunden, Austria on June 30, 2018 in a newly equipped skate park with a newly renovated asphalt flat area on the street course.  The best skaters from across Europe will be competing to take home the €1,500 top prize and infamous Ceramics Trophy.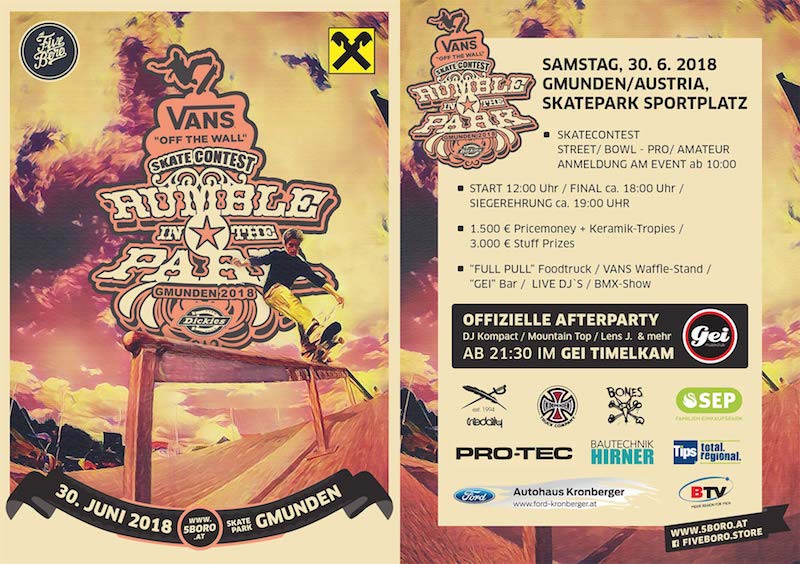 As all "Rumble Lovers" over the last 13 years know, the 14th Rrrrrumble in the Park will be, onceagain, one of a kind and a happening for the whole family at the new equipped Skatepark in Gmunden!
In 2015 we were proud to celebrate the opening session oft new bowl area and this year we are happy to announce the renovation of the asphalt flat at the Street Course.
As usual the "VANS RUMBLE IN THE PARK 2018 powered by Dickies" – SKATECONTEST supported by RAIFFEISEN SALZKAMMERGUT, DICKIES, IRIE DAILY, INDEPENDENT, BONES, PRO TEC, GEI, BAUTECHNIK HIRNER, AUTOHAUS KRONBERGER, TIPS, BTV und der STADTGEMEINDE GMUNDEN, brings you the finest skateboarding and music with a chilled out atmosphere in beautiful Gmunden at the lake Traunsee. The best skateboarders from Austria and around Europe are battling for 1.500 Euros price money and the famous Ceramic-Trophies at the Skatepark Gmunden.
The new equipped park, including an 300 square metre "Concrete Skate Bowl" and a "Street course" with plenty of Obstacles to have fun on, was one of the first in Austria and offers a perfect location for the event. As always, the Rumble offers some Highlights like the BMX SHOW, some nice tunes by the Rotaug Dj ́s squad , the RED BULL chill out area, Free Vans Waffles and a big happy crowd to hang out with! The Rumble is known as an event for the whole family and therefore is FREE TO ENTER.
Afterparty will take place from 21:30 at GEI Timelkam with DJ PHEKT (FM4 Tribe Vibes) and the Rotaug Allstar DJ Team KOMPACT (Wubdise) / LENS J. (Darkroom Debuts) / SAKE (Mountain Top Hi Powa).