House Of Vans London Presents Full Blast: 20 Years Of Thrasher Photography By Michael Burnett
To celebrate Michael Burnett's infamous 20-year career as a photographer at Thrasher, the magazine has teamed up with House of Vans to host a unique gallery, titled 'Full Blast', of Burnett's most iconic photos.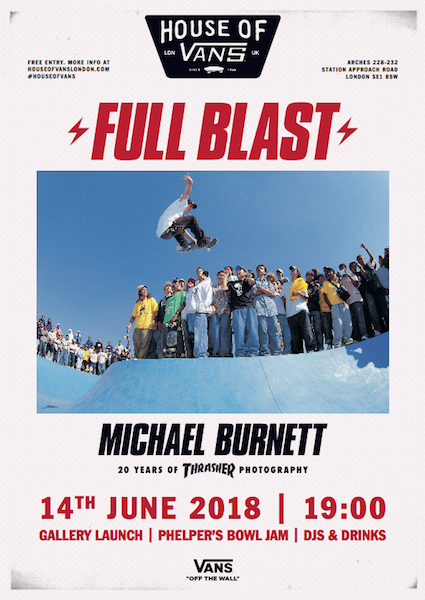 Press Release: House of Vans London is the physical manifestation of "Off The Wall", the ethos at the heart of the Vans brand, centred around promoting creative expression via Vans' brand pillars; action sports, art, music and street culture. Vans continues to honour its commitment to "Off The Wall" by playing host to Full Blast, a commemorative exhibition giving an insight into Michael Burnett's illustrious 20-year career at Thrasher.
House of Vans unique gallery will play host to a carefully curated selection of rare and iconic photographs, videos and artefacts revealing the many stories behind Burnett's career, including all of the Thrasher covers he has shot and a homage to his brainchild, King of the Road.
The exhibition launches on Thursday 14th June with a celebratory cash-prize bowl competition in the House of Vans bowl hosted by skateboarding legend and Thrasher Editor Jake Phelps, followed by a Q&A with Burnett hosted by Marc Churchill. The list of attending skate legends doesn't end there, Geoff Rowley, Pedro Barros and Ronnie Sandoval from Vans' US team will also be on hand to mark the occasion, with Jagger providing live music.
The exhibition will remain in the House of Vans gallery until the 8th July 2018, so those unable to make the launch night can see it at a later date.
Launch night and bowl jam
14th June 2018
19:00 – 23:00
 @HouseofVansLDN
#HouseOfVans
House of Vans London
Arches 228 – 232
Station Approach Road
SE1 8SW
About House of Vans London:
The House of Vans in London is the physical manifestation of the culture and creativity that have defined the Vans brand since 1966. Always embracing and fuelling creative expression through art, music, skateboarding, BMX, street culture and fashion; the space offers a solid platform for the local communities to experience and engage with Vans' 'Off The Wall'. Houseofvanslondon.com