Elliot Brown Watches Co-Founder On Disrupting Industry Standards
Elliot Brown Watches; a British brand renowned for their outstanding durability, impeccable styling, and producing watches that can go anywhere and do anything. SOURCE caught up with Co-Founder Ian Elliot to get the low down on the watch industry and their brand.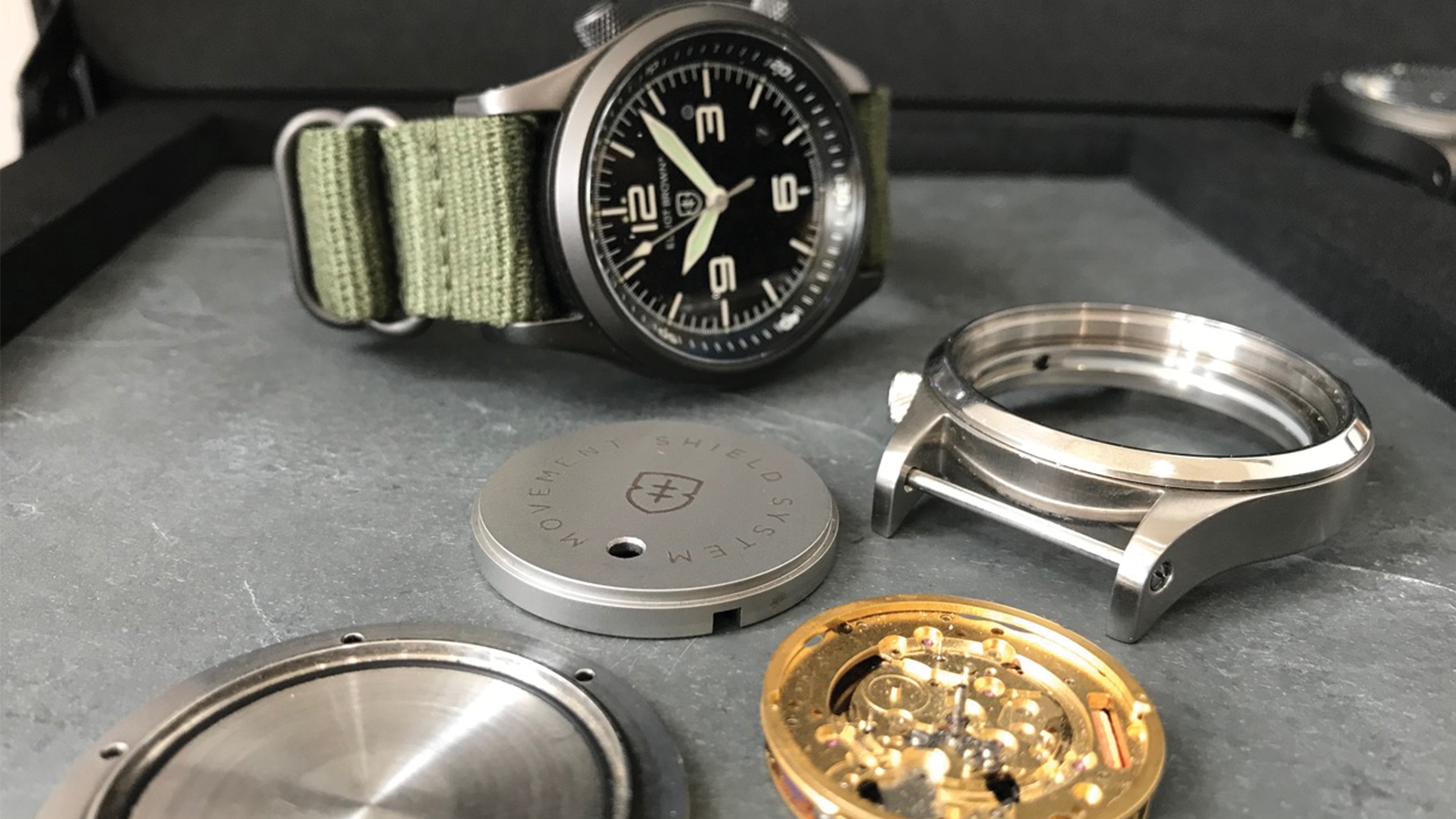 How has the watch market changed over the last few years?
The rise of the sub £1000 watch market, smartwatch launches, fitness tracking wrist wear and the apparent raising of the ceiling on the amount people are prepared to spend on a watch online are all changing. The trends created by the smartwatch genre are interesting to observe – they are more like appliances for the wrist with little or no emotional, long-term value and some are of highly questionable effectiveness. Given the propensity for people to replace them regularly, they aren't exactly good for the planet and have a tendency to propagate the "always on" mentality which can be unhealthy (in our view).
What's Elliot Brown's USP?
Long-term durability, exquisite engineered detailing, classic styling, interchangeable strapping and a level of honesty missing in the majority of the watch market.
Walk into a store online or otherwise and brands would have you believe your watch is good for 100m, 200m in water, except it isn't. A very large percentage of all watches in a typical jewellers window and in the boardsports sector have never seen a pressure test, let alone actually sustaining a dunk in real water – heaven forbid!
If you are going to put watches on the wrists of extreme athletes, adventurers and military operatives, you need to know that the piece of equipment you are furnishing them with will work reliably despite extraordinarily tough circumstances and the ONLY way of doing this is to test every single watch, thoroughly.
We are really enjoying disrupting some of these somewhat flaky industry standards because we feel it's simply not acceptable to dress a standard watch in a sporty looking case, create a marketing story about its function and call it a sports watch. The consumer has moved on and it's time the industry caught up.
Whenever we deliver a watch to an athlete or journalist we always ask them not to look after it because abuse and mistreatment are how we continually learn and develop and understand how to improve. We treat every day like a school day and make watches so tough that if anyone ever wants to challenge Elliot Brown to a game of watch conkers, we're in!
How do you help retailers sell your product?
Training – make sure staff are very well versed on all things Elliot Brown – from the triple sealed crowns to the micro-extending bracelet clasp with 3mm and 5mm wetsuit fitting and some of the incredible stories of watches surviving the worst conditions.
Gorgeous brochures – a rare commodity these days but a great means of capturing customer imagination. (We print them using sustainable materials and recycled paper and make sure every retailer has plenty.)
People love a story and we've got plenty to tell whether it's tech, function, extreme testing, ambassadors' extraordinary adventures and daring feats. Stories bring the brand to life in a way everyone can relate to and with special POS materials, it's easy to guide the customer to key models like our Mountain Rescue collaboration and limited editions.
How are you working with athletes/ambassadors to promote your product?
We have many relationships with athletes, adventurers and some incredible people – everyone is able to converse with their own social audiences with good humour and humility yet they are extraordinary, breaking records and going beyond what any normal human being is capable of.
Without sounding arrogant, they choose Elliot Brown because they want the best and they need to know their equipment will survive their journey.
We're very proud to call most of our ambassadors friends and they play a huge part in generating the stories and media gold dust that a successful "tool watch" brand like ours needs.
Which is your strongest European Market and why?
The UK represents the vast majority of sales – largely because we've experienced international business before and felt we should create a collection with serious credibility, range size and backstory first. After five years we're now ready to expand into European and international markets with 60 models, great branding and the support structure to help establish the brand to new audiences. For anyone reading who's interested, contact [email protected]
What are the main differences between the UK and European watch markets?
Regional tastes, brand ethos and different routes to market are what we look at for all decisions and marketing that's tailored for different markets. Us Brits tend to like and support homegrown and there are still brands in some mainland European markets that have never seen the light of day in the UK and vice versa. One size definitely doesn't fit all despite sharing economic common ground. Basel World is Europe's largest watch show but it has shrunk as visitor and exhibitor numbers decline and the brands struggle to justify the huge expenditure. It will be interesting to follow developments and how that affects retailer buying habits in the future. The UK doesn't have a watch trade show other than the high-end Salon QP so the brands and distributors concentrate on activity within trade buying groups and local support.
In dealing with regional markets there's no substitute for sympathetic and trusting the local knowledge and as a British brand, we always need to listen to local needs because we recognise the British label carries differing values depending on the region.
Please tell us about your latest model.
The Broadstone GMT is the perfect travellers "tool watch" – gorgeous to look at but will perform just as well at 300m as it will in a heavy swell. It's a handsome 43mm case with a lower profile but is packed with real-world useful functionality. There's a neat internal timing bezel, additional GMT hand for telling the time at home when travelling. There's a recessed triple sealed screw-down crown for added protection, shock absorbing casing for the Swiss movement, tough anti-reflective sapphire, solid stainless case and a new easy strap change system using an unbreakable solid bar for the entire range of 20mm straps. It's numbered and limited to just 1000 pieces worldwide. The Clipper Race is a great testing ground as the crews and yachts battle 24h per day to circumnavigate the globe. We even have standard watches mounted to the bows of the yachts to see how far they'll make it – hitting every wave (and object) on their 45,000-mile journey. We can't think of another brand who would publicly test its products to destruction in this way.
Any new collabs planned?
We've proudly supported Mountain Rescue England and Wales (MREW) for several years and we are just about to relaunch that collab with a new model – enhancing the appeal via some very cool dial detailing and revised model specs. We're developing a brand new strap and buckle closure system that will be perfect for MREW teams once it's launched – a kind of spiritual replacement for the velcro watch strap that EB founder Ian Elliot brought to market under the Animal brand – the new strap needs no holes which means we can utilise all sorts of new innovations when it comes to material choices.
For each watch sold (whether at trade or retail price) we donate £36, and qualified MREW team members are allowed to purchase at just above cost price as part of the deal.
We used to be big supporters of Surfers Against Sewage when we were at Animal in the 90's and given how much we do in, on and around the water it makes sense to re-kindle that relationship. Diary note to call SAS and make that happen!