Volcom Unveils Skateable Branded Feature At Iconic Parisian Location
Volcom transformed Place de La Republique in the heart of Paris into a branded skate area after a lengthy planning and production process with Sterling Projects. Volcom overhauled the skate plaza, installing their iconic stone logo as the centrepiece and invited their pro skate team to open the feature in true Volcom fashion. The whole event was celebrated with refreshments at the Volcom store and a cash for tricks comp to stoke out the groms.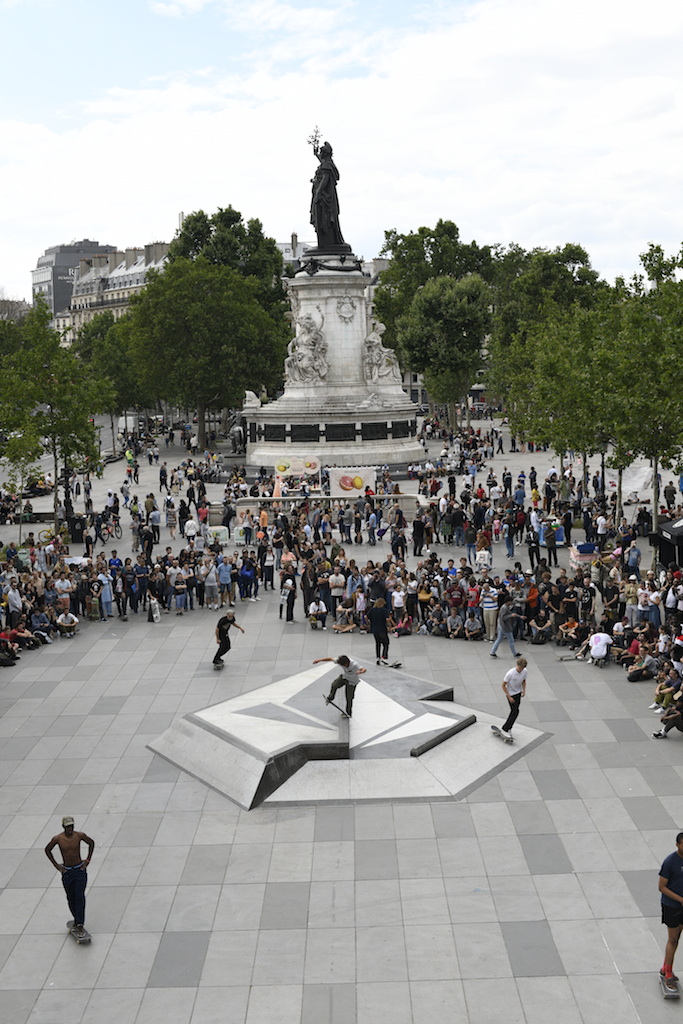 Press Release: The new setup was designed specially to fit the plaza and will now stay for a certain amount of time, while the "old" Stone granite spot has found a temporary new home in Place De La Bastille (where it was originally set during the summer of 2015).
A number of skaters from the Volcom team gathered last weekend to celebrate with the locals and share the good vibes: Ben Raemers, Rune Glifberg, Daan Van Der Linden, Alec Majerus, Harry Lintell, Eniz Fazliov, Jorge Simoes, Vincent Matheron, Alexander Risvad, Dustin Dollin,  Jonathan Vlerick, Tom Bellot, Noah Mailleux and Bart Buikman…
On Friday 15th June, a 'tribute' consisting of a session in Bastille was followed by some refreshments and music at the Volcom Store. The next day saw an inauguration of the new setup which took place at the Place de La Republique.
Before the mayhem begun, free skate lessons were given to newbees then cash prizes for tricks were given out on the new stone. The action then moved to the 2 new benches line – the session got heated and went wild, in the end, Alex Risvad from Denmark, Nolan Zangas (USA), Adrien Chabiron (Fr), Cesar Dubroca (Fr) and Ryo Sejiri (Japan) all got rewarded 400€ each.
The party ended at the Fluctuat café with beers and live music from Leopard Ale and Tversky. Oh, and the whole event was Eco-friendly too!