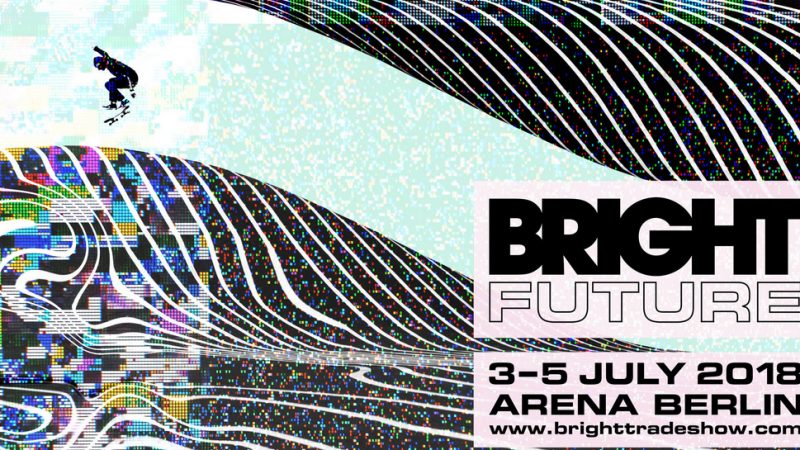 BRIGHT Trade Show Berlin Party Schedule
BRIGHT kicks off in Berlin next week, for its first edition under new management. For a full interview on the show's new approach, which the new management team tells us "allows brands various opportunities to integrate and present themselves," click here.
Full party lineup below.
THE TAKING – BRIGHT'S OFFICIAL OPENING PARTY
DC Shoes proudly presents BRIGHT's official opening party at Wilde Renate. Including highly entertaining skate action by global heads and local top dogs.
3 JULY, 5:30 PM, WILDE RENATE
ADIDAS SKATEBOARDING X SKATEDELUXE CASH 4 TRICKS SESSION
Celebrate skateboarding & win some cash on a specifically designed street course!
4 JULY, 3–5 PM / SKATEPARK OPEN TO COMMUNITY 3–5 JULY, ALL DAY
IRIEDAILY HIGHEST WALLRIDE CONTEST
Highest wallride earns 250€ cash, free booze & fun for free minds by Berlin's finest.
4 JULY, 5 PM
FAVORITE JOCKEY CLUB VIDEO PREMIERE @ ANOMALIE ART CLUB
New visuals from the Favorite Skateboards Squad, including blastin' VX-footage from Berlin, Madrid and Lyon.
4 JULY, 10 PM
R.A.D EXHIBITION
Archive exhibition featuring Britains skateboarding history from the 1970's to the 90's.
3–5 JULY, ALL DAY
BULLEIT X THE DUDES
Finest Bourbon, ice cold beer, stylish barbers and The Dudes' latest capsule collection.
3–5 JULY, ALL DAY
CPH OPEN VIBE
CPH OPEN is spreading the vibes at BRIGHT – you're invited!
3–5 JULY, ALL DAY
LONG LIVE SOUTHBANK: SUPPORT THE SKATE COMMUNITY
Check out the incredible exhibition from Southbank's five decades of history, with pieces of art donated to the campaign.
3–5 JULY, ALL DAY
NATIVE TEENAGE STUDIO
Johannes Böttge X NATIVE TEENAGE STUDIO showcases an all-day workshop format with art & music – come by and get inspired!
3–5 JULY, ALL DAY
EMPOWERING WOMEN IN SKATEBOARDING EXHIBITION
Meet Clara Knör & Laura Kaczmarek who will exhibit their latest work at BRIGHT!
3–5 JULY, ALL DAY
KEEP PUSHING: 40 YEARS OF TITUS – EXHIBITION
Since 1978 Titus has been one of the driving forces in Skateboarding. The exclusive exhibition shows previously unseen boards from the golden era of Skateboarding and photos of the current Titus pros taking the reissued decks to the streets.
3–5 JULY, ALL DAY / FREE BEER BY RALLE & JOST ARENS AT 3PM (3–4 JULY)
UPS AND DOWNS KICKOFF PREMIERE – TEAM TITUS VIDEO
Exclusive premiere of Team Titus' latest full length video, showing 3 years of hard work. Come by to enjoy smashing skating and cold beers!
5 JULY, 9PM, CASSIOPEIA SOMMERGARTEN