NSP Talks Innovative Sustainability & Company Growth
SOURCE talks with SUP and surfboard manufacturers NSP, to find out more on their sustainable push to make their products as environmentally friendly as possible. They tell us the improvements they've made company wide in the past 12 months and explain how they are on-boarding athletes and retailers to improve their products.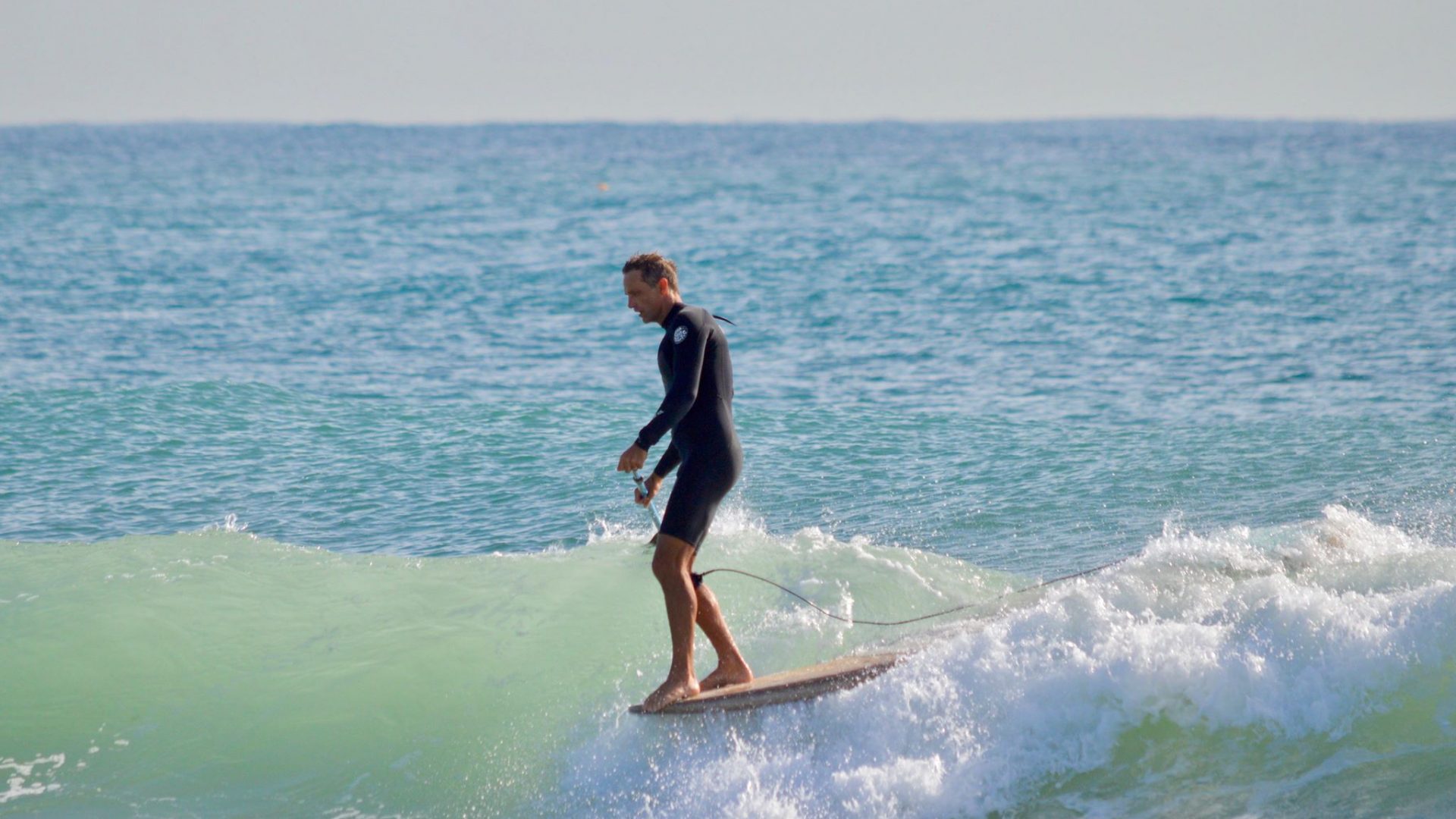 Could you explain NSP's European setup.
We do not have a NSP headquarters in Europe. We utilize and rely on our Partner Distributors in each country to support our sales, national team riders and events. We rely on feedback from our partners for their opinions on product designs, colorways, and anything new they feel will enhance their customer's experience on the water.
What's new in product development at NSP?
For 2019 we have released our new Carolina race board which is a one board design for all conditions. This recessed deck board is Titouan Puyo's go-to-board for just about every race on the World Tour. From flat water to open ocean racing this board can handle any condition that is thrown at you.
We have released our most eco-friendly, lightweight technology to date – CocoFlax. Our popular CocoMat surf and SUP boards have received an upgrade by adding super durable Flax fiber rails; providing an unprecedented strength to weight ratio.
Our 2019 release of the SLX DC SUP Foil is also a game changer. Dale Chapman has designed a board for everyone interested in getting into foiling. The shape lends itself for foiling and for conventional wave riding. The board features multi foil fin box options strategically positioned to optimize control. And, with a huge sweet spot for a board this size, this foil board is designed for maximum stability.
How do you filter product testing feedback from athletes back to your design lab?
Our team riders are not only extremely important in product testing, but they are our eyes and ears in the market. They let us know and we always welcome their feedback they hear from people on the beaches to their own product designs. We take their feedback seriously and try to integrate it into our shapes and designs any chance we get. It's important for us as a company to have an open dialogue between riders, product, marketing and design teams – it's the only way we continue to put winning race boards on the water and build boards that everyone can paddle and surf.
How are you ensuring your carbon footprint is as small as possible? What business methods are you implementing to ensure productivity is maximized and waste minimized?
At NSP we take the environment seriously and we are doing all we can to work towards developing products and practices that work to protect the environment. In 2019, NSP takes sustainability to the next level. We have added a new sustainable material to our already Patent Pending CocoMat construction. Our CocoMat line is now available with uni-directional flax fibre rails. This highly durable reinforced fibre is a 100% natural fiber and a true game changer. Harvested from the flax plant, this new construction technology not only reduces the use of fibreglass, but also offers an unprecedented strength-to-weight ratio. The end result is our CocoFlax board with a unique look, less weight, considerably stronger rails and responsive flex. We are also proud to note that by adding flax fibre rails we are reducing the carbon footprint of one of the major manufacturers in water sports.
Harmless Harvest supplies NSP with a by-product from their organic farms in the area. By turning these coconut husks into organic fibre layups, NSP actively pursues a greener manufacturing process. For more information on Harmless Harvest, please go to www.harmlessharvest.com.
In addition to the flax rails and husk fiber layers, NSP works with SecureCell EPS blanks in their manufacturing process. This drastically reduces the amount of waste you commonly see in conventional board manufacturing. The new CocoFlax boards are also made with high performance Sicomin bio epoxy resin. Another industry leading innovation by NSP is the use of water-based dye pigments in the CocoMat line-up. With zero percent solvents or toxic additives, this is another green innovation directly benefiting our planet.
As an environmentally conscious manufacturer, NSP works closely together with Sustainable Surf's Ecoboard project. Today, 90% of the NSP line up meets their strict requirements, earning NSP the use of the highly respected Ecoboard Label.
Could you talk us through NSP's product categories by percentage size in terms of units sold (SUP, surf, etc).
SURF – Still the largest percentage of our sales to date.
Strong demand from the new 2019 range thanks to all new shapes across most of the range. Our surf range is shaped by Kym Thompson (PU Heritage Series (Endless, Hooligan, Dream Rider) and Marcie O'Neill (a 20+year veteran at Aloha Surf – Australia) working on our popular Elements line of Longboard, Funboards, Fish.
Design brief was to ensure each board allows riders to surf a wider window of condition… and skill sets. As they improve, they can progress with the same board.
– Funboards = 45 %
– Longboards = 20%
– Fish = 20%
– Hybrid = 15%
Introduction of Protech in early 2018 has been a huge driver in NSP as the new price point board for people looking for their first board.
Driven by core surf image from its custom epoxy looks and carbon rails on the tail and great, light weight…. riders that progressed from learner boards typically looked at the used board market, however the shapes and the condition of used boards often do not suit riders at this level. Protech now means they can have a board that's better suited to their level… while still being a board that can help them to progress and step up.
Elements – our most popular construction. Tried and tested, highly durable epoxy and fibreglass construction. All Fun, Fish and Hybrids come with 5 fin boxes offering greater ride-ability for conditions and skill levels; swapping from a tri set to a quad set
E-Plus – similar to the Elements but with an added "ballistic" sheet on the top and bottom make these boards nearly indestructible. They have been the board of choice for rentals and schools as a board that keeps on making money day in day out with a super high ROI.
CocoMat
With the exception of PU all NSP surf boards are awarded the Sustainable Surf "eco Board" logo for our focus on bettering the environment through environmentally friendly sustainable resources. The CocoMat boards takes this a huge leap further as all boards are made from Coconut husk wastes… grown in Thailand from sustainable plantation near our production facilities. This unique patent pending technology keeps the boards super light and super strong.
PU
Staying traditional to the origins of surf, we offer the traditional glassed PU boards with wooden stringers.
P2 Soft – termed by some as the Rolls Royce of soft board market for its great teaching features and long life durability, the 2019 models switch to easily replaceable bolt through fins which can be switched in a few minutes to ensure your boards are out making money and not in a the repair shop.
SUPS
Elements – like our Surf boards these are our most popular boards available in all key shapes
Including our popular Cruise with its unique square tail for extra stability, all-rounder shapes to enjoy flat water to waves, our performance touring boards for day trips or over-nighters and our flatwater boards which are trending nicer on lakes, canals and rivers
E-Plus
Like their surf boards these are possibly the most durable boards on the market with their ballistic sheets on top and bottom they are favourites for resorts and rental
Cocomat
Like the surf boards, these have been a game changer in SUP with women particularly loving the light weight, strong construction… these boards are much lighter and easier to carry from the roof of the car to the water…. plus all the goodness knowing that its made with up-cycled coconut husks.
Soft SUPs…
Soft top soft bottom with rail guards and rubber bumpers nose and tail and three handles, these are the Rolls Royce of boards for hotels, resorts and schools demanding a premium quality, durable package
Inflatables
Fresh new line with both stringer and fusion technologies and introducing the Triple Chamber Technology (TCT) for The Quest… ideal for fishing out on the ocean of lake, with multiple mounts for Scotty Fishing Accessories. Features separate rail chambers to ensure you always stay afloat… board doubles as an awesome board for white water rafting.
Race
NSP's amazing racing winning boards add a new line up of faster shapes… and new for 2019 the Carolina… names after the gruelling Carloina Cup which NSP has dominated for the past 3+ years. This board receives the name from as board is designed to match and exceed in the wide varietry of conditions thrown at races in this race – from surf to ocean to downwind and flatwater
What's new in the rental market – what are you doing there to freshen up your offering?
We continue to offer our very popular P2 Soft board technology in both Surf and SUP. Every two years we change up the colourways to provide the centres with a choice to easily identify their boards from others on the shoreline. Our boards may be positioned at a slightly higher price point than some of the lower cost models in the market, however we feel its important to offer safe, durable boards loaded with features that will create a memorable experience for the customer, and a long lasting return for the rental centre.