Surf Expo Preview January 10-12, 2019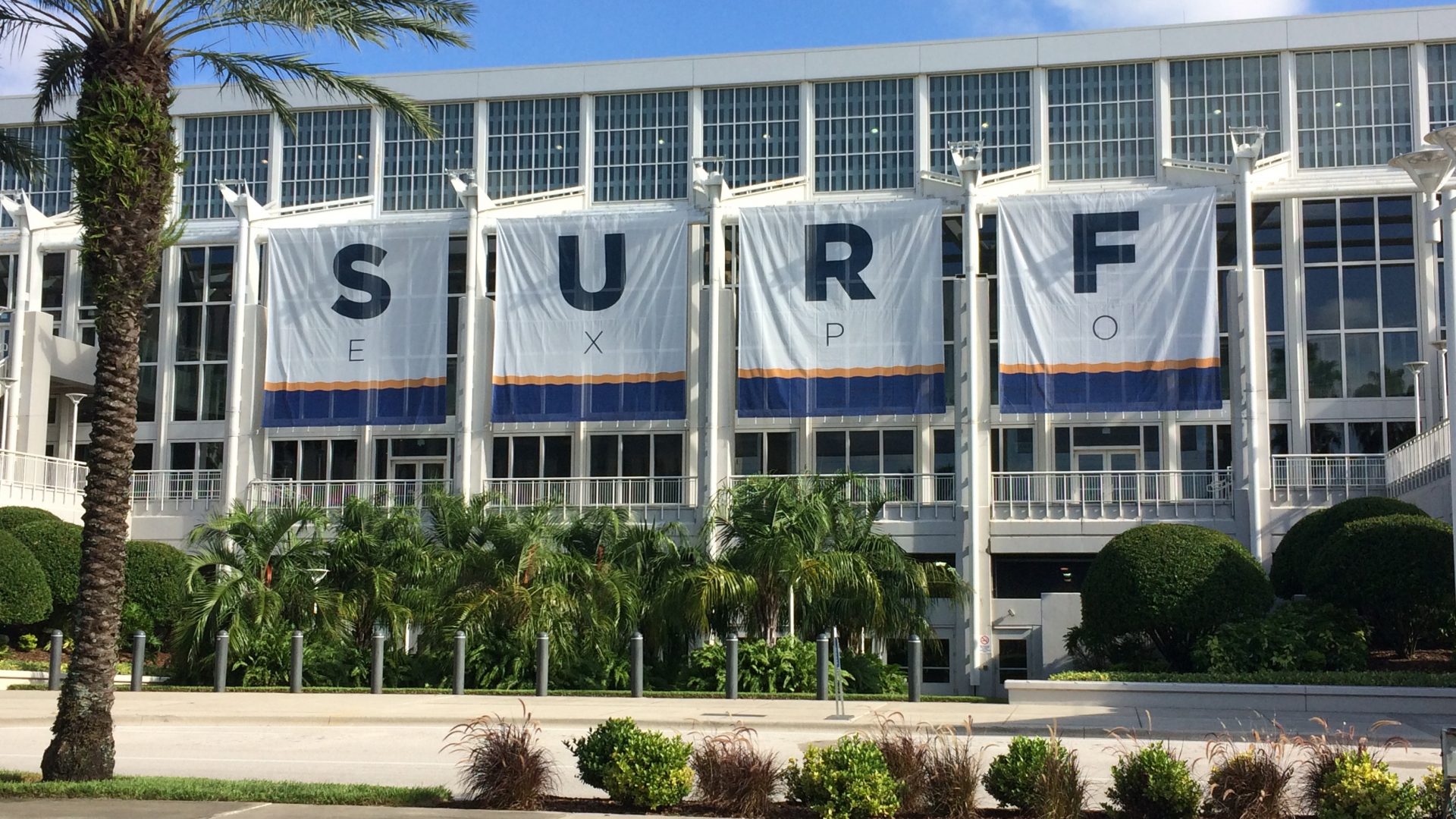 Surf Expo is the largest and longest running watersports and beach lifestyle trade show in the world. Surf Expo is attended by qualified buyers purchasing for 9,500+ storefronts from across the U.S. and 52 countries. More than 80% of buyers write orders at the show and 87% of retail attendees are key decision makers.
Surf Expo has International Reach drawing buyers from specialty stores across the U.S., the Caribbean, Central and South America, Europe and the rest of the world to Orange County Convention Center in Orlando Florida. The show features more than 2,500 booths of apparel and hardgoods and a full line-up of special events, including fashion shows, annual awards ceremonies, and demos. Average buyer and exhibitor turnout at the show exceeds 28,600 attendees including retailers, exhibitors and media. Last Januarys show was a great success with a strong pulse and optimism flowing through the aisles throughout the three-day show.
The buyer-focused grouping of brands features inshore and offshore apparel and accessory products ranging from lifestyle and technical apparel to footwear, outerwear, sportswear, t-shirts, sunglasses, outdoor apparel and much more means buyers can find many of the categories they are looking for.
Last January Surf Expo's new Bluewater section made its debut, with a collection of apparel and accessory brands catering to the inshore/offshore saltwater lifestyle. Catering to inshore and offshore apparel and accessory companies and inspired by like-minded watersports brands, Bluewater connects to the waterman lifestyle that has always been a part of Surf Expo's DNA, and is a perfect complement to Surf Expo's existing floor categories.
Whilst The Neighborhood at Surf Expo is a collection of like-minded brands rooted in surf, travel and adventure located within the surf section. This January brand participants include 4Ocean, Amuse Society, Banks Journey, DaFIN Surfing Product, Fair Harbo, Globe, Helinox, Herschel Supply Company, Impala, IMSY, Jetty, Katin, Kleen Kante, Leus, Lira, Lotus and Luna, Maui and Sons, Mission Belt, OTIS Eyewear, Pura Vida Bracelets, RAZ, Rhythm, Richer Poorer, Rusty, Shore, Shwood Eyewear, Simbi, Tavik, Tentree, Toms, Turq, United By Blue and Wanderer Bracelets
The show features fashion shows each day, a full line up of Professional Learning labs led by industry experts, skate events, a roster of end of show events and off course the Surf Expo Florida Shape-Off, presented by Vissla. This is an annual contest and exhibition that promotes the craft and craftsmen of hand-made surfboard shaping. Shapers from across the country will compete to replicate an iconic board as a tribute to the honoree's contribution to the art of surfboard shaping and the industry. The 2019 Shape off will be in honor of Pat O'Hare. The shaping schedule is Thursday, 10am Tom Bracht, 12:30 Allen White and 3:00 Jay Gordon, Friday, 10am John Oppito, 12:30 Josh Peterson and 3:00 Shawn O'Donnell and Saturday, 9am Stu Sharpe. The Winner of the 2018 Florida Shape Off will be announced at the Awards ceremony at 2.30 on Saturday
For first time visitors Surf Expos Steven 'Fish" Fischer runs an introductory seminar on Making the Most of Your Time at Surf Expo on Thursday at 10am at the Stage. Surf Expo is a big show and can be a little intimidating, with its size and multiple categories. This How-To is a must and will teach you the lingo of the show, The Buyer Relations team at Surf Expo is also here to help. Lean on them for guidance to have the most successful show!  Steven "Fish" Fisher is Surf Expo's Sr. Buyer Relations Manager. A former buyer, designer and Exhibitor, he shares a well-rounded view of the show.
At the Stage one can find daily fashion shows on Resort /Swim on Thursday and Friday from 11:30 to 12:00 and on Saturday from 10:00 -10:30. Also on Friday from 4:30 PM – 5:00 PM and on Saturday from 12:30 PM – 1:00 is a boardsports/swim special. And on Friday from 4:30 -6:00 theres a Fashion Show & Happy Hour, sponsored by Rainbow Sandals
The Skate Park hosts a Mini Ramp Madness Jam on Thursday and Friday from 12:00 PM – 1:00 where you can watch shop teams compete for cash and prizes Presented by All I Need Skateboards. The PM Mini Ramp Madness Jam-Awards are presented at 3:00 PM – 3:30 PM on Friday
The show offers a wide range of seminars with industry leaders and experts designed to sharpen your skills with its free Professional Learning Labs Here you can pick up knowledge that can impact your business and stay competitive in today's marketplace. Full schedule below Unless otherwise noted, these take place on The Stage.
11:30- JR's Lounge (3280) The Secrets to Successfully Running Your Business. Presented by Mikke Pierson, Certified Business Coach.
12:30 Driving Sales through Influencer Marketing Presented by CPC Strategy
1.45 Content Marketing That Starts In Your Store Presented by Mike Duncan, Sage Island
2:30-Paddle Lounge Beyond Retail: Insuring Rental, Guiding, and Events Presented by Brian Stevens, Outdoor Insurance Group
3:00 E-Commerce Marketing Trends Presented by CPC Strategy
3:30- Selling More – Winning the Amazon Buy Box Presented by Mike Duncan, Sage Island at the Paddle Lounge
Friday
10:00 Big Surf, Small Surf, Wake or Lake…the endless glide of Hydrofoiling is here to stay! foil pioneer and shaper Dave Kalama, with Austin Kalama, Alex Aguera, as well as event directors, athletes, and retailers that are currently riding the foil wave!
11:00 – Using Podcasting and Filmmaking to Build Brand Awareness
David Lee Scales and Chas Smith discuss how they utilize the Surf Splendor podcast network to access a broader audience, at the The Movie Lounge Presented by Florida Surf Film Festival
11:00 How to Pay Less for your Business Insurance: Watersports Edition at the Paddle Lounge
11:30 Running Your Business in the Feminine, Leadership for Women at JR's Lounge (3280)
12.30 Retail's Radical Transformation Presented by Alison Medina, Editor-in-Chief, Design Retail
1:40 Riding the Wave: From Surf Shop to the Shipping Dock Presented by Transportation Impact
3:00 Retail Insights: 5 Things The Best Buyers Do Dan Jablons of Retail Smart Guys
Saturday
11:00 Better Sales, Better Purchases, Better Cash, Dan Jablons, Retail Smart Guys
Dan Jablons of Retail Smart Guys
Thursday end of play options include from 4:45 PM – 6:00 PM the Bluewater Lounge Happy Hour sponsored by Captains for Clean Water and Hell's Bay Boatworks at booth 835, the Movie Lounge Happy Hour Sponsored by Florida Surf Film Festival, at booth 3017 where you can enjoy a beer and the 6:00 PM – 6:45 PM Post Show Mixer, sponsored by 4Ocean at the Top of South Escalators, Enjoy a brew and tunes from DJ Lance-O
Friday JR's Lounge Happy Hour at Booth 3280 from 4:45 PM – 5:45 PM Join these great brands for a signature cocktail or beer, with music by DJ Lance-O. Buyer Happy Hour presented by Kooringal Hats Laid-Back by High Range Designs Old Guys Rule Rockin Footwear Steamboat Stickers Tommy's Designs, Inc. Or the Bluewater Lounge Happy Hour sponsored by AFTCO and 5Fin Clothing at booth 835. Meanwhile at The Movie Lounge, booth 3017 theres a Happy Hour & Stab in the Dark Extended Trailer Premiere where you can grab a cold brew with Stab Magazine and catch the world premiere of the extended trailer for the new Stab in the Dark. Sponsored by Florida Surf Film Festival Check out the boards at the Stab in the Dark exhibit on The Avenue!. Later on from 6:00 PM – 7:30 PM   is The Industry Party, sponsored by 4Ocean Featuring live music by The Flannel Rebellion. Join 4Ocean for cocktails and live music from The Flannel Rebellion and to round it off from10:00 PM is the Party Late Night with Lance-O at Senor Frog's
So a full and busy schedule on top of the multitude of stands will keep you busy throughout the three days. Look forwars to seeing you there and look out for Sourccs show photo gallery to keep you on to of whats hot.