French Market Insight May 2019
On the socio-economic front, the reports from the first months of the year were mixed in France, so how is it in the boardsports world and more precisely for our retailers at the start of this year 2019? For shops in resorts the outcomes are rather different in the Pyrenees vs. the Alps. By Benoit Brecq.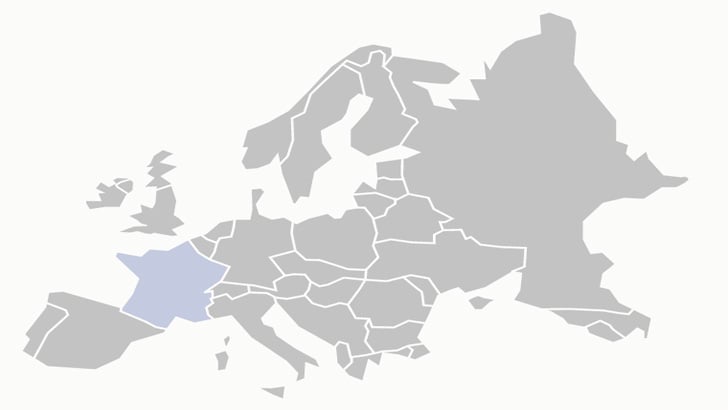 In the Alps, visitation numbers seemed to be pretty consistent with 2018. For example in Meribel, Gäel Fabre, who runs Avalon Boardshop, tells us: "According to the tourist office, visitation numbers are up by 8.8% in the December school holidays and down 6.4% in the February school holidays." That naturally translates to sales levels, which despite a nice increase of 15% in sales in December and +10% in January, February was a bit more complicated with a drop of -15% in the last 20 days of the month. Gaël explains it like this: "the early snowfalls last year undoubtedly encouraged our customers to book their holidays in the December 18/19 holidays but the snow wasn't really in good shape at that time of this year. In January we had some good snowfalls and cold temperatures, which made our more sporty, last-minute customers come in and kit themselves out with specific equipment (freeride boards, stiff boots and bindings with good support) and to buy accessories (beanies, gloves, neck warmers, helmets, goggles). On the other hand, February was so hot and sunny (conditions never before recorded by Météo France) that sales of accessories, equipment and technical clothing dropped off a lot. We did see a slight rise in snowboard rentals in February 2019 though."
In the Pyrenees, the start of the season was complicated, if not difficult, but the months of February and March seem to have fared a bit better as Laurent Descaves, manager at No Limit's Snow Shop in Cauterets explains: "The months of February and March went a lot better than the start of the season, in visitations as much as in turnover. The Pyrenean resorts are now well snow covered, which of course brings loads more people up to the resort. More visitations means more sales at the end of the season."
As for product ranges, they are talking pretty unanimously about good quality technical products being sought after by customers in shops. As Laurent from No Limit's tells us: "The fact we are in resort and on site means that clients have more faith in you and listen to recommendations on which technical, good quality products to buy." It's the same feeling at Avalon as Gaël explains: "The most sought after products are at the top of the range, which sets ourselves apart as a specialised technical shop; customers are looking to put their money into new products, whether in terms of their design, shapes or technical innovations, especially here in the 3 Valleys where we have quite well-off customers."
When it comes to brands, again, whether it's in the Pyrenees or the Alps, there seems to be a common thread. For equipment, the most coveted brands are basically Burton, Nitro, Lib-Tech and Jones who all have coherent, easy to decipher ranges. In technical clothing, the most mentioned brands were notably Picture, Burton, Volcom and DC. The shops do confirm that this aspect of differentiation really does entice customers, whether it be for their technical properties, with technologies such as Gore-Tex, their quality, their "core" appeal or for their environmental focus which also appeals greatly to a segment of the customer base. In accessories, Oakley and their Prizm technology seems to have enjoyed a great success amongst customers and Dakine continues to please in luggage and bags thanks to their own technical dimension. At the end of this season with the quite high temperatures even at altitude, naturally it's light technical jackets and water resistant riding sweats that have seen good rates of sale in shops.
For the shops further away from the pistes, the winter season is often a little bit more troublesome and the socio-economic climate with its slow, drawn-out end to the gilets jaunes movement in France did nothing to help the situation. At Uncle Zaz in Saint Jean da Luz, shop manager Marka Fridberg tells us: "Our shop is quite seasonal so it's pretty normal that there's a bit less activity at the start of the year and even though on the coast we didn't really have a proper winter, we did manage to benefit from the ski window to spark some trade with the servicing and rental of ski gear that we launched this year." He adds: "the weather conditions didn't help us to raise the average basket price much by selling any heavier pieces as this year we had 26°C while last year we had -3°C on the 28th of February so we sold sunglasses, baseball caps and even sandals!" He does however go on to say that: "the conditions for surfing were pretty good though at the end of the winter and the start of spring, which meant we could boost our figures on neoprene and surfing accessories." As for the most sought after brands in his shop he speaks highly of Patagonia for their technical image and ecological dimension and Rip Curl for their legitimacy and recognised technical know-how. He adds: "the technical dimension is highly appreciated by our clients and in boards we had great interest in the brand TORQ who, thanks to their new ACT impregnated resin technology, confirmed their customer recognition at our shop."
At Vague et Vent in Palavas-les-flots, Paul Guieysse, in charge of their internet operation, recounts: "December's social climate with the gilets jaunes movement led to a drop in in-shop sales to the benefit of our website. But customers started to come back into the shop at the start of the year." As for products, he noticed a good rate of sale in the snowboard boots segment: "People are looking more and more for comfort and are renewing this item quite quickly especially at the end of the season when prices are more attractive." In water sports, he noticed a growing trend in the foil craze: "Whether it was in windsurfing, surfing or SUP the discipline is continually gaining interest and more and more people are coming to the shop for information and to kit themselves out."
At Nomade Shop in Paris, Lou Baro, the board section manager states: "The end of the winter was really difficult, whether in terms of the social climate or the weather. The end-of-year Saturdays were much too quiet in store to set up a good season but with the return of the spring and the nice weather, things went back to normal a bit, also for sales, even though it's still quite quiet in the shop."
When it comes to equipment, street skating makes up most of the in-shop sales but Lou adds: "classic skateboarding is working really well but we also are selling quite a lot of longboard type decks especially in the cruiser and surf/carver ranges." As for brands, she says that: "because this period has been pretty skittish economically, people are naturally turning towards either the entry-level or the tried-and-tested with brands like Element, Mindless, Cartel and Enuff."
So, it's quite obvious that shops wouldn't have had the same start to the year as others, depending on their geographical location: tough for some, decent for others. It was still nothing extraordinary either, even for the shops in resorts that did manage to come through well. Once again, their selections and the quality of the products brought into the shops, combined with their knowledge and advice meant that they were able to set themselves apart by bringing a more personal, friendly dimension to the act of buying something that a segment of their customer base are looking for when they push the actual shop door open. Here's hoping that the start of summer 2019 brings us the right conditions for a successful 2019 season…