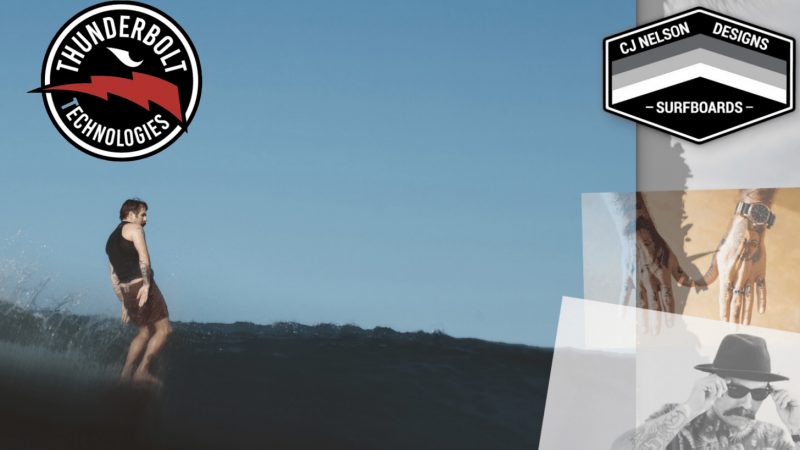 Longboard Shaper CJ Nelson Explains Revolutionary New Thunderbolt Tech In Collaboration With Yu Sumitomo & Firewire
CJ Nelson is a California longboard stylist with influences and inspirations dating back to Miki Dora, Nat Young, and Lance Carson. His cultural impact has been measurable having appeared in Thomas Campbell's Sprout and The Present, two films that at the time brought traditional longboarding to a worldwide and even non-surfing audience when traditional longboarding wasn't experiencing the boom it is today.
He is a Duct Tape Invitational winner who despite deep roots in tradition, has a forward-thinking approach to surfboard design, manufacturing and materials that is firmly placed towards the future, aligning him with long-time friend and legendary board builder Yu Sumitomo whose board building heritage goes back two generations as one of the most respected craftsmen in Japan.
Firewire acquired longboard company Carve Sports earlier this year, home to CJ Nelson Designs, Skindog Surfboards, and Harley Ingleby Series by Tolhurst Surfboards.

Please tell us about the Thunderbolt technology.
Thunderbolt is a method of building surfboard blanks that Yu Sumitomo and his farther have been working on for thirty-odd years. When I surf, I'm riding a Thunderbolt board 90 percent of the time because if you put edge or down rail on a traditional longboard shape, its' no longer a traditional longboard shape (it's been the same since 1966) so the only way to get more performance out of a traditional longboard shape is to change the build material, because you can't fuck with the shape. How can I push my traditional longboarding without changing with traditional shapes? This is the question that has inspired my work with Thunderbolt over the past five years.
Tell us about Yu Sumitomo.
In three words – driven, truthful, family. He's irreplaceable in my life. A best friend. Relentless in seeking improvements.
What are the benefits of Thunderbolt over existing techs?
My problem in the past was getting magic volan cloth boards. I'd ride them for six months and the fin box would crack, the board would delay, everything would fall apart. I was frustrated. My magic boards would always break down. It doesn't happen with Thunderbolt. I've got boards from five years ago that don't even have a dent in the deck. This is my dream come true.
Is it exclusively for longboards / single fins? Why?
Matt Meola, Albee Layer, tons of guys have ridden thunderbolt shortboards and loved them because a board that drives and twists from the tail is relevant to anyone who is riding a wave. It's literally what George Greenough was trying to accomplish in the sixties. Currently at surf shops, yes, Thunderbolt is exclusive to longboards. And personally, my preferences dictate single fins in my shapes, but Harley Ingleby and Ben Skinner design to their interests in the same way I do, and they build in other fin boxes, not just single fins.
How is the AVT wrapped to create a stringer and flex control?
Excellent question.
This video explains it
What are the pros and cons of using this AVT system Vs a regular wooden stringer in the blank?
Cons? None. There's no downside or I wouldn't be riding them 90 percent of the time. The only time I ride wooden stringers is when I'm doing R and D with Eden Saul or Ryan Engle or Wayne Rich or Ian Chisolm or others.
How does the price point look?
Parallax 9'3 to 9'9 RRP-£1220
Sprout 7'6 RPP – £1050
Sprout 8'0 RRP – £1175
Sprout 9'0 RRP – £1220
Colapintail 8'3 to 8'9 RRP – £1175
Colapintail 9'3 to 9'9 RRP – £1220
Guerreo 91 to 9'6 RRP – £1220
Guerreo 9'11 RRP -£1225
How is each of the collaborators working in distribution with Firewire globally?
It's so simple – for me and my business and my life nothing has changed, Firewire has just been able to enable more surf shops to have my shapes on their racks. I've always had a large audience online but many of them didn't have access to my boards and now, through Firewire, they're able to get the boards they've wanted for some time.