Introducing Indestructible Denim Brand SA1NT
Coming from the moto world, SA1NT have produced the world's first single layer protective denim, and strongest pair of jeans on the planet. With an aesthetic that appeals to the moto/surf crossover crowd and the obvious appeal a pair of bulletproof jeans has for skateboarders, we think SA1NT are set to make waves in the boardsports retail landscape.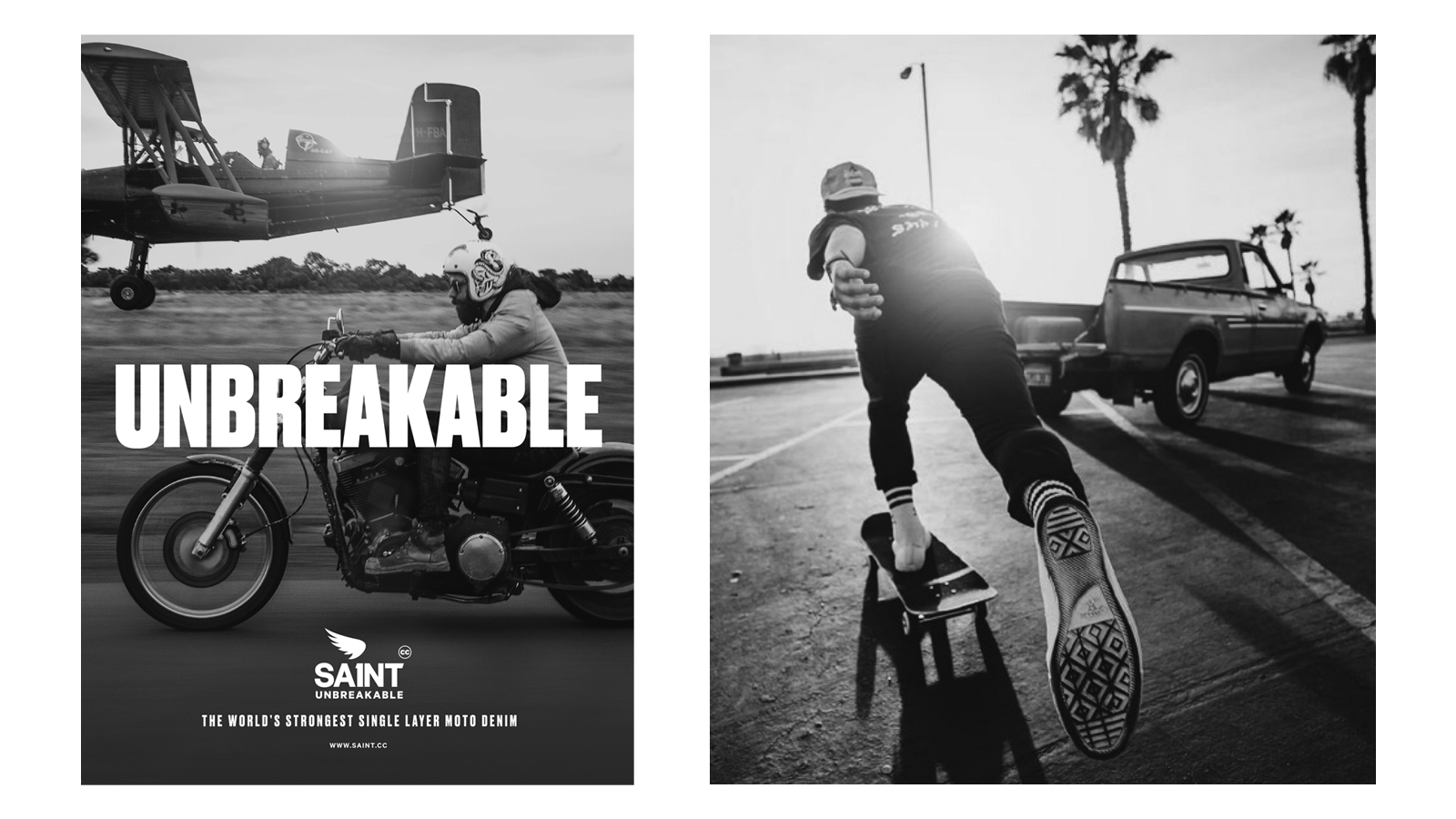 Press Release:
SA1NT UNBREAKABLE
"With the throttle screwed on, there is only the barest margin and no room for mistakes. It has to be done right … and that's when the strange music starts, when you stretch your luck so far that the fear becomes exhilaration and vibrates along your arms. You can barely see a hundred; the tears blow back so fast that they vaporize before they get to your ears. The only sounds are the wind and the dull roar floating back from the mufflers." — Hunter S. Thompson
Designed for riders by riders. We are passionate about our motorbikes but tired of compromising looks for safety, or safety for fashion. SA1NT apparel delivers great freedom and form, with world first single layer protection. With no bulky layers or liners, we provide the very best in strength and impact abrasion resistant denim, while maintaining a classic style. We equip you with Unbreakable apparel and celebrate the Unbreakable human spirit.
SA1NT WORKWEAR
Our Works Collection is built on SA1NT's patent-pending denim innovations in strength, comfort and perfectly engineered workwear cuts.
We spin the world's strongest fibre, Dyneema's® Ultra High Molecular Weight Polyethylene (UHMWPE), into the heart of our denim giving you a fabric that, on a head to head scale, is 500% tougher than many standard denims while adding stretch for easy movement and comfort.
From SA1NT's inception, our aim has been to design the strongest moto denim on the planet, denim that could protect you on the road. To achieve this, we utilise the world's strongest fibre, Dyneema®. Dyneema® is a version of UHMWPE — A high-density material that can be spun like cotton, feels great to wear, and enabled us to realise our vision of AA-rated PrEN 17092-1:2017 single layer fabric for abrasion resistance. We love the journey of research and development, embracing new materials and technology to pioneer protective fabrics. For SA1NT WORKS, we went back to the drawing board and created a way to spin Dyneema's® UHMWPE into our core denim yarn to create all day workwear that is foundationally tougher, comfortable and looks perfect on and offsite.
In the lab, SA1NT Works Denim is up to 3 x tougher when it comes to tearing, has a tensile strength 1.5 x higher**, with a cut resistance 2 x greater and is 6 x more durable in wear abrasion tests*.
For any enquiries, please contact:
Eden Palm
SA1NT CC
[email protected]
www.saint.cc