The etnies Team Heads To Malaga This Friday
etnies team heads to Fuengirola Skatepark, Malaga this Friday (October 11, 2019) for a meet & greet, skate session and free pizza and drinks! Head on down Friday evening at 5pm to get involved.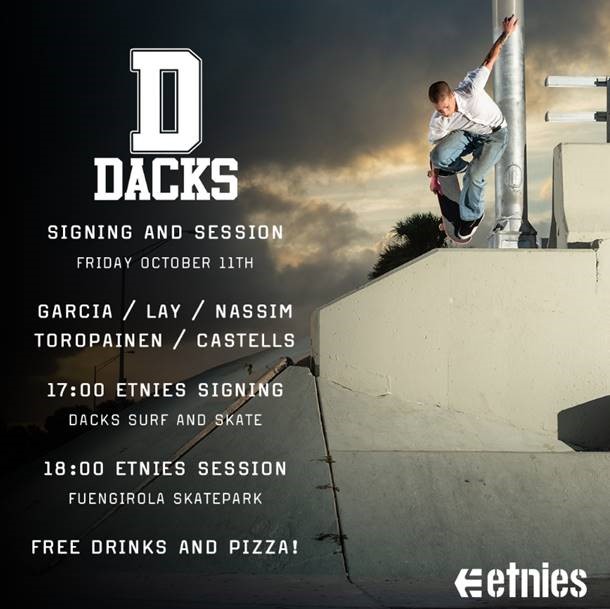 etnies @ Fuengirola Skatepark
This upcoming Friday we will be visiting the city of Fuengirola (Malaga) with the etnies crew to have a great session at the Fuengirola Skatepark Ignacio Echevarría skatepark.
Obviously, you and your friends are invited!
Please see below the details of our visit:
Friday 11/October/2019
Dacks Surf & Skate Store Meet and Greet           
Location: CC Miramar (100 mete away from skatepark)
Time: 17:00
Fuengirola Skate Session                            
Location: Fuengirola Skatepark Ignacio Echevarría
Address: Calle San Cayetano, 7, 29640 Fuengirola, Málaga
Time: 18:00
Pizza and Drinks at Skatepark                    
Time: 19:00
Riders:
Nick Garcia, Ryan Lay, Nassim Lachhab, Eetu Toropainen & David Castells
Riders' Handles:
@nick_garcia @ryan_lay @nassimlachhab @eetutoropainen @dcastells
Please see attached the flyer for Instagram and Insta stories, feel free to share and see you there!
Will keep you posted on stop 2 of this tour, more info soon…….