Method Mag Honcho Gives Low-down On Innsbruck Movie Night
We sat down with Method Mag honcho Chriso "Bum Bag" Mcapline to talk about their movie night on October 19 in Innsbruck. This winter the mag – which is also celebrating 25 years – worked with Zak Hale on his flick 'Trash', while Chriso also helped produce this year's Scandalnavians movie (alongside Swedish filmmaker Kristofer Fahlgren and Jockie Sahlberg) featuring heavy hitters Len Joergensen, Alex Oestreng, the Helgason brothers, Nisse Arvidsson, Sven Thorgren, Rene Rinnekangas, Anti Jussila and many more. The IBK movie night also features films from Vans, Beyond Medals, Ivika Juergenson's movie and The Lobster Team Movie.
Head on over to Leo Kino cinema in Innsbruck, doors open at 21:00, be sure to get there early as the free entry night is first-come-first-served. And of course, after the movies is an unmissable "till the last person goes home" after party!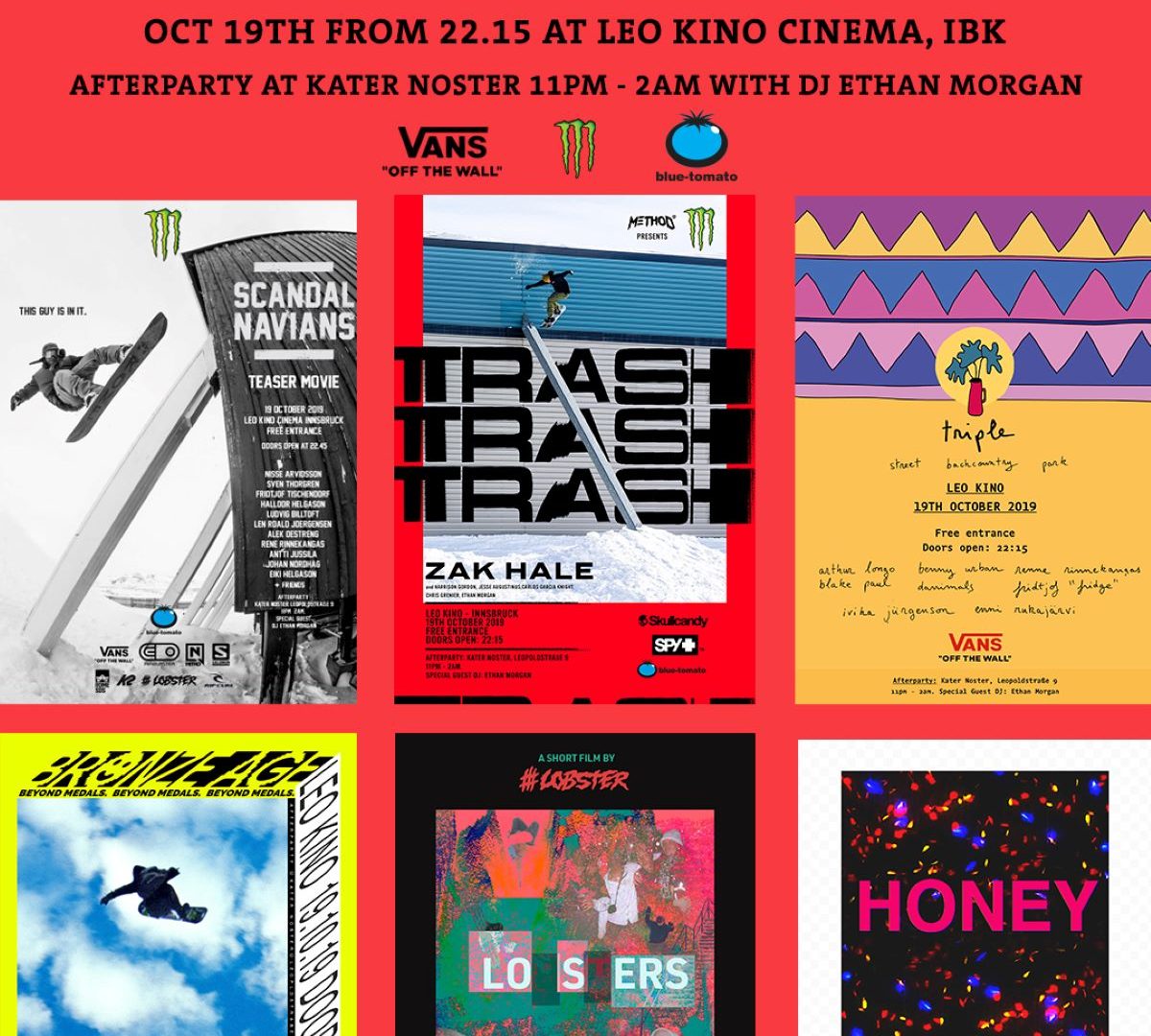 Can you tell us about the Method Movie night that's happening on Oct 19th in Innsbruck?
Yep. Method is hosting a movie night on the 19th October at Leo Kino cinema in the heart of Innsbruck supported by Monster Energy, VANS and Blue Tomato. It's going to be a pretty wild night. It also happens to be in the middle of the Stubai opening, so there will be plenty of people around Innsbruck. It's the perfect time to get everyone together to catch up and get hyped to watch new movies and kick start the winter season.
Which movies will you be showing?
Ok – we have 6 movies / edits in total. And they are all really sick. The longest movie is 15 mins, so it's a collection of rad, heavy movies that don't drag on for too long. We have Trash – a movie featuring Zak Hale and his friends. Scandalnavians- this is a heavy 2-year production. It is a movie teaser from year one featuring the best riders from Scandinavia. Vans Triple – a 3-part series: park, street and powder. Bronze Age – a Beyond Medals production. Honey – Ivika Juergenson's movie and Losers – The Lobster Team Movie.
Sounds like an intense line up. What's the deal and how do people get tickets?
It sure is. Firstly, it's free entry and it's on a first come, first served basis. Doors open at around 21:30 and the movies will start at 22:15. I would advise people to come down early, grab a beer and hang out. We have put on movies before at Leo Kino and it's been crazy packed. However, we will be doing two showings of the movies so everyone will have a chance to see them.
What's the idea behind the movie night?
Well, I just thought that there were not that many cool things happening in Innsbruck to get people hyped to go snowboarding, so we decided to set up a night to give the riders and filmmakers an opportunity to showcase their new projects on the big screen. It's not just about watching movies, it's getting the snowboard community together, catching up with crew, drinking shit loads and sending it deep. Hopefully, people wake up the next morning (with a hangover) thinking what a sick night, cool movies and great party and most of all hyped to go riding.
Talking of parties is there an after party?
Of course there is! We have teamed up with the good folk from Kater Noster and hired Innsbruck's most notorious DJ. Ethan Morgan (Aka DJ Anal Juice) and pro shred David Djite to play on the decks. Rumour has it there is also plenty of Monster dollars floating around (which gives you free drinks). The party will start straight after the movies finish around 11pm until, well, until you've had enough, I guess. HA.
Last words
See you all down there and look forward to showing you these movies and partying. For more information hit the link https://www.facebook.com/events/554572565283858/
See you down there.