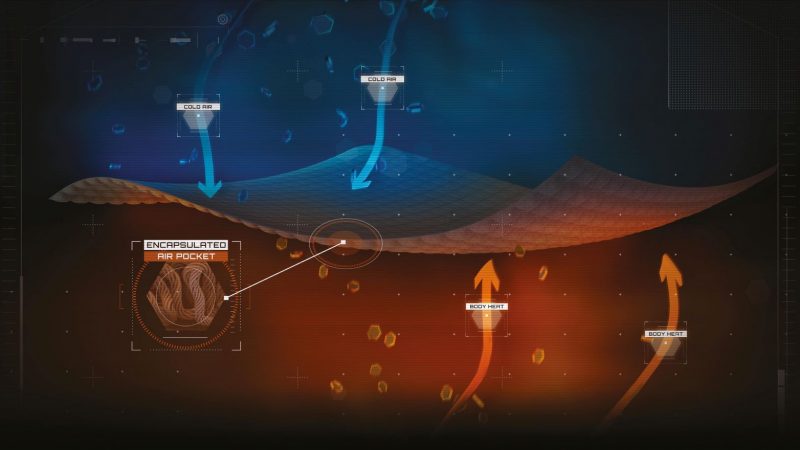 Polartec Advances Fabric To Create Lightweight Power Air
Environmentally aware brand Polartec has launched a lightweight version of its' Power Air fabric. The structure of this fabric is designed to slow microfibre shedding, proven to be 5x slower than regular mid-layer fabrics; and, is considerably warmer too.
Press Release:
Don't shed the small stuff
Lightweight, breathable and insulating – they're the top three features we are all looking for in our outdoor gear. Something to keep us warm, without overheating as soon as we turn up the power.
But now there's another element we're starting to search for in our clothing – it's environmental credentials. As more and more of us enjoy the natural world, we want to know that we're doing what we can to reduce our impact on it. Making thoughtful, informed decisions.
One of those decisions is over the clothing we choose to buy. Fast fashion, real fur and PFCs are all negative words in the outdoors market now. Instead, as outdoor adventurers, we're looking for sustainable, robust clothing that stands the test of time whilst also keeping us warm and dry.
One of the key areas of research into this matter is the effect of microfibres on the outdoors – this will ring true particularly for surfers in the ocean. Microfibres are the tiny fibres which rub off our clothing when we put it through the washing machine or through normal wear and tear on a daily basis.
When it comes to synthetic clothing, like that made of polyester for example, these microfibres are basically tiny plastic pieces which find their way through our sewage systems and end up, sadly, inside fish. So, what can be done to try and reduce this?
Polartec is at the forefront of this research and development area. In 2018, the American fabric manufacturer developed and launched Power Air. Its ground-breaking USP is that it sheds at least five times fewer microfibres than other high-performance fleece fabrics on the market.
It does this through a revolutionary knitting process which actually encapsulates the microfibres in small pockets. Those microfibres trap warm air, generating heat and keeping you snuggly warm. Traditionally, fleece traps this air in lofted fibres or high pile knit structures. But the new 'bubble-wrap' style technology offered by Power Air ensures this warm air stays trapped but also makes sure fewer fibres are exposed and therefore less susceptible to shedding. The technology has been a hit in the outdoor industry with a number of brands embracing the fabric including North American snowboard brand, Burton.
Now Polartec has gone one step further with the launch of its new, lightweight version. Lightweight Power Air not only reduces microfibre shedding but is also completely recyclable and is actually made from 73 per cent recycled post-consumer plastic waste.
Recycled fabric is a big topic for Polartec and something they have focused on for a number of years. In fact, a couple of years ago they passed a target of recycling one billion post-consumer plastic bottles into fabric yarn. A figure that continues to grow to this day.
Power Air is a game changer in the outdoor industry and is set to shake things up at the manufacturer level. But as a consumer we can all start asking for fabrics like this by name when we visit our local outdoor store to demonstrate our support for brands who are putting ethical and environmental considerations first.
Lightweight Power Air remains an insulating fabric, but its lightweight nature means it's even easier to layer with other fabrics or worn by itself on warmer days. It's epitomised in the soon-to-be-launched Mono Air Houdi from Houdini. A light, airy and wonderfully warm jacket with an athletic, slim fit style, snug high collar hood and extended sleeves with thumb loops – based on the iconic Houdi design.
It's the perfect layer to sit comfortably underneath a ski jacket. But can also be worn on its own on a spring or autumn morning before the sun has risen. It's this versatility, combined with comfort and environmental ethics that put brands like Polartec in the spotlight for positive reasons.