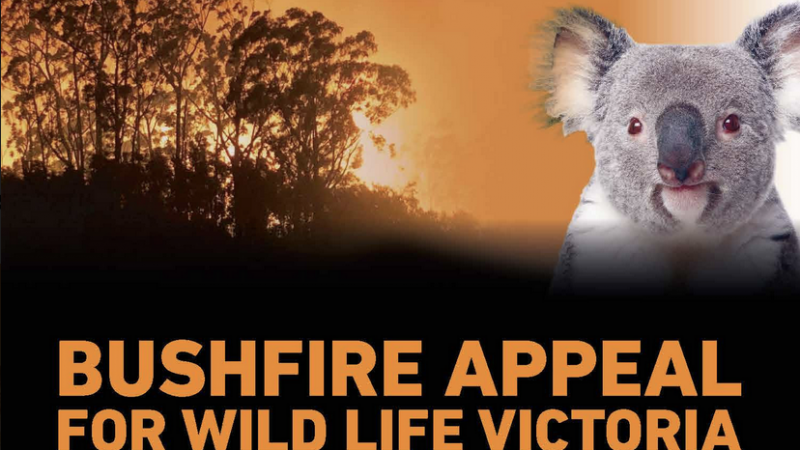 ROJO Outerwear & POW Raise Funds For Wildlife Victoria
As Australian brands POW and ROJO feel it important for to raise awareness about the situation going on back home. They have decided to support Wildlife Victoria in giving 100% of all store and online profits to them in aid of the Bushfire Crisis.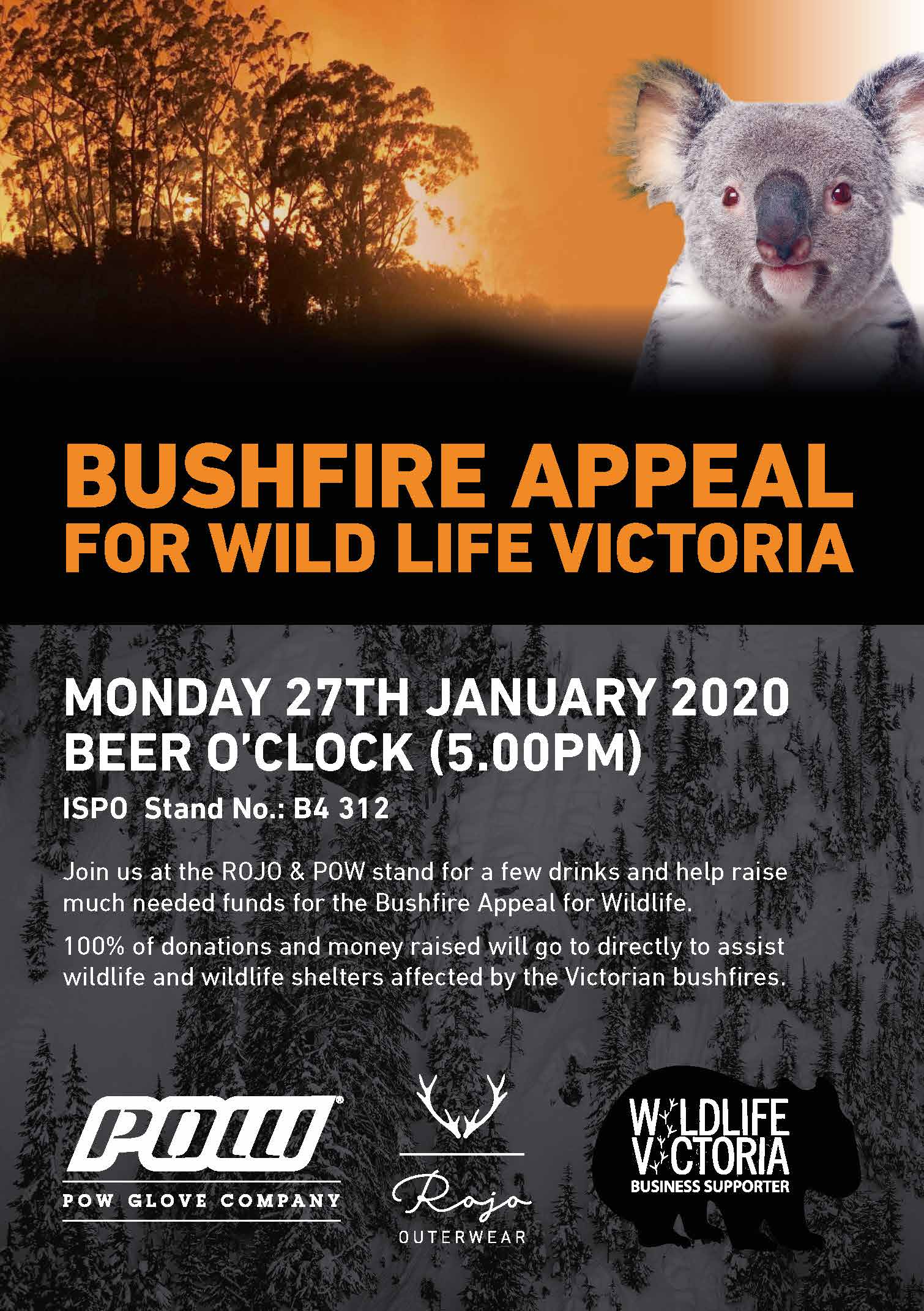 Fundraising efforts will be held at ISPO & Outdoor Retail Show
ROJO & POW have implemented sales and fundraising initiatives to raise much needed funds for the Bushfire Appeal to help wildlife and wildlife shelters affected by the Victorian Bushfires. All funds raised will support the work of Wildlife Victoria to assist injured, orphaned and displaced native wildlife.
With the unprecedented bushfires that have ravaged Australia in recent months there have been concerted efforts to raise much needed funding for many supporting charities that offer aid directed towards the people, wildlife and organizations that have been impacted by these catastrophic events.
ROJO Outerwear and POW Gloves have committed to 2 fundraising initiatives:
1. ISPO Munich Snow Trade Show: ROJO & POW Beer O' Clock Social Fundraiser Drinks donation and prizes raffle where 100% of funds raised will go to Wildlife Victoria's Bushfire Appeal (Mon 27th Jan 2020, Stand# B4 312)
2. OR Show Denver: POW Karma Key Fundraiser Drinks donation and prizes raffle where 100% of funds raised will go to Wildlife Victoria's Bushfire Appeal (Wed 29th Jan 2020, Stand# 37149-UL)
A donation box will also be on site at both ISPO & OR events raising awareness of the Bushfire Crisis and Wildlife Victoria.
David Salveson, CEO of ROJO Outerwear Group & POW Gloves comments, "Living in a rural community and having previously seen the devastation that Bushfires can cause here in Australia, I feel that we all need to contribute to such an important cause. Wildlife Victoria is in desperate need of donations as much of Victoria's native animals and their habitat have been worst hit; For example, the recent fires on French Island which is home to the last disease-free Koala habitat in the world is now under severe pressure.
The financial support that has been donated globally has been unprecedented and as a small company, all members of our entire team want to do what we can to help support Victoria's precious wildlife and ecosystem".
Key Statistics on the Australian Bushfire Crisis
• More than 10.3 million hectares (25.5 million acres) of land has been burned across Australia since the bushfires started in September 2019; more than twice the area that burned in Amazon's rainforests during 2019.
• So far, the fires have killed 29 people and more than 3,000 homes have been destroyed or damaged. • An estimated one billion animals from Australia's rich wildlife, mammals (koalas, kangaroos, platypus), birds, reptiles, and other species have been killed by the fires. This figure excludes fish, frogs, bats and insects.
About Wildlife Victoria
Wildlife Victoria has provided the community with a Wildlife Emergency Response service for 30 years. Our mission is to help and protect wildlife through our rescue, education, and advocacy activities. We respond to community reports of distressed wildlife and facilitate the care needed. We promote community knowledge and care of wildlife and advocate for the protection and welfare of wildlife.
About POW Gloves
Born out of the Pacific Northwest, POW is focused entirely on creating the highest performing handwear that is "Built To Last". Using premium materials like "Grade A" leather, technical synthetic fabrics and GORE-TEX® brand technology, POW products are designed to keep your hands warm and dry "All Day, Everyday". POW is now sold in over 43 countries worldwide.
About ROJO Outerwear
ROJO Outerwear is designed for women by women. Following our original mantra "Born in the Mountains, Lives by the Ocean" all styles are lovingly created down to the finest detail. We specialize in custom handcrafted artwork, designing our prints inhouse and collaborating with like-minded female artists from around the world. Throughout the line we focus on using beautifully engineered fabrics that are developed into classic flattering fits. All of this is rounded out incorporating technical features that will keep you warm, dry and comfortable both on and off the mountain from first chair to last call.
For more information, contact Michael Belfrage, Marketing Manager, ROJO Outerwear & POW Gloves on [email protected] or [email protected]