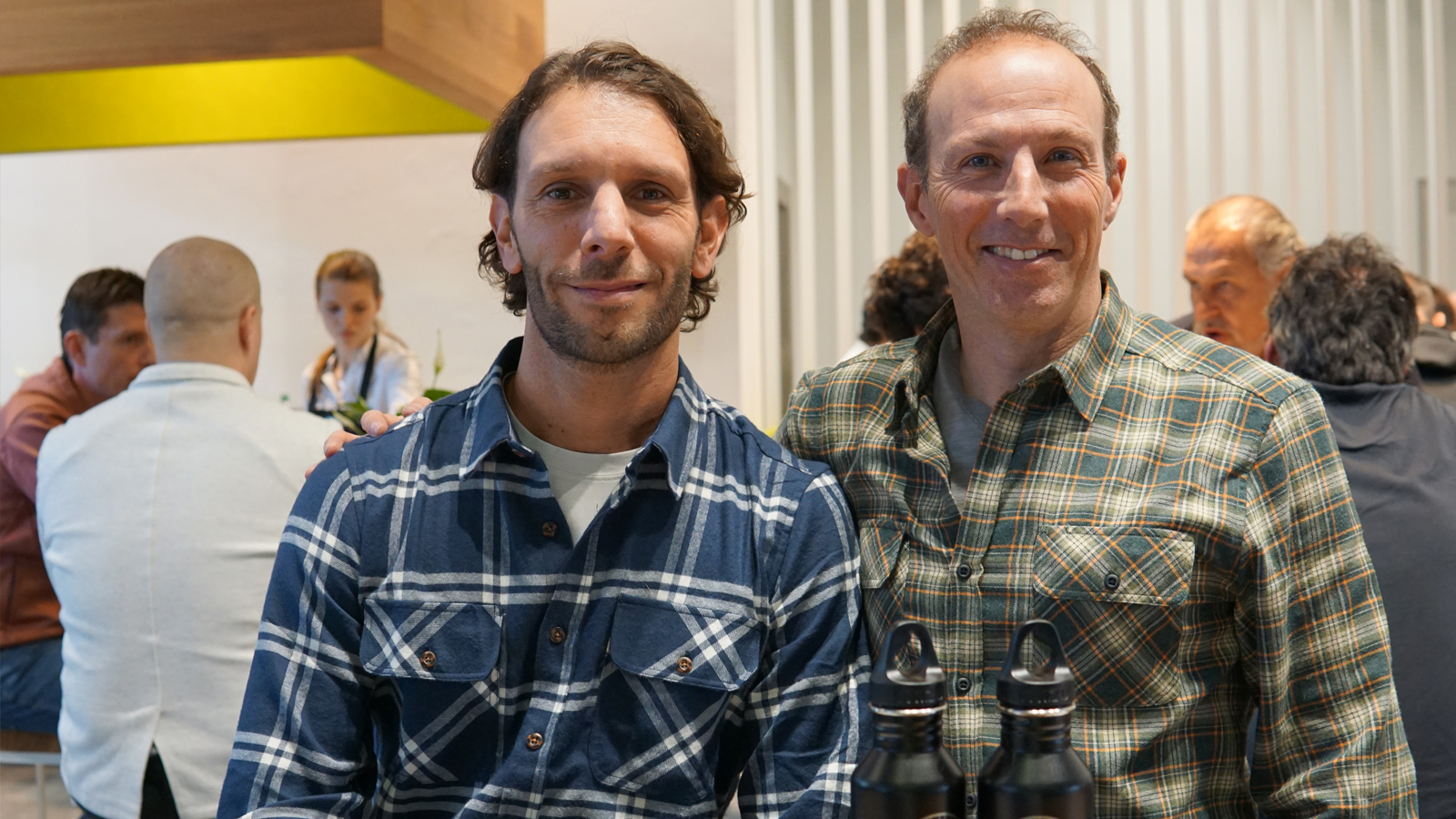 EXCLUSIVE Interview: New Hurley EMEA Ownership
In October 2019 Nike announced they were selling Hurley to Bluestar Alliance LLC, 17 years after acquiring the surf brand. The surf industry has clamoured for intel on what the future holds for Hurley since the news broke three months ago, and at ISPO this week SOURCE sat down with the new EMEA ownership team of Javier Carrera and David Meire to talk about the deal they've brokered for Hurley EMEA.
In a fascinating interview we learn about the backgrounds of these two esteemed industry vets and also hear how their deal with Nike has been in the pipeline since October 2018. David and Javier – both former Nike employees – tell us more about the Bluestar Alliance group and we explore the difference in portfolio position Hurley filled at Nike – a minnow in the portfolio – compared with the new owners, where it is now the biggest fish in the pond.
Carerra and Meires have already scrambled to speak to their major European distributors and sales agents and it would seem the extensive groundwork they put in with Nike before the BSA deal was even on the horizon has paid dividends, with John and David carving out very favourable terms for the EMEA operation.
Read on to find out more about de-tangling Hurley from Nike.com, their push into European grassroots surfing and also hear more about the hard truth behind Hurley under Nike's stewardship: "The reality is that the brand was losing money for a lot of years and that you cannot blame on the new guys."
Interview by SOURCE Publisher Clive Ripley & Editor Harry Mitchell Thompson
What will your roles be at Hurley EMEA and where is your background in?
David:  Javier is the CEO of the company. I am his partner, and I was the Sales Director for Nike in Central and Eastern Europe in the Middle East and Africa and with over 20 years in the industry, meaning I've built great relationships with all the main distributors. A part of what we have to do is assess our distribution network outside the big five in Europe (UK, Germany, France and Spain and Portugal). And that's what I'm going to put a lot of my energy into. Javier will focus a lot on the product side and getting the main five countries in Europe up and running faster.
And Javier, what about your background?
Javier: I spent nine years at the Quiksilver Group doing DC Shoes. Half of that was here in Europe and the other half in Huntington Beach, running Latin America.
I was over there for four years and then I came back and started at Nike. I was there for three years running, what was called Nike Action Sports before it moved to Nike SB. That's when all the surf team, and Nike Surfing moved to Hurley. And that's where me and David met. He was working at Nike at the time and we worked together for three years and then I was Hurley GM for Europe for the last year I was there.
And then I moved to Pepe Jeans, into fashion. So I'd been in fashion for the last four and a half years.
David:  I've also done two years in fashion, I had more of a mainstream career within Nike. I had 20 years in Nike. I did sales, marketing and worked in their categories where Nike moved to the categories model. I ran football for Europe for six years, which is obviously a big category within Nike.
Then I did direct to consumers, which was really good because that gives us lots experience on the retail side. And then for family reasons I moved down to Barcelona – I had been commuting for 12 years – so I moved into fashion and worked for Desigual for two and a half years as Co-CEO.
And then I just left to set up the Hurley operation for EMEA. We already knew that we had a good chance of bidding for Hurley. I jumped ship a little earlier than Javier, so in August 2019.
You knew in August last year that this might be hived off?
David: We've been working on this for over a year now. We started conversation with Nike back in October 2018 and we had a deal – or a handshake agreement with Nike – already back in March 2019. But then things changed within Nike because they had bigger plans for Hurley. So then all of our talks and conversations were put on ice for, what we thought was going to be a few weeks, but ended up being a few months.
Nike were good ambassadors for us and they were open in telling BSA, "We've been through all of this and these were our guys for Europe. Now it's up to you guys." And that's where we jumped on the plane quickly to meet the BSA group. And this happened in this past eight weeks.
And what are the guys like at Bluestar Alliance?
David:  They are definitely a lot different from Nike. They call themselves a brand and marketing group, but I think they have an idea of maximizing the commercial potential of our brand in a different way than Nike. And obviously I think the main difference is that Hurley plays a different role in that portfolio because it's their biggest investment in a brand with the highest potential from a commercial standpoint. With Nike, it was a totally different story.
Interesting. The other way in fact. Hurley was just a fraction of Nike's overall business…
David: Yes, totally the other way around.
So the whole thing started by you guys seeding the idea into Hurley. Did you have any competition for the bid?
Javier: I think we did on this last part with BSA. We haven't been given the names. But I think there were two or three other contenders. I think like David said, we started the journey over a year earlier. So we were a lot further ahead in many ways and actually David was recommended by a business partner he'd been consulting for and who worked with BSA directly. Me being the former GM for them in Europe was a guarantee for them that I knew the team. They don't operate any business in Europe, so they didn't want to have to learn how to do that for Hurley, and I think we were the perfect partners for them. We had already done all the assessments of the business and we know it inside out. So it was a simple and fast way to find a partner that they believed could grow the business in the right way for them.
David: I think there was no competition with us for a whole package deal like we had put together. I think for BSA it was more a question of wondering whether they were going to go with us, or to just split the brand up with different exclusivity deals. Then they could have gone to the likes of a JD Sports or whoever in the UK, another for France, another for Southern Europe etc and people that would just put the brand in their retail chains.
I think when we were discussing with them they realized that Europe reads from a distribution channels standpoint and that it would be good to have their brand represented in more than just one channel and even differently in each territory. So we've spent quite a bit of time with them on this topic and I think that helped that too.
Javier: Another point is that the Hurley brand in the US has different momentum than their position in Europe. The journey in Europe is a lot longer than in the US to actually commercializing it. It's not the same as in America with just one market, so I think this also gave us an advantage.
Have you spoken about any changes with your sales and distribution network / sales agents?
Javier: Yes. We just had a meeting with them on Thursday. We had everyone come over from the key distributors to communicate face to face.
The only ones that couldn't come were the UK guys because they had appointments already because this was so fast. But I know them personally, so they were good. We just jumped in a week ago, so we still need to assess the day-to-day but our idea is to continue the same route.
The key pillars are more on the product side; what the collections are going to look like, what else is going to be offered. For us it's about how we make the brand a 365 brand, not just a summer brand, which for Europe is key. If you want to be serious to any retailer or the consumer and provide a full year round brand, that's key. So that's one of the main things that we need to work with the global team on. The other thing is how we rebuild the whole marketing part, it's about how that's going to look, how we know to walk the line from the very core to everything around surfing which is I think what a lot of the other big brands in the industry have done in order to be more known and really grow sustainably, which is key.
So is Europe going to be separate from global? You're going to have your own seasonal pushes in marketing?
Javier: 100% separate, obviously it will be a global image that we need to follow, but we are going to leverage that and then at a local basis we're going to have our own strategy.
And you guys will have that full autonomy to do that?
Javier: Yes.
What are you going to do about athlete team because in America they're talking about cutting everything … will you be in control of your own athletes?
Javier: We had a conversation with Philippe Malvaux, Hurley athlete manager and team rider Nic Von Rupp, but basically we need to see what global is going to do at a global level and that's going to shape what we do and what we need to build locally to compliment that because obviously it depends on assets and athletes that are going to be at the global level.
Then we're going to see how we fit our marketing strategy around that. So next week in Costa Mesa is going to be key for that to understand what their plans are and then go from there.
So they haven't confirmed? There have been a lot of rumours in surf media about all athletes being off Hurley at the end of their respective contacts, and that the likes of Machado, Bourez and now John John Florence have left already. Can you confirm or deny anything on the athlete front?
Javier: We know that some of the contracts that expired, they weren't renewed. We don't know details of what's going to happen with the active ones. So to be honest, we don't know what global is going to do right now. Hopefully we'll get to know a little bit more when we meet with the team in Costa Mesa next week, so then we can plan accordingly. But what we do know is what we want to do here at a European level, which is build the grassroots team up and then move from there and try to find a balanced team across genders and also in the key countries.
David: I think to have a great athlete roster is fantastic. But, and maybe I'm speaking thanks to my years in Nike football, at the same time I think the downside of partnering with so many high level athletes, you end up feeling that you've got them, so you don't have to do anything else for the consumer in the industry. So I think in this situation, it automatically force us to look back into grass roots and what really activates the sports, the community around the sports and – for me it's a challenge – but it's something that we are really looking forward to. I think that it can be really beneficial for Hurley as a brand as well, because we will have to work on a more granular level and get closer to the ground, the grass roots, because there's a risk of staying very high up as a brand and being too far away from the everyday consumer.
Javier: We've also learnt from the brands we've worked with, and maybe more in traditional sports, that you need to build the right size of team in order to really be there for them and make them grow too. Because if you have too many athletes then you can't work on everyone's image and relate them to the brand in the right way. And that is probably what happened at a global level when all those riders moved from Nike 6.0 to Hurley and then suddenly there wasn't enough money to push all of them at the same time. I think when you build a team you need to build a team with an identity and logically with different profiles.
Is Hurley still integrated into Nike.com? Is it going to be a big mission de-tangling the website away from Nike and how do you do that?
David: Yes, we will be unplugged from Nike.com as of April – give or take a couple of weeks. We have experience from former companies and their digital offering, so we are using this knowledge and are just at the phase of finalizing the plan on what will be externalized to third parties and what we'll run and do in house. I think most likely everything that has to do with site experience, we want to have in house. Everything that has to do with tech, will most likely be outsourced at least now, from the beginning. And then everything to do with driving people to the site in performance marketing is where we might go 50/50 in house vs outsourcing. So that's going to evolve over the next 12 weeks. But yes, we always knew we'd have to unplug somehow mid March/April and we're well into the planning stages for this.
Javier: We see this as a key opportunity and a key pillar for the growth of the brand. I think being in the Nike platform is great from our standpoint, but then it's very hard to communicate in a qualitative way your content, your brands and then a lot of the products, because it's such a big platform. This makes it become super standardized so we're going to be able to work a lot better on the brand, product and athlete story sides on our own platform. And that's key for us. That's going to be a lot better for the consumer experience and for the brand.
Product-wise, basic product and technology flows across from global and you can develop your own product lines, your own technology etc?
David: BSA runs a license model where they license the different product categories as well as the license for some of the commercial operations. So we are to buy products from those licensees. Doing an assessment of what is needed for Europe from a price point in categories standpoint is also part of the contract. And with that we'll do a proposal and if there are any gaps in the collection that we'll be presenting, then we'll be having a conversation that eventually might end up with those licensees producing that product for us or us going to find a new vendor or a new factory for that type of product.
We hope that we won't have to go outside the current portfolio of licensees but we'll see. If that's the case, the contract allows for this and it will be a conversation.
Sounds like a pretty good deal!
David: We fought for that! We have the full marketplace in front of us and it's up to us to grab it and decide which channels we like. So that's why when we were talking about keeping the authenticity of the brand, a lot of that is where you decide to sell and that decision is us.
Javier: When we had the whole sales organization with us last Thursday at the headquarters in Barcelona, they asked a lot of the same questions that you guys are asking: "Are you going to keep the sales organization?" With all the news that's coming from the US etc, I told them that there are two sides to it. Firstly, you may or may not like whoever the new owner of the brand is globally. But the reality is that the brand was losing money for a lot of years and that you cannot blame on the new guys.
On the other note, we need to make sure that the right product's there, the marketing is there, the tools that the sales reps need to do the job are there. That's a key enabler for them to sell whatever they can sell and maximize their service. We both come from sales; we've both been sales reps, sales managers, sales directors, country managers – we've done the whole thing. So I think what we can do is create those tools and provide those tools and give them the support.
David: I think over the next weeks and months everyone from employees, to the trade, media etc will have a split second fond memory of "how good it was, the good old days" and being a bit nostalgic. But I think it's just what Javier said; we all have to do a reality check and see that this couldn't keep going like it was because there is no company that in the long term can sustain or make a living without making any money. With Hurley at Nike it lasted a bit longer than it would have if it had been a privately owned company or a smaller group with less resources. So I think that's the starting point. And from here, things will have to be done differently. Let's all try to make sure that it will be different. Keeping what needed to be kept and changing what needs to be to make that operation sustainable over time. And if we strike the right balance there, I think we'll be successful. I think that's also what we said it to our employees and we are telling ourselves; we love Hurley. But it may need to be a different Hurley, and it needs to be because the previous Hurley wouldn't have been there in 10 years time. What we want is for the brand to be there in 10 years, 20 and 30 years time.
The people we've spoken to seem to be glad that Hurley is staying in Europe as a single entity and not being broken up…
Javier: Yeah. We've been talking with the Quiksilver guys, the Billabong guys and the people at Carhartt. We're talking about how to regain space from fashion and traditional sports brands. We're asking them how we build up again. The industry has lost a lot of real estate in the market. Obviously digital is an easy one, but then you need to gain back that physical space too.
David: In my years at Nike I had never seen an industry where participation and sales are just going completely the opposite direction and I think that's a reflection point for the industry to say, "Hey, this needs to be turned around. It doesn't make sense."
Javier: We are all about pushing the positive message.