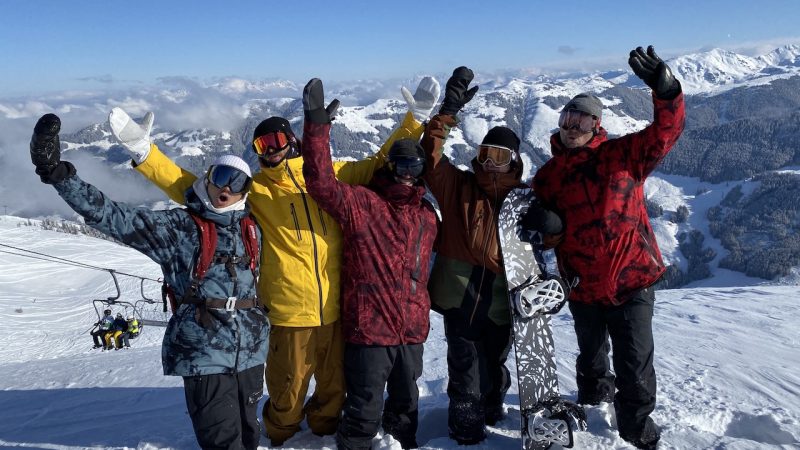 686 On Growth Inspired By Product Innovation & Diversity + Investment In Wholesale Activations
686 is all about innovation; creating designs and technology that optimise and enhance experiences. Pacôme Allouis, European Marketing Director and Brent Sandor, Marketing Lead, give an insight into product trends, technologies, marketing techniques and their approach to sustainability. Photos & interview by SOURCE Editor Harry Mitchell Thompson.

How's the Hydrastash line developing for 20/21?
Hydrastash continues to grow in our line-up. After a highly successful second season, including the introduction of our first GORE-TEX x Hydrastash jacket, we will enter 2020/21 with two new silhouettes utilising Hydrastash. First in a men's bib – the GLCR Hydrastash Quantum Bib. This bib has received amazing reviews by the team, noting that the water weight is even less noticeable than the jacket and that they love being able to tour with Hydrastash and switch up layers while still having hydration. The bib was released in a very limited amount last November and sold out in key sizes immediately so we can't wait to offer this one to our retailers around the globe for 20/21.
Second, in a men's vest – the Hydrastash SMARTY Vest. This minimal vest fits perfect under your jacket and connects directly with our SMARTY pant connection or snaps around most pants to create a bib as well. We recently tested it in both the Mammoth Mountain backcountry (Sammy Luebke) and park (Riley Nickerson) and both riders loved it!
How's the European team shaping up? Any news with team riders or additions to the team?
We continue to work alongside Victor Daviet and Gigi Rüf as our main European team riders. We are excited to announce that Gigi will be joining our Global Glove/Mitt team and we will be introducing a pro-model mitt along with his new signature GLCR SMARTY 3-in-1 Gore Tex Weapon Jacket. We are working with both Victor and Gigi on some very interesting long-term projects that we will showcase later on. We also continue to support Celia Petrig, Elena Graglia and newcomer Mia Brookes on our women's team.
Could you talk to us about the revamped interest in gloves…
We relaunched the glove/mitt category 3 years ago through a partnership with Seirus gloves. This partnership has allowed us to really dial in the fit and function of our gloves and mitts. We have been slowly building the 686 gloves brand since then, and this year, are placing a major emphasis on building 686 gloves into a household name. We created a stand-alone ad campaign with over 2M views across multiple media platforms and have added riders like Gigi Rüf, Hana Beaman and Elena Graglia to an already amazing roster including Forest Bailey, Sammy Luebke, Matt Belzile, Kyle Mack, Phil Jacques and more; plus a full push on our collabs with Ozzy Osbourne, NASA, Seinfeld, SKETCHY TANK in 2020.
We're also building a solid offer and program around our gloves to support retailers with display solutions and POP for 2020/2021.
And your women's category seems to be going from strength to strength?
This is a big one for us. We are really looking to grow the women's category and have made a major commitment over the next three years to it. We have signed new athletes, including Taylor Elliot, Emma Crosby, Giorgia Bertoncini (ski) and most notably Hana Beaman as the cornerstone of our program. We have added a Women's Program Manager position to our brand, with Mary Walsh filling the role helping create communities both in real life and online as well as activating our team. We have put in place a yearly women's round table with attendees including athletes, media, retailers and consumers. This round table will serve to help us continue to evolve the product into a new place for women. We are very excited, and we have just begun on this journey with our ladies.
As part of this initiative, we will also push our Borderless Collection, a selection of unisex styles designed to be worn by men and women.
Could you please give us your perspectives of the lay of the land with the European snow retail market (Pacome) and the US/global market (Brent)?
(Brent) Global – Currently we are seeing a great season in the USA with cold conditions and early season snow. Asia has had slower conditions but is getting better day by day. Without regards to any conditions, we are seeing growth, year after year for 686, due to great purposeful new products, on time delivery and increased brand awareness and value through marketing. The introduction of our Everywhere and Anything pants and our refocused approach to gloves/mitts has also provided new avenues for growth for the brand.
(Pacome) EU – The EU market is always moving! Our challenge is to make sure that our strategy fits each region and country with the same brand vision, message and products. We also feel that the retailers who are still dedicated and passionate about snowboarding are finally back on track after a few difficult seasons – because snowboarding is back and the sport is shifting with the global outdoor movement.
Supporting these retailers is part of our mission at 686, and we have plenty of in-store activations between team rider videos, clinics and parties. Our EU Reps are doing an incredible job, these guys are part of our service where we win loyalty for the retail scene and work into forming long term partnerships. Part of that – being independent – is a real advantage, we can act faster if needed and scale strategies in accordance to the ups and downs of the retail environment.
What are you doing with sustainability / eco issues?
First, we made a sweeping change to the insulation in our GLCR collection – replacing our current polyfill insulation with minimum 70% recycled insulation (from plastic water bottles). We are using different levels of insulation from both Clo® and Primaloft®. Each one saves at least 70% energy and 90% water use compared to virgin fibre production. We have outfitted each product with a hangtag that shows how many water bottles were recycled into that product to make it very easy for the end purchaser to connect with. Second, since its inception, we have realised that Hydrastash is not only convenient, but is also an eco-friendly solution. Thousands of kilos of trash from single use cups and bottles are thrown away at resorts and we are positioning Hydrastash much like your reusable water bottle – a container that can help you eliminate your reliance on single use water bottles and cups. Over the coming seasons, we will also start to work with partners to help minimise the single use of cups/bottles at the resort level as well. Beyond these two major initiatives, we are working with select GORE-TEX styles with PFCEC Free DWR finish, making a larger push into our repair parts to keep our gear in use longer, and most importantly, continuing to work with our supply chain to minimise our carbon footprint and to update our manufacturing to more sustainable practices.
We have also teamed up on a few events in the past couple of months in Europe with POW, to bring their knowledge around eco topics into different audiences and link 686 with a lead association around climate change.
Could you please talk us through your opinions on experiential marketing Vs digital marketing?
(Pacome): For 686, with all of our marketing and brand initiatives we like to be on the ground, with snow demos, events, experiences with team riders and showcasing our story, products and innovations to 686's audience and also seducing new people. Those initiatives are there to drive our consumers back to our retailers with a better idea about 686 and our products. We're also really visible in printed snow media, as print is still alive and heavily in demand.
For retailers, thanks to a combination of events such as The Safety Shred Days as well as our lodge at Shops 1st Try and experiences with our team riders, the goal is the same; make sure they feel part of the brand and the 686 community. Those moments are important, due to the fact that retailers are away from their stores, and conversations are more 'open' and you can also collect good feedback from the market and also around your products and brand.
Regarding digital, it's always hard to find what the next hype platform, app or network is going to be. From my perspective, FB is really something dedicated around events, IG is the place to be, Tic Toc is more fun, and of course YouTube which, for me, is the future of TV.
We're encouraging our athletes, stores and communities to be share as much 686 content and stories as we can.