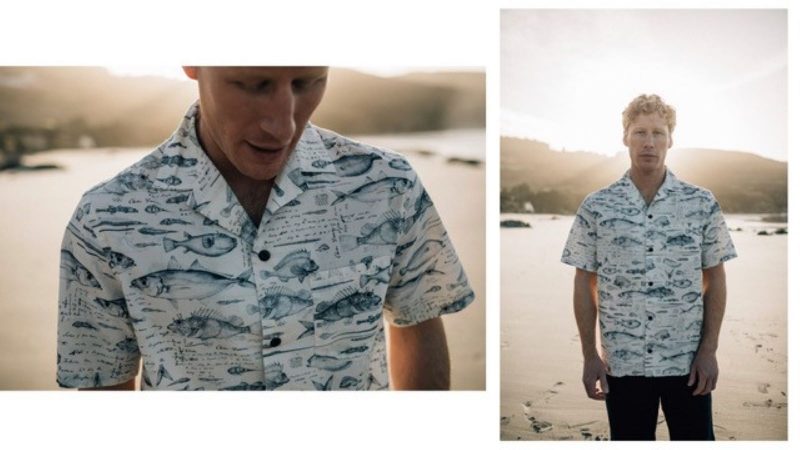 Finisterre Partners With London's Natural History Museum On New Collection
Europe's most popular Natural History Museum has partnered with certified B Corp company, Finisterre to create a collection that brings the history of sea exploration and travel to life. The collection launches April 1, 2020.
Press Release:
Finisterre X Natural History Museum
Coming spring 2020, Finisterre collaborates with London's iconic institution, the Natural History Museum, to create a capsule collection featuring embroidered t-shirts, printed shirts, reversible swimwear and pack-able accessories which have been inspired by themes of sea travel and exploration.
Established over a decade ago, Finisterre offers functional and sustainable products for sealovers. From the very beginning, it has been Finisterre's ambition to inspire a deeper connection to the sea, and to motivate the public to become the ocean's guardian for generations to come. Now, Finisterre collaborates with the Natural History Museum in order to further its efforts to help protect the natural world and support an iconic British institution.
In recent years, the Natural History Museum has been championing oceanic research and conservation and looked to partner with a brand that shared its purpose. The museum's decision to approach Finisterre was based on the brand's ethos and B Corp status, which demonstrates a commitment to the environment. The Natural History Museum was confident that Finisterre would successfully bring its historic maritime artefacts to life; in its designs and its celebration of the work of its natural history experts.
Max Lister, Head of Licensing, Natural History Museum, says, "We are incredibly happy to be working with Finisterre and their creative team on the development and launch of this collection. This collection has showcased how to adapt historical artworks into a contemporary apparel line that is both trend-driven but also highlights the beauty of the natural world".
The collection takes direct illustrations from several original books contained within the museum's archives, which are currently not on public display. It celebrates some of the most prominent naturalists, John James Audubon, Maria Sibylla Merian and most notably, Charles Darwin. Each of these pioneers travelled the seas extensively in order to research their subjects, returning with highly detailed sketches and handwritten research.
Commenting on the collaboration, Finisterre's lead women's wear designer, Laura Akins says, "It was a privilege to be granted behind the scenes access to the museum's extensive archives. From a design perspective, it was the striking illustrations that first captured our attention, but it was the stories of their explorations that we wanted to celebrate in our key motifs and prints."
Alongside meaningful prints from the museum, the certified B Corp looked to include its favourite sustainable components such as organic cotton, Econyl and recycled polyester throughout. The collection will be available to purchase on the Finisterre website, and at Finisterre stores across the UK.
For more information, please visit https://finisterre.com/
Follow Finisterre on Instagram @finisterreu