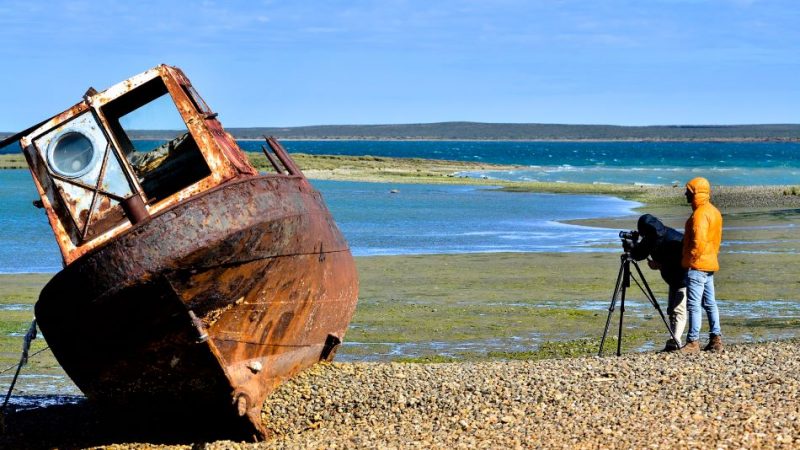 "Around The World" In 42 Days With Cine-Mar
Cine-Mar presents Surf Movie Night: 6 episodes to take you around the world in 6 weeks. Starting on April 29 in Africa, movie night will take viewers to Europe, the North and South Americas, Asia and Australia.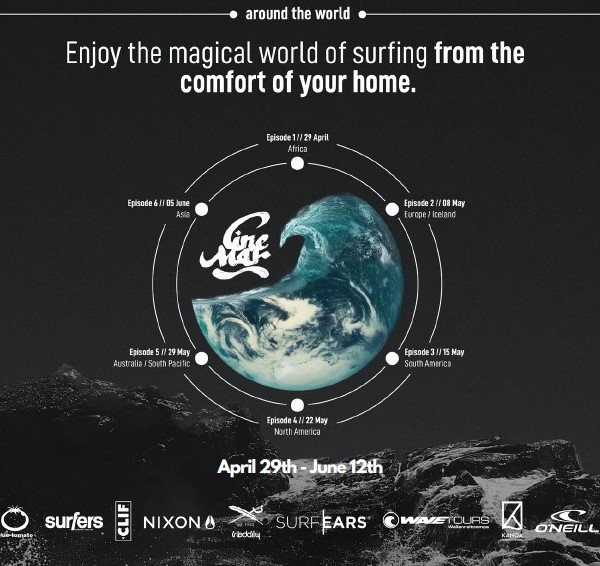 Enjoy The Magical World Of Surfing From The Comfort Of Your Home
Are the first warm rays of sunshine gradually putting you in a summer mood? Well, let's get going then and unpack our swim gear, give the surfboards a fresh waxing and retire the van's winter tires to storage. While still waiting for your first live surf stint of the year, we invite you to join a virtual adventure. Just jump into your trunks, wetsuits and bikinis and off to the beach! Ah, sorry… I mean the sofa, let's take a journey around the world in 6 weeks.
Travel around the world with your mates in only 6 weeks – how on Earth is that possible? Beginning on April 29, the Cine Mar – Surf Movie Night will stream some iconic and new surfing films every week from diverse regions around the world. Over the 6 week period, the Cine Mar will take you on a tour of the best surfing hot spots, introduce you to inspiring personalities and visit the highlights offered at each location. Each episode will take you to around 7 countries and way more different surf spots in these regions. In total it will be over 15 hours of pure surfing fun for a very cheap price.
A global movement where everyone is welcome to participate and share their passion about the oceans with their friends and their communities around the world. This movie night goes around the globe and can be watched in every corner of the Earth.
All you have to do is either buy a 7€ ticket to see one episode or you buy the "Around the World" ticket for 25€ and get access to all six  episodes. That's a pretty cheap deal to see surfing hot spots all around the world and the ticket let's you discover over 25 new countries. Each episode is packed with one-of-a kind, breath-taking inspirational tours and "ocean stories" featuring surfing and cultural highlights.
In the first ever Cine Mar – Surf Movie Night "on demand", they portrayed two different films, showing you the beauty of Spain, Portugal, France, Cuba and Mexico. The viewers' enthusiastic feedback & great demand for more inspired Cine-Mar to kick off a virtual "Around the World" tour. So, fasten your seat belts while Cine-Mar bridge these uncertain times and your travel lust by helping you anticipate your next vacation by the sea! Stay home, stay healthy and happy. Make yourself comfortable on the sofa and be inspired by surfing adventures around the world. Here's the link to the first of the Around the World Tour series.
One more thing: While we can't be on tour during these difficult times, we are committed to support smaller, local enterprises in particular and the creative arts and cultural sector in general. Go and grab some snacks at your favourite corner store or order some food from your local restaurants and get ready for a journey you have never seen before. This also means, from the ticket you buy, Cine-Mar can support filmmakers and small companies, which struggle in these hard times.
Episode 1- Africa
Beyond by Mario Hainzl & Andreas Jaritz – "An African Surf Documentary" follows locals along the coast of Marocco, Western Sahara, Mauritania, Senegal and Gambia into their homes, visit their homes surf spots, and take a look into their surfing lives.
Satori by Rick Wall – Gives you a look at the brotherhood of Dungeons, which is one of the heaviest waves on the planet, a true guts and glory wave.
Let's be Frank by Peter Hamblin – A very unorthodox surf movie which presents the life of Frank Solomon. It is not your usual surf movie, rather a blockbuster with some surfing appearances of John John Florence, Jamie O'Brian and many other big characters of the surfing world.
Episode 2- Europe
Ritratti di Surf by Luca Merli – It's a film about surfer, shaper, artist and other characters connected to Italian surf culture.
North of the sun by Inge Wegge and Jørn Ranum – The two spent nine months in the cold, Norwegian winter in an isolated inhabited bay of a remote, arctic island by the coast of Northern Norway facing some incredible waves.
Under an Arctic Sky by Chris Burkard and Sweatpants Media: A film project documenting the journey to the most remote corner of Iceland in the middle of winter in search of perfect surf. A few days in, the worst storm in twenty five years blows through and shuts down the country, turning the search for waves into a life-threatening prospect.
Episode 3- South America
Gauchos Del Mar by Julian Azulay & Joaquin Azulay – Gauchos Del Mar follows the story of two brothers as they pursue their dream of surfing the American Pacific showing the continent as a whole, through its different cultures, villages, food, people, animals and landscapes while camping and surfing on their way back home to Argentina.
Tierra de Patagones by Julian Azulay & Joaquin Azulay – The "Gauchos del Mar" brothers pursue their goal of surfing at one of the southernmost areas of the world: "Isla de los Estados". They travel with a truck and live in a tent across the Patagonia Region during six months, where they share their experiences with native people and get to know their crafts.
Alternativa – The Inertia travelled to El Salvador with Kassia Meador, Leah Dawson and Lola Mignot, three outstanding women who are inspiring the next generation of ocean lovers through their alternative approach to both surfing and life.
Episode 4- North America/ Hawaii
Some of the best barrels, Californian lifestyle and an overall relaxed vibe
Episode 5- Australia
From heavy waves in western Australia to the sunny east coast, Australia offers a lot of good waves and some of the best lifestyles there is.
Episode 6- Asia
Clear water and some of the best reef breaks from Indo and other surf hot spots in Asia.