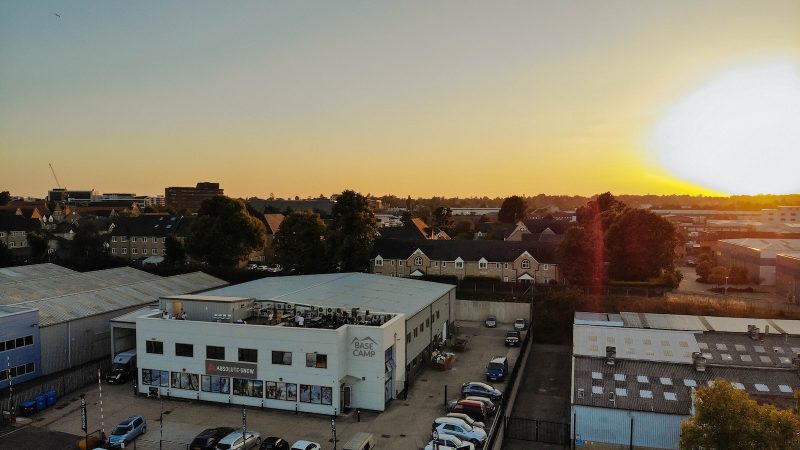 How Absolute Snow Is Coping During The COVID-19 Pandemic.
We sat down with Matt Pyne-Gilbert the Managing Director of retailer Absolute Snow along with members of the marketing team, Lucille and Josh to speak about how COVID-19 has affected the company, their employees and how the future looks for them in the industry. You can also read our interview with the company from earlier this month where they explain the reasons behind buying the IP from Freeze Pro Shop.

Could you talk us through the process from the UK closing down, how you pivoted and worked through the lockdown.
The health, safety and happiness of our employees is always paramount to us. We were very quick to adopt hygiene, social distancing and ultimately the shutdown of our retail premises to protect everyone working at the business. Our retail store is located at our main offices and distribution centre, so it was vital for us to close this down early to enable our e-commerce business to continue to trade through the lockdown. We could not risk a member of the public bringing the virus into the building and putting our staff at risk, as this could have resulted in widespread infection and a shutdown of our entire operation for a long period of time.
With all of our office staff working remotely, retail premises closed and strict rules on site about hand washing and hygiene, we have managed to successfully trade through the entire lock down. We have only furloughed staff members who have received a self-shield notice from the government as we always gainfully employ over the summer months as we prepare all aspects of the business for our big winter season.
Sales of winter sports products have taken a major hit for late season clearance, but our team have done an outstanding job of completely changing all marketing and purchasing activity to capitalise on the lockdown and offer our customers a range of products for use during this period. This has maintained growth through these difficult times and means we are in a strong financial position in Q2.
What support did you receive from the government?
Aside from furlough of vulnerable people, we have applied for a CBILS loan from HSBC as a contingency fund for a major downturn in business this winter. This will only be used if international travel does not open in full and we have to write off this winter, which we truly hope does not happen!
What have been the biggest lessons learnt?
When we interview people for a new job, we always tell them that when things get busy, everyone is expected to muck in, regardless of your position in the company. Everyone is packing parcels on Black Friday and we all help with stock take over our quieter summer period. The lockdown has been a testament to our teams' culture and everyone's willingness to help the business through anything that gets thrown at it. The dedication of our teams has meant we have been able to keep everyone employed and re-deploy resources to areas of the business that has needed it the most.
This leads me onto the biggest lesson we have learnt which is that we should never let go of our grass roots culture, no matter how big we get!
How have you dealt with the physical and mental health of your employees?
Aside from strict social distancing measures and hygiene practices put in place at our premises, we have also been doing daily calls with all teams working from home to ensure we are all seeing each other on a regular basis. This helps promote good team culture and ensure none of our staff feel alienated at home.
All of our staff are dedicated mountain sports enthusiasts, so we have been trying to encourage our staff to get outside as much as possible to ensure good mental health. Obviously this is very difficult to actually make happen, but we hope our employees have tried to keep themselves as active as possible during this very difficult period.
How will you change the workplace based on the government guidelines?
We are currently looking at phase one of operation "return to base camp". This involves a complete clear out of our office so we can start with a fresh seating plan to accommodate social distancing for all employees who have to be based at our premises on a daily basis.
Phase 2 and beyond will involve a more complex system for all employees who are able to work completely remotely. It's important these employees have a presence at base camp, but they are able to work from home in the interim and therefore we are currently looking at a remote working policy with "core office days" so we can conduct important meeting face to face.
Which brands showed you the greatest levels of support throughout the closure? What did they do?
All of our partners stepped up to help us during this delicate time. It definitely took a while to communicate with all of our 563 brands, but open communication with realistic expectations was key in securing arrangements that worked for both parties. Flexible payment plans have helped enormously and in some cases we were able to return stock that we identified would be a struggle to shift. Overall, it has been very humbling to see the industry banding together and we believe that our relationships are stronger than ever off the back of this. Looking forward, many brands have reacted by increasing their carry over lines which means shops will have more continuity from one season to the next and face less pressure to clear lines.
You are predominantly online-based, but also have a physical interaction spot. Any news on when this can open?
Currently we are keeping our shop closed to the public until winter. The mountain sports clinic, as we call it, is predominantly a boot fitting and specialist customisation centre, so it is difficult not to have customers in there.
Please tell us the opportunities you see arising from COVID-19.
I think that sadly there are going to be some major casualties in both the retail and brand sides, which means the survivors will have a much bigger slice of the market available to them.
The high-street was struggling before COVID-19 shut it down entirely, we believe that during lockdown, people who may have preferred to shop in-store have now become more comfortable shopping online. As a major online retailer in Europe, a big opportunity for us will be retaining that segment. There remains a lot of uncertainty and anxiety around how stores will maintain distancing measures – online will remain a safer space to browse so we will no doubt see benefit in that.
On the product side of things, we were quick to react to the demand for at-home-fitness products. We already worked within that category pre-COVID-19 due to our belief that snowsport and outdoor enthusiasts are likely to keep fit in more traditional ways. Lockdown catapulted the category forward and opened our eyes to new avenues that fit within our customer base's interests. Staycation is a buzzword that has been floating around as well and something we're researching heavily.
What does the new normal look like for your business and customers?
Superb hand hygiene – it's key!
From a business perspective, we have always been a forward thinking business which means our internal communications and systems are set up to work remotely if need be. From day one, our buyers have already adapted perfectly into the reality of virtual presentations from brands.
For our online customers, it's business as usual. We continue to serve them with the most innovative products and desirable brands whilst adding in new product categories that we believe suit their active lifestyles. We always seek to make our website more intuitive and endeavour to provide as much information online as you would expect to receive in-store. Our customers will continue to find shopping with us informative and effortless, just like it was pre-COVID-19.
How has it affected the outdoors sports industry?
Absence makes the heart grow fonder. We believe outdoor enthusiasts have gained even more of an appreciation of how important the outdoors is for a balanced healthy lifestyle. With fewer options for keeping ourselves entertained and some incredible weather for this time of the year the UK countryside has never been so appreciated. The pandemic has shone a light on the effects of man-made climate change with examples such as the clear reduction of pollution in cities from fewer vehicles on the roads. This will hopefully be a catalyst to get people acting on reducing their footprint with thoughtful purchases from brands who source sustainable fabrics and give back to the planet. In a funny way, the distancing has brought us all closer together.
How do you think this will pan out next winter?
From a UK perspective, the biggest unknown for the coming winter season is how significantly quarantine impositions might affect people's ability and willingness to travel out of the UK to ski resorts.
Travel restrictions may ease off but there will be several factors that will put off the "1-week skiing a year" holidaymaker. Quarantines, health risks, cost of flights and a potential recession on the horizon is likely to cause doubt and hesitation, however, we believe that with the right mentality, the industry can work together to do everything to make sure snowsports is safe and accessible next season.
In a different perspective, this could be an incredible opportunity for Scottish ski resorts and domestic tourism. With some of the best snow domes in the world alongside some incredible terrain in the Scottish Highlands, there is always a way to get out into the mountains!