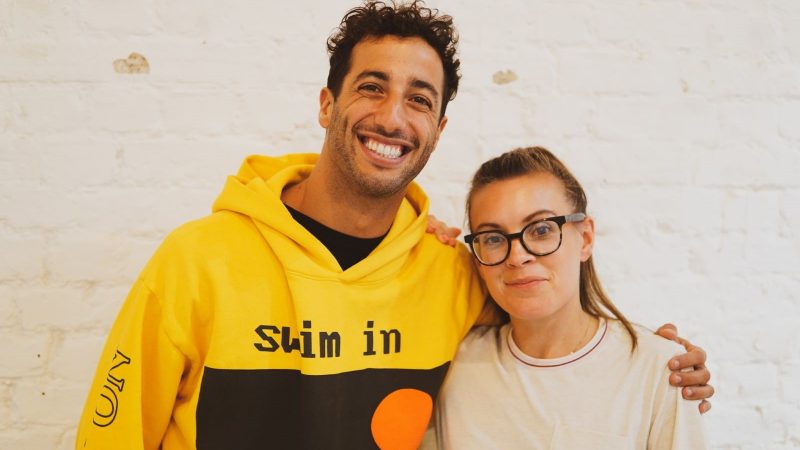 Jumping On Shadows: Laura Fairweather On Starting A Marketing Agency During Lockdown
Starting a business is difficult at the best of times, however, starting a business just as lockdown came into effect can only have been a daunting prospect. Despite this, Laura Fairweather (pictured above with F1 driver Daniel Ricciardo) has successfully set up her new marketing agency 'Jumping On Shadows', which offers clients tailor made marketing packages. SOURCE caught up with Laura – formerly Stance EMEA's Wholesale Marketing & PR Director – to find out more about her new venture.

Please talk us through your work history Laura.
I've had a varied journey with experience in the health and fitness world, private golf and country clubs until I found my passion in the sports lifestyle industry and the ideal marketing role for me at Puma. They were looking for somebody to work alongside some of the most prestigious sneaker accounts globally for the size? 10th anniversary project. It was the perfect mix of beautiful, top tier product, working with one of the ultimate key accounts and having the freedom and creativity to bring the launches to life. We designed custom bikes, elaborate gifts with purchase and one-off art pieces for each sneaker drop. Fast forward to 2020 and one of my final projects for Stance was the size? 20th anniversary collaboration. A three pack of Stance in the custom size? orange with the question mark call out. Not only did we achieve an all door role out of Stance in size? doors across EMEA but with the support of Nathan Hill we worked in partnership to align on a sales and marketing strategy to generate strong sell through, great in-store presence as well as a store staff training program.
Joining the action sports industry was an exciting next step for me after Puma. Working alongside Myles Hutchins and Pete Caldwell at Hectic taught me so much; the incubation period of brands, working alongside Australian and American HQ's whilst introducing new brands to the European market. Ensuring that both B2B and B2C marketing supported the sales function was always the priority. It soon became apparent that Stance was to become the standout brand from the Hectic portfolio. It was a fantastic part of my career, working across the EMEA territories, continuing the sales support as a marketing function to grow the Californian brand as it evolved. Career highlights such as experiencing our product on court at NBA games, seeing both Rihanna and Wu Tang in the New York Stance store as well as bringing to life the global launch for Formula 1 driver Daniel Ricciardo. I am grateful for all that I experienced and learnt along the way but most importantly the people I worked alongside.
Tell us about your new business. What services are you offering and which markets are you working in?
Jumping On Shadows is my new set up. I am proud to offer an agile marketing resource supporting brands and individuals with tailor made packages. I have taken my skillset and added in additional learning and courses to enhance my digital marketing knowledge allowing me to be as flexible as possible when receiving new briefs. Some clients require one-off projects, for others it is brand strategy whilst other requests have come in to support an existing team on a weekly/monthly basis to ensure their digital brand and marketing strategies are managed. The priority for me is understanding their needs and offering a flexible solution that fits in well giving the client a strong ROI. Having sales experience has really helped some of my clients who have been nervous to invest 100% in a marketing resource. I love the buzz of sales and have seen some great results so far.
Quite the time to set up your own business… how's it been starting a new business venture virtually on the eve of the COVID lockdown?
February feels like a lifetime ago, I had the attitude back then of "no time like the present" but as lockdown hit I had a decision to make. Play it safe or go for it? I went for it and took the time to hit the ground running. The feedback has been super positive. Nobody needs to be told in these times that brands and businesses require flexibility, but as redundancies have been made alongside marketing budget cuts, having a resource you can dial up and dial down when needed has been well received. I am a resilient individual, highly motivated and have a strong network both professionally and personally, that has all come together to give Jumping On Shadows the successful start I had hoped for. Having worked remotely for a number of years prior to this and having not been going to an office on a daily basis, I haven't felt much of a change. I have been able to spend more time with my children which has been the most rewarding part of lockdown and something I will be forever grateful for.
Which clients do you have on the books?
My strategy for Jumping on Shadows was to consider other sectors and not remain in a comfort zone of actions sports or sports lifestyle.
Artificial Artists has been a notable addition to my client base. Coming from high end VFX and advertising backgrounds the founders Ben Cyzer and Tim Phillips have developed 3dctrl. A 3D virtual production studio in the cloud. Allowing brands to create their own engaging 3D content without the use of expensive agencies and long lead times. At a time where brands need engaging digital marketing tools more than ever at a lower price tag, it is really exciting to see where we can take the momentum we have had so far.
In contrast, I am working in partnership with John Lancaster of ABCDEFGHUMAN and VSMONO on a design-led development project, Park VO|D an imagined resort venture on the Kent coastline as Brand Director. We have a long road ahead, but we have a motivation between us like no other to make this project a huge success.
As with any self-employed and freelance role, I continuously look for new and interesting briefs to work across. I am fascinated to see what the rest of 2020 brings as I begin to make my plans for 2021.
I see you've just realised a successful collaboration with Vans and Maria Falbo's COPSON… tell us about your work with Copson.
Maria Falbo the Founder of COPSON and I have worked together on and off since the early Hectic days when Myles introduced us. I admire Maria's credible and holistic approach to collaborations. Having worked across many product collaborations and 360 launches in my career, Maria asked me to come onboard to work alongside her to bring to life a strategy with clear objectives as well as manage the road map between Vans and COPSON. It has been an interesting path to navigate together as COVID unfolded but as a strategic partnership we are extremely proud of the suite of assets that we launched with and the reaction to the Vans x COPSON product. The support from the Vans marketing team has been awesome during this time and for that we are so grateful.
What opportunities and strengths have you been able to play to during and after COVID lockdown?
Jumping on Shadows only knows a world with COVID in it. The opportunities are always out there and for me it comes down to understanding the needs of the client and where they want to take their brand post COVID. My real strength is being adaptable and flexible to client needs whilst ensuring that we are aligned on what that roadmap is and agreeing on what success looks like. Clear and concise communication is more important than ever as I am sure many would agree. Having the luxury of taking on additional online learning has only enhanced my skill-set but having the time to do so has been the real win.
As an industry it is now time for the leaders to be as supportive as possible with the talent that it is now out there as free agents. All I can say is take the time to adapt and build so that you are ready to take on the new opportunities that come your way.
What does the new normal look like for your line of work?
For me I cannot say I have a new normal, I have a new list of priorities that I am going to strive to stick to as we move into the new way for business in 2020. I will continue to learn and adjust as my business grows. I will stay connected with the individuals I have worked with to bring me to this point in my career. I will continue to be motivated and keep striving for the goals I have set for the business and look forward to the next part of the adventure for Jumping on Shadows.