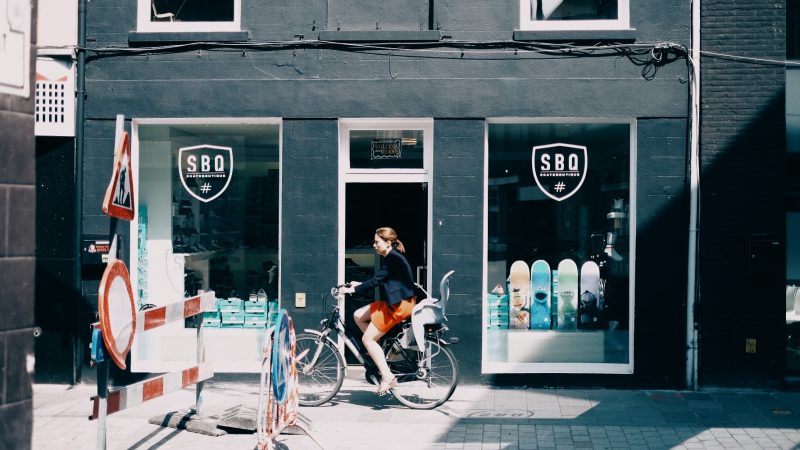 2017 Vans Shop Riot Winners SBQ (Belgium) Explain Theory Behind Their Buying
Skateboutique SBQ from Belgium are the reigning Vans Shop Riot champions, having taken the win at the 2017 finals in Holland. These guys have a really impressive set up, with two skate shops, their own indoor skate park and their own skate ramp building business. We spoke with Co-Owner Maarten Roose to find out more about this Belgian skate powerhouse.
Tell us about your setup.
Rampaffairz LLC is owned by me, David Roose and Wesley Galle and is in the West of Belgium, near the French border. Our three main activities are:
Rampaffairz Skatepark: indoor skatepark formerly known as Zumiez skate park, famous for several demos and contests over the past 20 years.
Rampaffairz Skateobjects: building ramps and skate parks for third parties, mostly rentals for events, e.g Antwerp Skate contest
Skateboutique SBQ: two skate shops, one in the city centre of Kortrijk, a lovely small town near the French border and the second at the skate park in Wevelgem. In Kortrijk we focus on footwear and apparel. At the skate park we focus more on hardgoods.
I started Rampaffairz as a side activity together with my brother back in 2005, when we noticed there was an important demand for temporary ramps for events etc.
At that time we were both employed at Zumiez Skatepark (no affiliation with Zumiez USA), we were building and maintaining the park and managing the skate shops together with our colleague, Galle. We all started working in the park/shop in 1997, first as students and later fully employed.
In February 2013 Zumiez went bankrupt due to a personal crisis with one of the bosses. My brother David, Galle and I struck a deal with the old bosses and we turned Rampaffairz into a LLC. We started a new shop in the city of Kortrijk, called Skateboutique SBQ in June 2013. Later in December 2013, we reopened the skate park and shop at the old location in Wevelgem.
What have been your biggest lessons on writing orders and selling products at your shops?
Take nothing for granted. Trends are moving faster then ever and are harder to predict then ever. It 's more important than ever for a buyer to connect with the sales. To be in the store himself on a regular basis and not only rely on the things that appear on the computer screen. We try to order more on stock than pre-order than before, it allows us to interact quicker.
Looking at sales figures, what have you learned from product categories in the last two years?
One year ago we were selling more shoes than now, but apparel is growing and compensating some of the loss of turnover. Hardgoods have been pretty stable for us over the years, definitely at the skate park. We've been selling a lot more completes since we started with our skateboard academy a couple of years ago. Longboards and cruisers are almost completely over and out. Headwear dead.
If you could ask brands for support, what would it be for?
I think it's a bad evolution that some of the bigger brands are skipping sending their sales reps to visit clients. Travelling to showrooms 300km away isn't always possible and making pre-orders via a B2B system with a minimal info may be the easiest way for the brand but not for the shops. On the other hand a decent B2B for re-orders with a decent stock is mandatory. Some of the brands have more stock on their B2C than on their B2B.
What's your process for finding new brands?
We listen to our customers, follow them on the social media etc. Also we look at what's happening in other cities and countries. We have the advantage of being in a conservative region of the country, so when something new is happening in the big cities we still have time to wait and see if the trend is coming through.
In 2017 Skate Boutique won the Vans Shop Riot – talk us through this and what exposure it has given your setup.
We always tried to support and give back to skateboarding as much as possible. We invest a lot of time, energy and money in the skate park and the team.
We've always been lucky enough to have good team riders in the past: Fries Taillieu, Axel Cruysberghs, Fabian Verhaeghe, Kevin Tshala…. They served as an example for the new generation to push their skateboarding to a higher level. Simon (Deprez), Jonathan (Vlerick) and Trevor (Capon) have been skating together since their childhood. Winning the European Vans Shop Riot was the biggest reward they ever dreamed of.
Vans is doing a great job with this event. Participating in it doesn't really affect your sales, but this contest is so good for skate shops. It brings skate shops from across the country and it motivates them to invest in their team. And a team is mandatory for a core skate shop, it's your connection with the local scene.