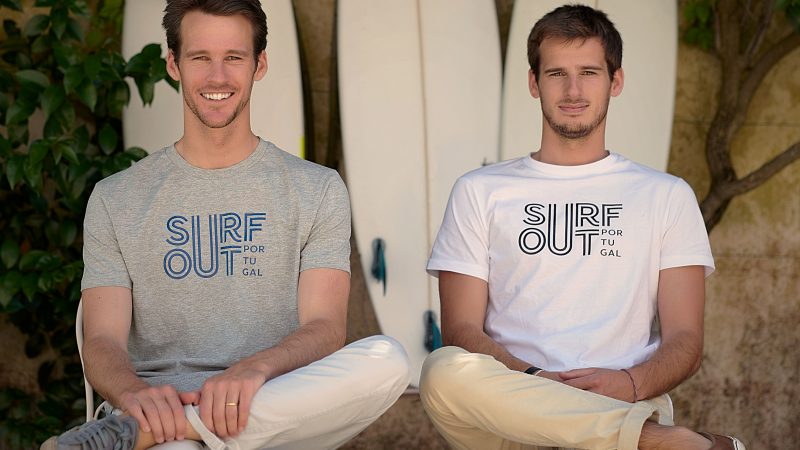 Portuguese Surf Trade Show Set To Debut Near Lisbon, September 15-16, 2018
Brothers Salvador and Patrick Stilwell are set to debut Surf Out Portugal, their b2b and b2c surf trade show in Estoril (part of Cascais, Lisbon's top surf spot) from September 15-16, 2018. The show aims to unite the Portuguese surf industry in one place in order to lay plans and strategize future business as well as create an environment for debate of hot topics including sustainability, current affairs and more. With a strong diversity of exhibitors from Portuguese surf retailers such as 58 Surf and Magic Quiver, to international surf brands such as Rusty and Lightning Bolt combined with non-endemic companies such as TAP (airline), C. Santos VP (Mercedes-Benz dealer) and MEO, the country's biggest telecomms company, the event shows a real interest from the region's thriving surf industry.

Please tell us the ideas behind Surf Out Portugal.
Salvador: Surfing as a sport has already a considerable impact in the Portuguese economy. However, until now, it has been capitalized mainly through two dimensions: One is its role as a touristic product – our capability to produce world-class events, showcase our incredible waves and develop the infrastructure needed to invite and gather the international community to experience surfing in our country (all the schools, camps, hostels, and so on). Another dimension has been made to draw media attention towards breakthrough performances of our athletes (Tiago Pires, Frederico Morais, Teresa Bonvalot, Vasco Ribeiro). But there is a third dimension that can still be improved – the industry itself. The companies, brands, services and projects developed around surfing. We believe that the time is right to further discuss, form ideas and strategize around our main goals as an industry as a whole. Hence Surf Out Portugal, the event where this industry comes together in one single place at the same moment in time.
Why was now the right time to start the show?
Patrick: After thoroughly analysing the current state of surfing, we decided that this year would be the right time to organize the 1st edition of the show. Never has surfing in our country (or in Europe) been through such a positive moment regarding its popularity, reach and dimension. We believe that it's time for Portugal to have an industry event 100% focused on surfing. We have combined our passion for surfing with our professional experience in other sectors, to develop an inclusive event that helps debate the current affairs and future sustainability of surfing.
Who is on the management team and what are their backgrounds?
Salvador: My brother Patrick and myself are the organizers and promoters of the event. We have been living in Lisbon almost all our lives and started bodyboarding at a tender age and soon switched to surfing. Naturally, this sport has shaped our own personalities, our relationships, everything in our lives. Our professional background is quite different between us, with Patrick working for many years as a brand strategist and myself working around the globe in a Portuguese wine producing company that exports its production to 50 countries in all 5 continents.
How will the show operate? Is it a traditional trade show model?
Patrick: The event will be held on the September 15-16, from 10am to 7pm both days. It is basically divided in two main parts: 1) Brand Showcase: a place to present all the best products and services available in the industry. A showcase with a great diversity of concepts presented simultaneously by well-established brands and also by emerging projects. 2) Surf Talks: a platform for dialogue and discussion where the most relevant topics will be addressed regarding the status-quo and future of surfing. Topics that will range from the sport's point of view to the business side of the industry.
So, all in all, we will have around 45 exhibitors, from shapers, boards, wetsuits, clothes, surf gear, brand activations, workshops, music, food & drinks and more. A truly immersive surf experience outside of the water.
What season of products will be on show?
Salvador: The idea is to show a bit of everything being created in the surfing world. Any visitor can check out the latest surfboards or wetsuits from well-established brands but can also get to know more from a few innovative projects like wooden surfboards, sustainable surf grips made from cork, technology devices equipped with GPS and other sensors to test the athlete's performance, etc. The idea is to show everything that revolves around surfing, from A to Z.
Have brands been receptive to the event?
Patrick: Thankfully the overwhelming majority of the brands we have contacted have been very supportive. There is the general feeling that an event like this was missing for far too long. There have been similar events in the past but the reality is that surfing has changed and grown immensely over more recent years.  
Are you pitching it as a regional, national or international show?
Salvador: We consider that this first edition will serve as an excellent test for years to come. The focus this year will be more national based, but the goal is to definitely make it an international trade show. Portugal is the place to do it, we have no doubts. We have great conditions, a coastline with a large variety of good waves all year round, great weather and food, friendly people, exciting and thrilling cities like Lisbon and Porto close to major surf spots, fair prices, a safe country and much more. We believe that Portugal can have a bigger decision-making influence in the scope of the international surfing industry.

Could you tell us more about Estoril and why you plan to host the show there?
Patrick: Estoril is part of the Cascais municipality, an area crucial for the development of surfing when it first arrived in our country. Cascais is a coastal area with a deep connection to the ocean and it is probably the council with the biggest number of surfers per residents in our country. The venue is a nice open and outdoors space in Estoril and only 500 meters away from the ocean. The venue has several booths and it's full of trees and surrounded by a really cool atmosphere in the heart of the quaint town of Estoril.
How can brands take part? What is the cost?
Salvador: For any brand to take part we advise to visit our website and social media pages for our contacts. Although, by now, we have very limited free spaces, the price for a standard booth (9m2) is 500€.
What kind of support do you have from local and national government, associations etc?
Patrick: We are very happy with all the support we've received from a variety of different entities. Our main sponsors are the "Turismo de Portugal" (the Portuguese state driven entity that promotes the national tourism) and the "Camara Municipal de Cascais" (The City Council where the event will be held). We also have the institutional support of the Portuguese Surfing Federation ("FPS") and The National Surfers Association ("ANS"). Other big companies have entered as sponsors, such as TAP (Portuguese National Airline), MEO (the biggest Portuguese telecommunications provider) and C. Santos VP, official Mercedes-Benz dealer. This is just the beginning for Surf Out Portugal and we are very confident that it will grow into a very solid event with the ultimate goal of helping grow and develop surfing as a sport and industry.