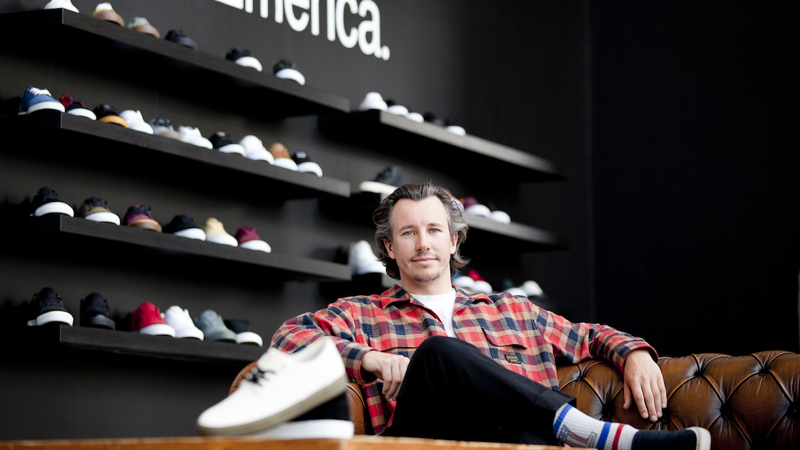 Big Wig Interview: Sole Tech's Bas Janssen
Bas Janssen started out his career as a pro skater, but after injury forced him to the side lines he discovered a penchant for marketing and selling skate brands. Now heading up Sole Tech's Marketing for Europe we spoke with Bas about the company's diverse range of brands and find out just how they segment Etnies, Emerica and éS.
Tell us about your background. What led you to your current role and background since university?
Well there we go. In the midst of my skateboard career I had a pretty bad ankle injury, which put me on the bench for almost a year. While I was recovering from my injury, one of my previous sponsors, Hardcore Supplies gave me the chance to work for them as an in-house sales rep for the hardgoods division and several core footwear and apparel brands. That job motivated me so much that I eventually decided to make way for the young rippers and end my skate career to be able to focus on my "work life". My roll within Hardcore Supplies quickly grew and eventually I was made responsible for all skateboard hardgoods/softgoods/footwear brands in terms of sales, marketing and buying – which was, as you can imagine, a great learning school which I'm still very thankful for.
After my years at Hardcore Supplies I joined Sole Technology Europe in 2011 as a sales rep for Etnies and Thirty Two. A great step up for me personally as I was finally able to work directly for the brands I was previously involved with. Sole Technology is a very inclusive company when it comes to its staff and this was something I noticed and appreciated in a very early stage.
After three years in this role (and a short side step as Key Account manager at Converse/Nike Benelux) Don Brown and the rest of the Global brand team offered me the position of EMEA Sales manager, which I proudly accepted. This was the time to truly learn everything about the European skate and streetwear market and to start working with all our great reps, agents and distributors. I stayed in this role for four years until the position for EMEA Marketing Manager for Emerica, Etnies and éS opened up. For me this was a great opportunity to get back to my marketing roots from my Hardcore Supplies days and combine that with the sales experience I gained as a sales rep, key account manager and sales manager. I guess that's truly making sales and marketing work together, right?
Please can you explain the organizational set up in Europe and who the key people are in the management team in Sole Tech recently.
Through the EMEA office in Amsterdam we are servicing all of Europe, Middle East and South Africa. This is a mix of distributors and agents, pretty much a 50-50 split where the major markets like Germany, UK, Spain, Scandinavia, Austria, Netherlands, and South Africa are direct/agent markets. The EMEA office is responsible for sales, marketing, e-commerce and back office like finance, logistics and customer service.
Sole Technology Europe is a nimble organization. At the top we have our GM Carlo Riswick, which our EMEA Sales Manager Hans Dijs and myself work closely together with on all things sales, marketing and product for the brands Etnies, Emerica and éS. For ThirtyTwo we have a dedicated European Brand manager, Dale Taylor. Last but not least we have our Country Manager in Germany, Franck Goulard.
Can you talk us through each brand's offering and how they work with each other through your portfolio?
Talking about Emerica, éS and Etnies here: all 3 brands are managed separately from a Brand / Product and Marketing positioning with dedicated teams in the US to keep the brand identity clearly defined and distinguished.
Regarding the brand offering itself, Etnies is our action sports lifestyle brand with strong roots in skateboarding. Collections obviously consist of skateboard shoes, where we strongly focus on making the most durable skate shoes together with our rubber partner Michelin. Etnies has always been very purpose driven, not only from a product perspective but also from an environmental perspective. In 2011 we launched our 'Buy A Shoe Plant a Tree' collection, where one tree will be planted for every pair purchased form this specific collection. We are currently on our way to hitting two million trees in 2020. For SP20 we will also introduce a new material called Bloom. Bloom Foam™ is the world's first plant-based performance-driven foam formulated with algae biomass. Algae is taken and formulated into our EVA, which not only reduces waste but also controls the rise in algae growth that harms plants, animals and human life and greatly impacts aquaculture industries. Being one of the oldest true skateboard shoe brands we have a big heritage in OG skate shoes, which are currently very trending. These styles make up our ICONS collection.
Emerica is the most core skateboard footwear brand in our portfolio; who doesn't remember the video classics This is Skateboarding, Stay Gold, Made. It stands for rider driven footwear with a strong and consistent brand image. Emerica is 100% pure skateboarding, defying convention since 1996. Our offering consists mainly of signature models truly designed and developed together with the riders, created to withstand serious skateboarding abuse.
For éS we have a very tight product offering which is clearly defined in two sections. Obviously a skateboard footwear section still with a big focus on performance and innovative design. Then there is a collection more focused on heritage styles and renewed / modernized styles influenced by the early 2000 skate shoe era, with for example styles like the Scheme and Silo. These styles are presently trending heavily in the sneaker and fashion world and we as a brand can't wait to introduce the original 2000 era skate shoe to this new and young audience.
What marketing initiatives are you running for your skate shoe brands in 2019/20?
For Etnies we will continue to push our durability story with Michelin on the skateboard side, through our existing Marana and Joslin styles and newer styles for FA19 and SP20. We will combine this push with a skate tour in July as well as a new rider to announce for FA19. On the lifestyle side Winterized has our biggest focus for FA19. Moving into SP20 this focus will turn towards Buy a Shoe Plant a Tree and our new Bloom products.
For Emerica our main focus on the marketing side is the team riders and their new signature product. Our European pride Kevin Baekkel will be having a signature colour coming out in FA19 and also Leo Romero will be introducing a complete new style. Going into SP20 we are introducing even more new styles with Dickson on both footwear and apparel.
For éS obviously our marketing focus will be mostly on the retro inspired styles for the coming seasons, therefore our marketing efforts will be more focused towards lifestyle / streetwear. But we won't forget our skateboarding roots, bringing the "original" éS Game of Skate back through grass root style events in collaboration with our loved skate shops. Oh yeah, don't forget 2020 is 25 years of éS!
Let's talk about ThirtyTwo – huge news with the addition of Nicolas Müller to the snow team this winter. Could you talk us through your setup there? How are you targeting different types of snowboarders? Yeah this is great news indeed, Nicolas is awesome! For Europe, as mentioned earlier in this interview, we have a European Brand Manager taking the lead in sales and marketing for ThirtyTwo. Where possible I assist Dale on the marketing side; for example at tradeshows, clinics and the well-known ThirtyTwo Boot camp which we organized last January in Nicolas' backyard – Laax, Switzerland. Over the years ThirtyTwo has become known mostly for freestyle/park/street type of riding, but the focus of the brand has always been the innovative product itself which – depending on what you choose – can be used for all sorts of riding. To break that cycle we introduced living freeride legend Jeremy Jones to the team a couple of years back and created a collection around him with signature splitboarding boots and backcountry products. This has been very successful. By introducing Nicolas to the team I think we now have a strong variety of riders, from freeride to freestyle.
Could you give us a summary of the skate shoe wholesale market, how this has changed in the last five years and where you see opportunities and threats moving forwards?
From a retail point of view a lot has changed. A lot of core stores are struggling or went out of business in the last give five years, which is a very harsh reality. At the same time there are a lot of online-only and multi-door accounts expanding and mostly competing on a price level due to the transparency of the online business. As a brand is its very challenging to keep both parties happy, especially when you see how the landscape of competing footwear brands has changed so much as well during the last 10 years. But there is definitely great opportunity there. The trend is turning more and more towards skateboard footwear again, not only the retro styles are doing well but in general we are seeing a greater demand for our brands.
What are your key initiatives with core wholesale accounts?
For Etnies, segmentation plays a big role. We make sure that our core accounts have an assortment that can compete with their global competitors – even to the extent that certain styles aren't available on Etnies.com, only at these core retailers. For Emerica and éS this is a lesser concern, as they are very focused core brands and therefore mostly available at core retailers to begin with. On the event side of things we do local Game Of Skate events with retailers and support them in any way possible on local one off events. The connection between the shop and their riders is very important to us, and many of our current global riders we have found and met through them. The sales reps play a big role as well and we make sure they have the budget to flow riders locally and let us know who the next (Chris) Joslin might be. In the end it's all about open communication throughout all parties involved; retailers, reps and headquarters. It's the open door policy for all of us that makes it work.