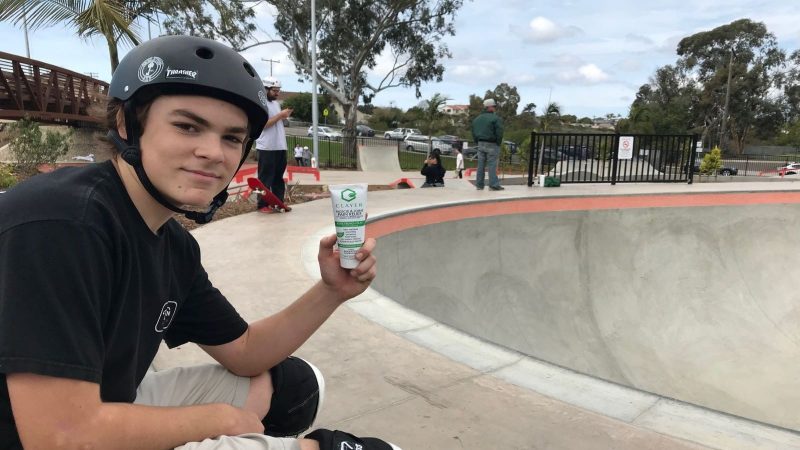 Non-Toxic, Eco Friendly Pain Relief Brand Clayer On Targetting Action Sports Market & Manufacturing In Europe
Clayer, a brand focussed on creating environmentally friendly, high quality products that help athletes return to their sports after injury faster is targetting the action sports market. Founder Thibault "Tibs" Parise moved to the US in 2013 to pursue a career in skateboarding after working for Sector 9 in France and has built an impressive network of ambassadors and a list of advocates longer than your arm. Tibs tell us how they're manufacturing products in Europe in an eco conscious manner.
Please give an overview on how and why the company began?
I moved to the USA in 2013 to start my career as a professional skateboarder. A couple years later I got injured and could not find any green clay products, most of them contained a large amount of chemicals with mirrored formulas. That's when I started thinking about getting green clay products in the USA. The more I thought about it, the more it made sense to me.  With my experienced background in sales, and my network of athletes, I was able to negotiate an exclusive agreement for our ingredients for North America. I started by providing samples and products to skateboarders, riders at Sector9, and surfers and from there we connected BMX, MMA, golfing, football (American) and more!
What is the company MO?
Being an "entrepreneur" and having a brand, for me, is an opportunity to help others. To put it simply, it makes sense that when we select our suppliers and ingredients, it is important to make sure everything is high quality, good for people, and eco-friendly. With everything going on today, with mounting environmental and health issues, we strongly want to provide healthy, eco-friendly and most important, efficient products made locally. (We manufacture in the USA for North America and France for Europe).
Our tagline is "Moving Forward" for 3 reasons:
#1: Your goals and health: No matter what's going on in your life, the only thing to do is to keep moving forward. Our products help you recover faster and healthier to ensure you can keep moving toward your goals.
#2: The planet: Selecting eco-friendly packaging with no paper boxes and optimizing logistics, we are moving forward to a greener and better world. Our goal is to reduce our carbon footprint. In addition to this, our ingredients do not and will not cause any harm to the environment.
#3: The future generations: We want to show companies that when you provide better, healthier products, the future will be better and brighter. We have been copied by big companies in the USA, and we hope more companies change the way they produce and make products; simply by choosing health and the environment over money.
Who is on the management team, and what are their backgrounds?
The management team is composed of:
Our USA accountant and global financial advisor Katie Wingerter who is connected to me via her mother Kathy (she was on the board at Sector9 skateboards).
Mark Thompson who originally joined the company as an investor, has turned out to be a great help with the operation, as he is really passionate about everything we are doing.
Myself, I used to work with Sector9 Europe; doing sales in France and helping the marketing for the European market while traveling with the Nineball truck (Sector9 truck) as a professional skateboarder.
Advisors who help the management team:
Marcus Valdivia (Ex-President of Sector9 skateboards)
Jimmy Sagnier who lives in France and helps us with web development globally and business strategies for the European market. We actually used to be classmates at school 15 years ago. He is brilliant and has brought a lot of value and ideas when it comes to business development.
I am very thankful to have such a great and talented team!
What technological/health considerations have you had to make for producing your products?
Clayer is committed to making quality and efficient products that are: 100% natural, non-toxic, chemical-free, made in France (for Europe), not tested on animals, has plastic-free packaging and comes at an affordable price. Every product we release must be efficient and work!
It doesn't make sense for us to make products just for money, that's why we have decided to stray from CBD because we simply believe quality and healthy products should be more accessible than chemically enhanced or toxic products.
That's probably the #1 reason we have so many amazing testimonials!
Please tell us about your product lineup.
As of right now we only have one product (the athlete personal care) in Europe, but we are going to follow our USA line up with:
A pain reliever for riders/athletes and active people
A product for kids to take care of their 'boo-boo's' (which doesn't sting)
A skin detox for the face and body. We have developed this product due to the demand from riders/athletes and their significant others.
Please tell us about the relationship you have with action sports athletes.
Most of the athletes are friends, for example Jake Brown was the very first rider on Clayer and he has been a very important person in my skateboard career. I'm stoked to have him supporting us! We have Edouard Damestoy who I met right before I left Europe and he said I inspired him to be where is at, he is also a good friend. Clay Kreiner, Tom Schaar, Amelia Brodka, Mitchie Brusco, Shane Sheckler, Chris Russell, Cory Juneau, Zion Wright, Heimana Reynolds, Chaz Ortiz, Vincent Matheron, Jaime Mateu, Alain G., Danny Leon, Marc Haziza, Pedro Barros, Mike McGill, … the list is so long just from skateboarders, which I can barely believe myself! We also support downhill skateboarders with Emily Pross, Louis Pilloni, Oscar Gutierrez. Arbor skateboards has been helping us too by getting products to their riders.
I'm also thankful to have great relationship with Morgan, from Almo film, who is helping with providing the products to the snowboarders. Also, I'm thankful to all the Sector9 riders who have been helping to spread Clayer, such as Gavin Beschen who is always tagging us on social media and providing products to others such as John 'John' Florence, the Fletchers, Mason and Coco Ho, Jack Johnson, to the riders at the Volcom house and more. So yes, the relationship with riders is mostly friends or friends of friends, but I do believe they are supporting Clayer because the products have been helping them out by reducing recovery time and allowing them to get back on their board quickly! Even Vincent Milou has decided to jump as a member and has been helping us provide products to the skateboarders he rides with. He told me "I have never used a product with such quality, and I have used clay products in the past". I'm sure if Clayer products didn't work for them they wouldn't be supporting it.
Our goal is to help others. We are not interested in having riders sponsored just to have their logo or the money. We strongly want to support riders who actually love and care about the products and brand.
How else are you marketing the brand?
We are marketing to BMX riders, mountain bike riders like Rémi Metailler, professional fighters- including MMA and UFC fighters such as Wilson Reis, World champions Gregory Rossi and Mike Lemaire- but also the European champion Dylan Charrat who I actually used to skate with back in the day. As well as golfing and sports teams like NFL players and rugby players (with the Armitage brothers Steffon and Delon both 3x European champion). There are many more sports and athletes; my network goes further than action sports and I definitely want to market Clayer to every sport.
Due to my background I want to keep action sports our priority.
What POS are you offering for retailers?
Well, our products are a great addition to sales when customers are at the checkout, and because we know being a retailer is very complicated nowadays, there is no secret that the internet has changed the game. We believe in human relationships and we truly want to support retailers, that is why we offer free shipping on every order with high coefficients and low minimum orders (1 box). We also offer free counter displays with a 2nd box order.
We made a B2B platform very easy-to-use on our website. The sign-up consists of a few essential questions to get the key information, and we provide a professional password to log-in and give the buyer the ability to make anything they want. We are also able to take orders via phone or email on [email protected].
We believe in simplicity and want to ensure it is easy and convenient to do business with us. Last, but not least, we provide great advantages to distributors and independent sales reps as well. Our business model is made to help not only the athletes, but the consumers, retailers, partners and everybody else who does business with us.
Check it out www.ClayerEurope.com