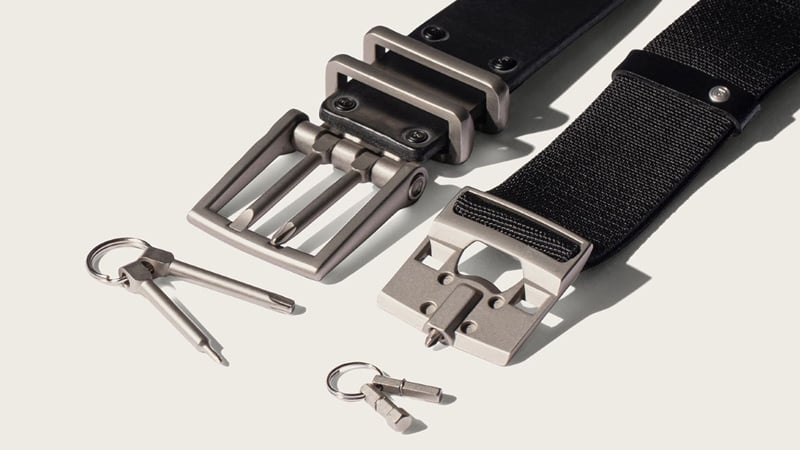 WestWell: More Details On New Brand From Guys Behind 686
Westwell, launched October 1 by the guys behind 686, aims to create tool belts that combine both fashion with function. Having reached its Kickstarter campaign target within 24 hours, the brand currently has 2 belts – The Voyager and The Clicker, with plans to expand further. We caught up with Brent Sandor from 686/WestWell for all the details.

Tell us about the idea behind WW.
The 686 Toolbelt has been around for over 25 years, but Westwell has been an idea for nearly a decade now. The inspiration was to look at the accessory category and take the concept of integrated functional components and add them into fashion forward designs. We saw a big void in the space of fashion forward designs fused with function. Most products are usually fashion only or are a really functional product, with some design ethos baked in. We wanted to provide something that looked at fashion as just as important as function. The first two products are belts as a direct by-product from our toolbelt history, but we have many other products already in prototyping phases.
Who is on the management team and what are their backgrounds (USA / Europe)?
The management team is that of Westlife Distribution, LLC. It is the same team that has been responsible for the recent growth of 686, with the addition of Michi Bretz playing a larger role in not only leading innovation but managing the product as well. Pacome Allouis is leading the marketing charge for the Kickstarter for Europe. His background with Westlife, as well as with The James Brand, makes him the perfect person to not only activate marketing but also weigh in on product and strategy.
What's the marketing story for the first season?
The marketing story begins with our Kickstarter, which funded in less than 24 hours. We wanted to launch with Kickstarter in order to give the crowdfunding community the first look at the product and a chance to communicate directly with us to help advance the product. The feedback during our campaign has been amazing and we have already begun implementing the feedback. After the campaign, the focus will be on our direct website. We will be promoting our product heavily through online and social channels. We want to inspire people to travel, take chances, explore fashion and find their own solution. We will reach far beyond action sports and we want to take risks in new communities and learn how they may adopt the product.
Please talk us through the product category line-up
The line-up currently consists of two belts. The Voyager is a fashion forward leather belt that is fully customizable to the wearer's style and needs. The Voyager buckle and belt will be sold as separate parts via a customizer on our website. These components connect with our magnetic quick connect to create a complete belt. In addition to colour customization, we will be selling tool prong kits that any user can swap out to fit his or her needs – for example, if you are a surfer then you may switch out the Phillips #2 prong with the Fin Key prong. This way you would have a fin key for FCS/Futures fins as well as a slot for longboard/single fins. Or if you bike around town, you would most likely swap out both of your prongs for the 4mm and 5mm prongs, which will come in handy if your bike parts come loose. The Clicker is a simplified take on a tool belt. Its stretch strap is unique because it is made of stretch and non-stretch threads and at a certain point the stretch fibres max out and the non-stretch fibres take over. This creates a very strong, consistent strap that will not continue to stretch out and lengthen over time. The buckle uses our magnetic quick connect to very quickly connect and disconnect revealing a bottle opener and removable micro toolbit. As noted above, we are already working on extensions into other accessory categories that you will find out about sooner than later.
What kind of retailers and distribution (USA / Europe / ROTW) are you targeting?
Currently we are available on Kickstarter in USA, Canada and most European Union countries. Once the Kickstarter campaign finishes, we will be exclusively selling direct online. We are working on our direct strategy and countries and will announce that upon the closing of the Kickstarter Campaign. We are not looking to enter the wholesale market currently. We want to continue to work directly with the end user and create products at a new speed of commerce.
Anything to add?
Thanks to everyone who has expressed interest in Westwell. The response has been overwhelming. New conversations and possible product and strategy pivot options are occurring daily. Concepts that we never dreamed of are presenting themselves. We hoped that this "direct-to-consumer first" experiment would yield different results than a wholesale launch, but we never imagined this amount of conversation and support. We look forward to creating more with everyone in the future.