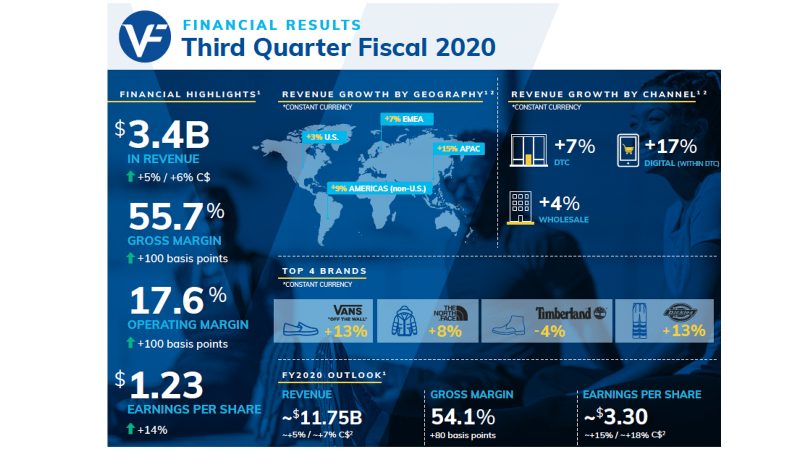 Vans Post Double-Digit Growth, Boosts Women's Apparel In Europe By 41 Percent In Q3 2020
Need a little sunshine in your winter day? How about the decade's first quarterly financial report from VF Corporation, the thriving home of Vans, outdoor brand The North Face and work wear label Dickies.
Presented on January 23, 2020, the results for Q3 of fiscal year 2020 look solid as ever, especially for VF's tireless growth engine, California-based boardsports brand Vans.
For the quarter ended December 28, 2019, VFC revenue from continuing operations increased 5 percent (up 6 percent in constant dollars) to $3.4 billion. The gross margin from continuing operations increased 110 basis points to 55.7 percent during the period.
Results are sunny in the ever-important Active Segment with an 8 percent revenue increase (up 9 percent in constant dollars) including a 12 percent (13 percent in constant dollars) uptick in Vans brand revenue.
"Our third quarter performance was strong, and our year-to-date results are at the high end of our long-term growth objectives," said Steve Rendle, Chairman, VF Corporation President and Chief Executive Officer. "Despite a mixed holiday season in the US, we're on track to deliver solid performance and are well positioned for continued growth and value creation in fiscal year 2021."
Vans: Still leading the charge
As major growth drivers in Q3/20, VF Corporation identified its Big Four Brands: Vans achieved 13 percent growth, The North Face 8 percent and Dickies is back in the winner's circle with 13 percent growth after taking a slight dive in Q2.
"We now expect revenue for Vans to increase about 15% for the full year well ahead of its long-term target," said CEO Steve Rendle in the earnings call.
With that said, iconic footwear and apparel brand Vans continues its unbroken run of double-digit quarterly growth. Geographically, all regions performed accordingly, except the Non-US Americas, were Vans was up 'only' 9 percent but a new strategic plan is underway.
In the United States, Vans grew revenues by 10 percent in the third quarter. The growth was balanced across direct-to-consumer (+10 percent), digital (+26 percent) and wholesale (+8 percent).
All product categories posted higher revenue, including footwear (+8 percent), apparel/accessories (+9 percent), and progression footwear (+26 percent) with ComfyCush
and Pro Skate as the highlights. Major milestones during the quarter included passing the 11-million-member benchmark in the Vans Family Loyalty program, as well as brand activations for Vans Checkerboard Day and the Vans Triple Crown of Surfing event.
Europe: Brand History and Future
In Europe, the Vans brand grew across channels and product categories in a balanced manner, with Germany and France emerging as strong markets. Overall, revenues in Europe grew by 14 percent (16 percent in constant currency), on the strength of a 15 percent rise in wholesale and 13 percent in DTC.
Footwear sales in Europe increased by 12 percent, driven by progression footwear (+24 percent) and a solid increase of 41 percent in women's apparel and accessories during the quarter.
Milestone activations of the quarter included the opening of the first brand showcase store on Oxford Street in London, England. Also in London, the brand hosted the Made For Skate exhibit on skateboard shoe history at House of Vans London featuring Vans legend and pro skateboarder Geoff Rowley in November 2019.
One month later, Vans and Made For Skate teamed up again for a pop-up exhibit in China, honoring the 30-year anniversary of the first Vans signature skate shoe – the Vans Caballero Pro – with special guest Steve Caballero himself.
Speaking of China, the Vans brand grew by 23 percent in Asia-Pacific in Q3/20, mostly powered by China and Korea as the two strongest markets. Direct-to-consumer delivered strong comps at 22 percent growth, led by 39 percent growth in digital. Footwear in APAC was up 21 percent, with heritage styles posting 12 percent growth and progression 68 percent increase.
The brand with the slogan 'Off the Wall' is expected to surpass the $4 billion per year benchmark in fiscal year 2020 and is well underway to become a $6 billion business at the end of fiscal 2024.
In other news…
We also have one rumor and a certified fact. Let's get to the facts first: VF recently announced that it is commencing a review of strategic alternatives for the occupational portion of its Work segment. In plain language, VF wants to sell nine brands and businesses: Red Kap, VF Solutions, Bulwark, Workrite, Walls, Terra, Kodiak, Work Authority and Horace Small. But at the same time Dickies and Timberland PRO brands are not on the chopping block.
As for rumors, Wall Street types expect VF to acquire an outdoor brand as part of its strategic reset. Two hot names making the rounds are Yeti Holdings and Columbia Sportswear. We'll see what happens, but the move – and divestment of work wear brands – would fit the current strategy of 'driving and optimizing the portfolio'.
As a reminder, VF Corporation's updated five-year growth plan is built on the following four pillars:
transforming into a consumer-minded and retail-centric enterprise in a hyper-digital manner
driving and optimizing the portfolio
distorting investments to Asia
elevating direct channels, while prioritizing digital.
Optimistic Outlook
Speaking of strategic goals, VF Corporation full year fiscal 2020 adjusted revenue from continuing operations is now expected to approximate $11.75 billion, reflecting growth of approximately 5 percent; excluding the occupational Work business.
Full year fiscal 2020 adjusted revenue from continuing operations is expected to increase approximately 6 percent (approximately 8 percent on a constant dollar basis, excluding acquisitions and divestitures). Revenue for Active is in line with projections and now expected to increase approximately 8 percent (approximately 12 percent on a constant dollar basis, excluding the impact of divestiture).
"As we head into the last quarter of the fiscal year, we are on track to deliver revenue and earnings growth at or above the long-term commitments we laid out in Beaver Creek in late September," said Scott Roe, Chief Financial Officer, adding: "Three of our four largest brands are performing at or above their long-term growth objectives and as a reminder our top two brands the Vans and the North Face account for over 80% of our growth in the long range plan."
Quotes from VFC's Press Release and Seeking Alpha.