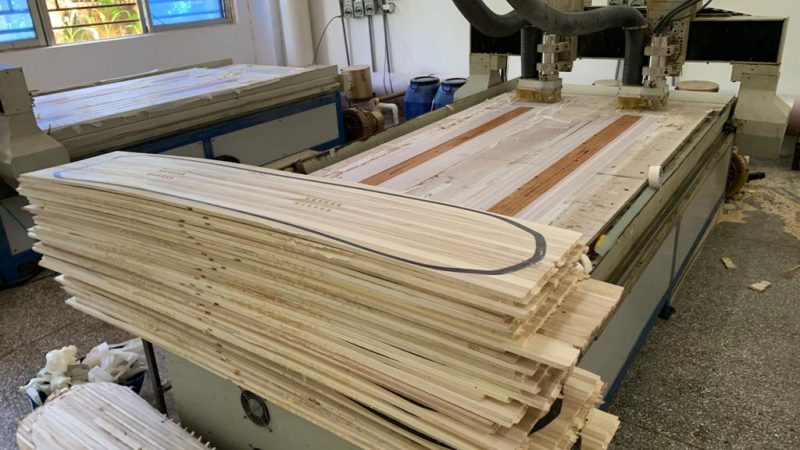 Snowboard Manufacturers Tell Us How COVID-19 Is Affecting Production
We speak to a number of the world's top snowboard manufacturers to find out the impact the COVID-19 disease and consequent lockdown period has meant for their business and production timelines.
These are unprecedented times and we're trying to gather as much information and data relating to COVID-19 as possible. Please get in touch with SOURCE Editor [email protected] to share any information.
Please note things are changing fast and on the time of going to print all info was correct.
How long did you close doors for and when did you re-open?
Bernard Gervasoni, Vice President, Composite Tech. Company Ltd: Overall, because our business is winter sporting goods, it's a seasonal business with the first quarter of each year gradually ramping up for deliveries for spring and summer for the following winter, so as the beginning of the outbreak and confinement happened during the Chinese New year holidays, the real impact of the shutdown was only about 3 weeks.
We opened mid-January after a one month full shut down and it took us one additional month to get back to normal production level. Officially we re-opened the factory on February 17th but at a very slow pace, as we waited for employees to gradually come back.
John Colvin, SWS, Dubai: We haven't lost a minute of production time until now. We do not anticipate any stoppage in factory operations. The UAE was far in front of the wave and has handled the outbreak very efficiently.
Stephane Querinjean. Meditec, Tunisia: We closed starting March 23rd and this will last until April 4th.
Ben Schwitz, CEO, GP87, China: Here at GP87 we were fairly lucky in that most of the (forced) break in manufacturing due to the COVID-19 outbreak was already scheduled due to the normal Chinese New Year holiday break.
Mario Pirker, Taiwan, Playmaker: Taiwan has not really had an issue with Covid-19 because the government reacted much faster than other countries. No immigration has been allowed for over a month, and temperature tests are routine at railway stations and restaurants. Infected people are put into quarantine. That is the reason why all companies are still open and producing. Due to this fact Playmaker has no delay right now.
Jan Korycki, Nobile Snowboards, Poland: We're still open, it's crucial to keep our production line running since the factory has a long order book and it's very important to hit the production deadlines.
What precautions are being taken to ensure the COVID-19 outbreak is under control in your facility?
Bernard Gervasoni, Composite Tech. We have been audited by government health authorities to ensure that we meet all mandatory requirements, including:
Temperature check for all employees every day
Masks worn by 100% of employees
Provide disinfectant and proper soap for everyone
At least one month's supply of masks in stock
Procedures posted with precautions and pictures to brief employees
Confinement room prepared for employee quarantine when coming from listed high risk provinces
Cafeteria set up to have only one employee per table during meal
One meter distance in-between employees when queuing for meal
Traceability QR code issued for everyone in the plant
John Colvin, SWS, Dubai: All personnel and visitors are temperature screened at the facility entry point. All personnel returning from vacations are put on 14-day quarantine in a dedicated facility.
Stephane Querinjean, Meditec: We temperature test each individual before entering the factory. Each employee has gloves and disinfectant gel available at their workplace.
Ben Schwitz, GP87: The COVID-19 situation at GP87 has been managed closely and well controlled with help from the local governments. From the beginning, necessary quarantines, thorough monitoring of all employee's temperatures, general hygiene (hand washing) and facilities disinfection procedures have been meticulously carried out on a daily basis. GP87 also provides each of our employees with all of the necessary protective gear, masks, gloves, eye protection, disinfectants etc., above and beyond the normal production safety standards, in order to protect us all from any chances of catching or spreading the virus. Our company also, after seeing the early signs of what was possible to come, had begun stocking up on masks and other necessary items early on and were able to later donate 1100 masks to the local village to help them in controlling the virus spread during a time when masks were still scarce and unavailable after the initial outbreak here.
Mario Pirker, Playmaker: Our workers have masks and disinfectant. We measure their temperatures and we will not allow company visits from customers or suppliers right now.
Mark Dangler, Mothership, Austria: We will continue to work with our staff, local authorities, and various health organizations to evaluate our steps forward, quite literally on a minute-by-minute basis.
Jan Korycki, Nobile Snowboards, Poland: The entire factory is under constant detoxification, the staff are obliged to enter only with gloves and masks on. The entrance and all doors have special detoxification liquids that have to be used every time you enter or exit. Staff shifts and breaks have been changed, in order to limit the amount of employees in one place at one time. All staff meetings have been transferred online to minimize group meetings in the company.
What measures has the government taken during the crisis?
Bernard Gervasoni, Composite Tech: Road blocks and check points have been located all over the city, enforcing mask wearing, checking body temperature and ensuring QR codes for traceability. We have had outstanding communication from the government on a daily basis with details on the situation in each province, with information breaking down to city, county, town, village, and even block and residential community levels that showed the Covid-19 evolution. The Chinese New Year holiday was extended by one additional week, on top of the usual two week holiday.
John Colvin, SWS, Dubai: There has been no need to do so up until this point. However the UAE government is implementing policy across the country to reduce financial stress on the residents during the next 3 months. Lower utility bills, lower housing rent costs, no fees for parking in the country, all Corona related tests and treatments are 100% free of cost to all residents. There is much more but these are a few good ones.
Mario Pirker, Playmaker: The Government prepared 3.3 billion USD to help companies if they get into trouble.
Stephane Querinjean, Meditec: Detailed measures will be known shortly. Financial help and credit facilities are expected to be announced.
Jan Korycki, Nobile Snowboards: Unfortunately we can't be grateful yet for any help. The Polish government hasn't done anything to help private businesses survive in these hard times. We're asking for VAT reductions and loans extensions but not much in the way of results yet. The Polish Government hasn't even activated the 75% refunded by the EU ticket programme that brings your citizens back home safely. So we are seriously behind the rest of Europe.
Can you explain the disruption in real terms of production, delivery times and supply chain.
Bernard Gervasoni, Composite Tech: Production was delayed for a few weeks and our seasonal production ramp up was slowed. Many suppliers shut down causing some components and raw material delays.
John Colvin, SWS, Dubai: We ordered very deep in raw materials back in Fall 2019 so we are anticipating little to no disruption. We are in constant contact with our supply partners to keep the ball rolling and as long as Europe doesn't go deeper into the hole we will be OK.
Ben Schwitz, CEO, GP87: Our initial forecasts for 2020 included 30% growth overall, however, due to the current situation and some revised more conservative orders from customers, we are still in pretty good shape and looks like we'll be right on par still with our 2019 production numbers. Delivery times we anticipate, at this point, being in line with what we planned in the first place for mid-summer to early fall delivery to our brand partners in time for the 20/21 season.
Stephane Querinjean, Meditec: We anticipate on average orders will be down around 20% below form last year from clients. So we don't anticipate a delivery issue for now. There may be a logistics problem but the impact will be not be great.
Mario Pirker, Playmaker: We will have no delay in production and can deliver on time.
Mark Dangler, Mothership: As part of our business plan, we have been preparing ourselves to be better able to shoulder and persevere through unexpected scenarios. Of course, we didn't know the specific outlying challenges we will face, but we know we will be challenged. We have considered carefully supply and demand. We have invested heavily in operations and production. We have thoughtfully developed strong silos and teams. Now, we are better positioned than ever for flexibility and control in good times and bad.
This type of organizational planning over the years has allowed us to take proactive steps to protect our business and people by pausing manufacturing operations in Austria to assist the social distancing component. Production was well planned this year, and we currently remain ahead of schedule.
Jan Korycki, Nobile Snowboards: The factory as well as Nobile sports works mostly on pre-orders, so the production line is already moving. The factory has enough supplies to keep on running for a long time, wood and other components are stored in-house.
What extra measures are you taking to gain back some normality in production time lost?  Extra staff?
Bernard Gervasoni, Composite Tech: Due to Covid-19 orders have been reduced dramatically, we have been able to recover from the late start but with lack of visibility for the year ahead we'll need to reduce our work force, therefore laying off people unfortunately.
All in all, we have been doing quite well knowing what we went through but now it's Europe, America and rest of the world to face the pandemic. We export at least 90% of our product, so our business depends upon how each country will recover from Covid-19 and how soon. Hopefully all of us will know more within a couple of months from now.
John Colvin, SWS, Dubai: We haven't lost any but if needed we have the ability to run extra shifts to make up for it.
Stephane Querinjean, Meditec: No need to increase staff. But workers are taking their holidays now so they won't take holidays during summer.
Marl Dangler, The Mothership: The world can change fast, however we are optimistic about our ability to achieve a successful production run and people's desire to snowboard next winter.
We care greatly about the health of our employees, partners, and of everyone in the greater snowboard community and we are wishing good health to everyone and their families.
Jan Korycki, Nobile Snowboards: We have kept the three shift work flow and have made small adjustments in order to keep the work flow going. For sure there will be small delays but the most important point is to keep the staff healthy, safe and happy.
So it would seem that production for 2020/21 snowboards is secure with deadlines also in tact. However, the problem currently sits with demand. Right now it's difficult to find perspective with most of the world in lockdown but with travel potentially thwarted by the after effects of the disease, we're hopeful that next winter sees people take advantage of mountains closer to home. Maybe less flights, travel and pollution can be the COVID-19 silver lining.