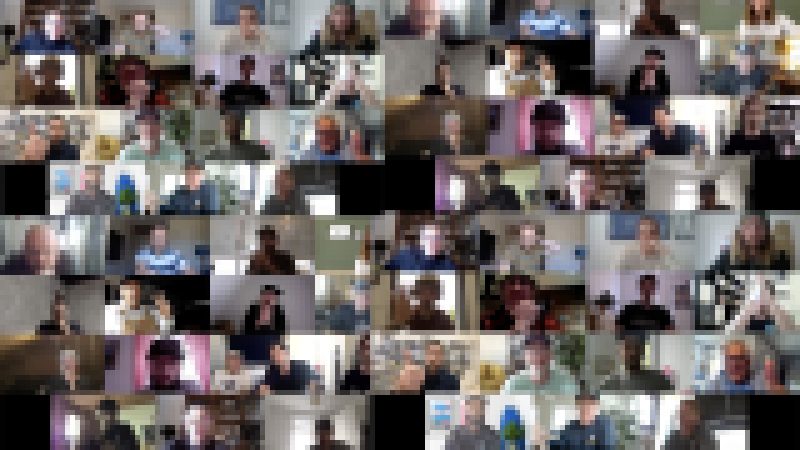 Snowboard Industry Zoom Conference Report: Part 1
SOURCE embraced the world of Zoom conference calls last week, hosting two video meetings with the snowboard industry. We spoke with key personnel from the industry's top brands and some of Europe's finest retailers to gauge just how COVID-19 is affecting business. This was the first time the industry's gathered (albeit virtually) in such a fashion for a number of years, since SOURCE last hosted the Snowboard Forum and we're pleased to report that the take-up was impressive, as was the sentiment with which our meetings were received. Report 1 of 3 by SOURCE Editor, Harry Mitchell Thompson.  
Read report part 2 here
Read report part 3 here
In the first few weeks of European COVID lockdown we'd been speaking with brand leaders, retailers and distributors and we soon realised that communication had become extremely difficult between retailers and brands. One retailer said "I've had hardly any information about how production seems as most of it's done in the far east and we just haven't been given any information on it. It's all a guessing game of who will be able to deliver on time and offer the product." While one brand owner said "retailers need to show brands there's sign of life. What's your stock and financial situation? As a small brand, we're comparable to a small retailer, we have minimums and it's often a case of 'make or break' for us. I feel that any comms back from retailers can be crucial in allowing the brand to facilitate their support."
A large majority of European retailers and brands were forced to furlough staff, meaning any staff left manning the fort had been overwhelmed by the sheer workload remaining. Brands had been snowed under with refiguring current season inventory and next season's pre-order details with manufacturers.
With communication suffering due to the lockdown, we realised the industry as a whole needed to know the full manufacturing picture and published our snowboard manufacturing report, informing our readers that the production process has been largely unaffected by coronavirus, something previously unknown to competing brands and for all retailers.
SOURCE saw it as our duty to sit down with as many brands as possible from the industry to discuss just how the snowboard industry moves forward from this global pandemic. The following brands and retailers took part in two Zoom meetings to discuss where brands could support retailers through the crisis.
Retailers: The Snowboard Asylum (UK), Blue Tomato (AUT), Inlandet (SWE), S'Brett (GER), Doodah (CH), Zero G (FR).
Brands: 686, Airblaster, Bataleon, Dragon, Giro, Head, Horsefeathers, K2/Ride, Nidecker Group, Nitro, Nobile, Picture, Rome, Salomon, Slash, SP, Spark R&D, Vans, Volcom.
The topics discussed covered support being offered to retailers by brands; financial, product and marketing. In order to promote an open and honest discussion we promised all attendees source anonymity. The idea was to create a breeding ground for ideas to ensure brands weren't missing a trick in terms of support on offer and having the retailers on the call meant we could hold the brands to task. We'll be releasing the contents of the calls over three separate reports. Below is the first report.
FINANCIAL SUPPORT
One retailer said, "we are technically bankrupt as in we aren't able to pay bills on time," however, thankfully the local authorities have facilitated a "government loan that is reasonably generous, which we should be about to receive in the coming weeks." A brand executive said their brand will benefit from a similar loan and that they intend to use this to support their retail partners with extended payment terms. The same brand exec said these retailers were struggling for cashflow before the pandemic, and that now it will be a "nightmare" for them, however "we have to support the shops because their success is our success."
Another retailer, looking to next winter says their biggest fear is "facing a market that is overwhelmed with end of season product that didn't get cleared. Usually when winter lands is when retailers are at their cash minimum, so I think it's really important we focus on payment terms." Most brands agreed it's too early to decide on just what payment terms should be employed for next winter now, but that they'd be monitoring the situation closely to work with all shops as best they could. One brand exec joked "I'm under the presumption that all snowboard shops just pay when they want to pay!" A general sentiment from most brands was that it's not their position to bail out the entire retail industry, but that they would help their distributors to help their dealers wherever possible.
Moving on from payment terms, brands told us they've also taken stock back from retailers, mainly to prevent heavy discounting. One retailer commented: "I think there's more of a focus nowadays on gross margin than there is on gross revenue and I think it's a credit to the industry. I think it's what a lot of the more experienced people in the industry have learned due to some tough years."
A number of brands told us they've been back to retailers and adjusted their pre-order numbers, as one retailer said: "when we did pre-orders we weren't expecting to go through three months of economic shut down." So some brands do seem to have worked with retailers, ensuring they have reviewed their orders to ensure they're sensible and in line with what they think they'll be able to sell.
All brands were keen to let retailers know they're open to suggestions and will be working with retailers on a case by case basis.
Stay tuned for parts 2 & 3 of our snowboard industry Zoom conference reports dropping next week where we'll gauge opinion on the carry-over model, marketing initiatives, discounting and more key themes arising from the calls.