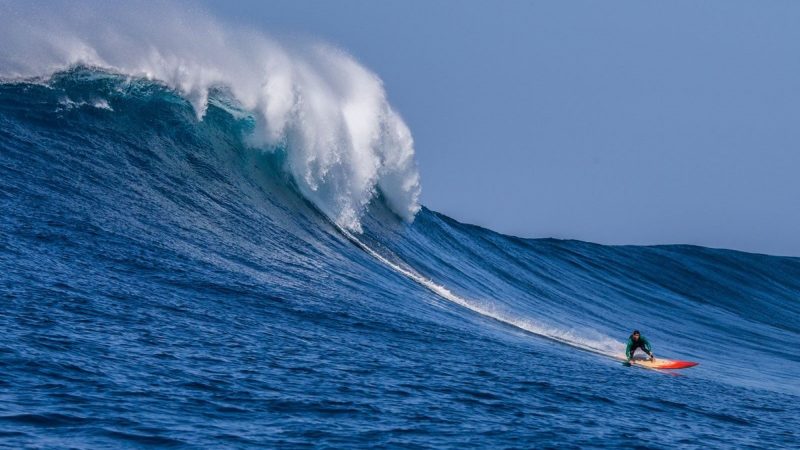 Spanish Surfboard Co Flama Surf On 100% Organic Goal
Back in 2008, Sergi Galanó learnt about paulownia wood. This discovery sparked the start of Flama Surf. Using paulownia wood, Sergi was able to craft surfboards that fit his 100% organic goal: no chemicals or fibreglass required. He explains more about how he combines his passion for environmentalism and surfing at Flama below.
Company Name: Flamasurf
Interviewee name and job title: Sergi Galanó, shaper and ecosurfboard builder
Web: www.flamasurf.com
Workshop Address: c/Metalogènia s/n, Premià de Mar, Barcelona.
Email: [email protected]
To start, can you please give us an overview on how and why Flama began?
I always liked to build my own stuff, but always discarded making surfboards because I didn't want to have to deal with all the chemicals and toxicities that it involves. It all came together in 2008 after reading an article about the magnificence of paulownia wood for making surfboards, which doesn't require having to be laminated with fibreglass. All of a sudden my different passions —surfing, carpentry, design, environmentalism— merged into one. At that moment I knew that I wanted to commit myself to building 100% organic surfboards and go back to that point of surfing when surfboards were made of wood and the environmental footprint was close to zero.
Who is part of the management team and what are their backgrounds?
Flama is only a tiny business and I'm the only one behind it. I'm the thinker, the designer, the promoter, the shaper and the builder. I studied and worked as a graphic designer and I worked as an art director until 2002. This led me to realise that I was not meant to live stuck to a chair. I discovered that I wanted to work with my hands and also needed to unleash my creativity, which is what drives me in life. I moved to the mountains where I opened a hostel and it was there that I discovered how much fun it was to work with wood and build things.
Keeping a small infrastructure at Flama gives me more freedom, I don't have to worry about wages and a complicated accounting. Instead, I can freely manage my work planning and concentrate on experimenting and testing new ideas, which after all is what I enjoy the most.
A huge part of your ethos is sustainability, tell us how you achieved this with the FlamaClassic
From the very beginning, my main goal was to build a 100% organic surfboard. With the FlamaClassic I got very close to that perfect number. It took me a good full year to learn to build perfectly watertight un-glassed hollow boards. But I did it and I'm super proud of it. But soon I realised that the FlamaClassic had some limitations, especially regarding weight. This is ok for certain designs, but as soon as you want a more performance-oriented board, lightness is important. That is why I started the FlamaEvolve tech (with recycled EPS core and timber skins), which are a step back in my 100% organic goal. Still, these boards are 70% organic by weight, which is way cleaner that most of the alternatives available in the market. With both techs now I can offer the full spectrum of board designs and cover any surfer's need.
Anyway, I think sustainability is a very relative term and is used too easily. You could build 100% organic surfboards but build them on mass in a third world country, exploiting workers, shipping worldwide and having a huge impact of CO2 emissions. But you could also build standard fibreglassed surfboards and build only locally using green energy, and probably would get a more sustainable product than with the previous example. Taking care of how you do things can be even more important than the origin of the materials you use.
Could you also give some detail on how you became qualified to make Gold Level Ecoboards?
That's a funny story. As soon as Sustainablesurf launched the first Ecoboard certification I made my application. But to my surprise, I was barely able to fill any of the fields on the form, as I was not using resins, fibreglass, or any of the qualified materials they wanted to certificate. Luckily, they later started the GoldLevel certification; with which I could easily certify my two technologies. But still, the FlamaClassic concept would deserve a higher certification. In any case, I think the GoldLevel certification is a good initiative to introduce environmental standards for surfboards, so people know what they're buying. After all, the most important change should come from buyers, who should demand more respectful, socially, and environmentally sustainable products.
What kind of marketing are you running?
Being such a small company I cannot afford big marketing investments. I attend festivals and give talks and conferences, and let people test my boards wherever I go. I also have an ambassadress, Andrea Molina (@andreamolinatorn), who is a lovely free soul that has been riding my boards for a long time. Andrea also helps me promote not only my boards but my philosophy and need for change.
Where do you sell your products and where can we check your products out? (retailers, web, social media, etc..)
https://www.instagram.com/flamasurf/
What do you see for the future of your company and the surf industry?
My only aim is to be able to keep on experimenting in my search of the 100% organic surfboard, while being able to custom-build surfboards for my customers. I want to prove that I can build boards that are comparable to standard fibreglass surfboards in terms of performance.
As for the surfboard industry, I would like to see more pro surfers riding greener boards, because (like it or not) they play a big role on marketing the kind of boards that people will want to buy. I'd like to see a radical change of will in the whole surf industry. I want the industry to overcome the "we need to change" mode and preferably change to a better "we're changing" attitude.
*Flama also offers a ding repair service so that surfers can restore their boards to their former glory.