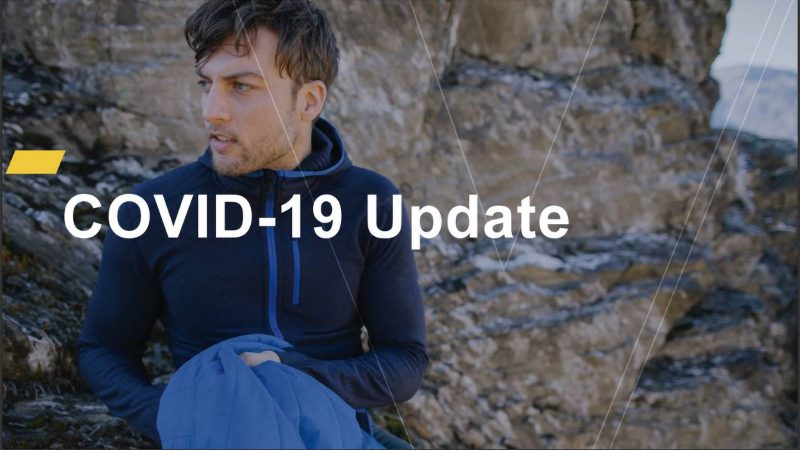 Vans Posts 52% Revenue Decrease Amid Pandemic, Grows Digital DTC By 86%
The VF Corporation has published their results for Q1- the first quarter of the 2021 fiscal year that has been impacted in its' entirety by global COVID shutdowns. Global revenue for Vans reported to be down by 52%.
The economic impact of the coronavirus (COVID-19) pandemic is reaching historic proportions. This week, the U.S. economy posted the largest decline on record, a staggering 32.9% annual decline between April and June 2020.
The concrete effects on the boardsports business are also starting to manifest.
Among the first publicly traded boardsports business to report quarterly results is Colorado-based VF Corporation. The home of Vans, outdoor brand The North Face and work wear label Dickies presented results for Q1 of fiscal year 2021 on Friday.
Most importantly, this marks the first full quarter under coronavirus restrictions. The previous quarter ended in late March, thereby including only a few weeks under pandemic measures, and reflected a light impact.
This changed in the quarter ended June 27, 2020. Overall, VF revenue from continuing operations decreased 48% compared to the same period last year to $1.1 billion. The Active segment, where California-based boardsports brand Vans is the shining star, saw revenues decline by 54%. Gross margin dropped 340 basis points to 52.9%.
At the same time, the company ended the quarter holding approximately $2.8 billion of cash and short-term investments in addition to $2.23 billion remaining under VF's revolving credit facility.
"VF is built for this moment, which is what gives us continued confidence and optimism," said Steve Rendle, VF's Chairman, President and CEO. "Our financial and operational rigor, the affinity consumers have for our iconic brands, and the progress we've made in recent years with our digital transformation have us well-positioned to not only manage the complexities of the current environment, but to drive long-term growth."
Vans: Down but not out
Revenue for the Vans brand was down 52% globally in Q1. Viewed by region, Vans revenue declined by 64% in the Americas, 47% EMEA and 3% in APAC. As reasons for the decline, the company cited DTC and partner store closures and supply shortages, which are expected to normalize in Q2.
DTC revenue was down 41% during the quarter, but as a direct effect of social distancing, DTC digital revenues increased by a strong 86%. Looking ahead, the brand expects a recovery in Q2, with only around 15% year-on-year decline in revenue.
In Europe, 65% of DTC shops were closed as part of coronavirus response. Meanwhile, digital DTC increased 41% since May. In other good news, CEO Steve Rendle said: "We achieved more than 30% growth with Zalando and Asos, two of our largest digital wholesale partners globally. We experienced double-digit growth in Vans app downloads versus last quarter."
Despite the challenging environment, the brand retains a loyal following with the total number of Vans Family loyalty program members exceeding 12 million. On average, members spend 35% more on Vans products than non-members.
During the quarter, Vans maintained its social commitment with a $100,000 donation to the NAACP, $75,000 to Paak House and $50,000 to the GSA network. Overall, the Foot the Bill initiative of Vans Customs shoes designed in cooperation with independent stores and venues has achieved record-setting results. Until today, Foot the Bill has raised more than $4 million to benefit small businesses in our segment.
COVID-19 measures
To help mitigate the spread of COVID-19 and in response to public health advisories and governmental actions and regulations, VF has modified its business practices, including the temporary closing of offices and retail stores, instituting travel bans and restrictions, implementing health and safety measures including social distancing and quarantines.
Here's an update on current measures:
All of VF's retail stores in the APAC region, including mainland China, re-opened during the first quarter.
Over 90 percent of VF's retail stores in the EMEA region re-opened during the first quarter, with most of the stores that remained closed located in the UK.
In North America, 75 percent of all retail stores were open at the end of the first quarter. Additional stores have re-opened since the end of the quarter, partially offset by over 120 retail stores that have since temporarily re-closed due to localized resurgence of COVID-19 outbreaks and resulting government action and public health advisories.
VF's wholesale customers in APAC, North America and EMEA have re-opened most of their retail stores.
As CEO Steve Rendle said in the earnings call: "We're in the midst of an unprecedented change across the retail landscape, and consumer trends and behaviours are evolving faster than ever before. Participation in outdoor activities and consumer interest in outdoor exploration is increasing. Health and wellness and the pursuit of a more active lifestyle is accelerating."
Big-Picture Perspective
Looking ahead, CEO Steve Rendle remains confident: "As we continue through our fiscal year, we'll build on the strengths we're already seeing in the core elements of our strategy, including maintaining our strong cash and liquidity position and further accelerating our digital business worldwide, especially in China."
While VF Corporation did not provide a financial outlook for full-year fiscal 2021 due to the uncertainties related to the ongoing crisis, immediate projections are optimistic: "Our business in July continued to sequentially improve, with revenue down less than 25% led by significant improvement at Vans and Dickies," said Steve Rendle.
Second quarter fiscal 2021 revenues are expected to be down less than 25% and full-year fiscal 2021 free cash flow is still expected to exceed $600 million. Watch this space for more coverage on corporate financials in boardsports.
Quotes from VFC's Press Release and Seeking Alpha