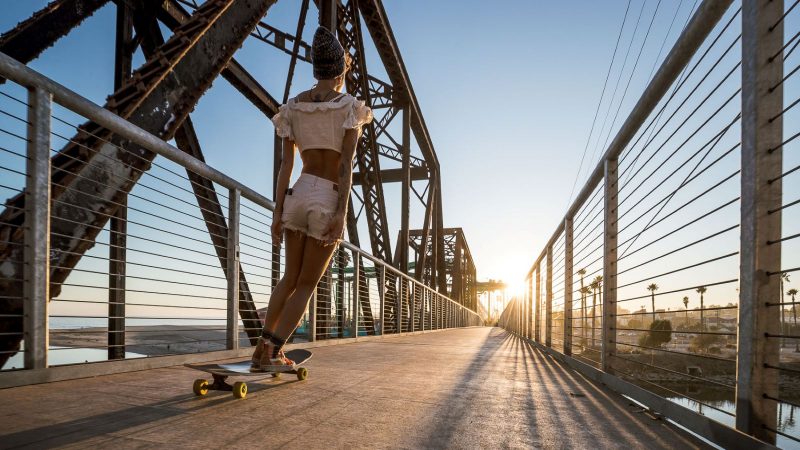 Canadian Brand Landyachtz On The Skateboard Boom
Planting a tree for each skateboard sold, Landyachtz can't wait for summer's arrival to release a new line of Surf Cruisers for power slides and concrete surfing. Confidently coping with tough times through the pandemic, this Canadian brand stresses the importance of an online presence and predicts skateboarding will see a solid influx of new and returning practitioners very soon after the end of the lockdown.
What's new with Landyachtz?
We're now working from home! But seriously, we launched our 2020 line on March 1 and expanded our product offering with new dinghy shapes, new dance boards, a race series, new trucks and new wheels. We launched everything and two weeks later, North America went into lockdown. It's been an interesting transition for the business, but we've been able to adapt our marketing message and shift our structure to align with the global issues we're facing. We changed our spring release strategy and decided to focus on contests that people could participate in from the safety of their homes. We launched a Youtube trivia contest which people seem to love! We just launched a photo remix contest where we provide a photo and let people completely re-edit it any way they see fit. We're reposting the submissions and giving away prizes to our favourites. Our goal here is to engage with our customers while providing some laughs and entertainment during this time. Skating is a great way to just unplug, have some fun, get exercise and enjoy fresh air. It's important to not take added risks, so we've been encouraging people to grab a cruiser board or longboard and go for a mellow safe skate around their neighbourhood.
What are your biggest marketing pushes in the coming 12 months?
We've been building boards for over 20 years and firmly believe that we make the perfect complete skateboard. We design all our own components and pair them with our decks so they ride perfectly together. This season we've revamped the RKP Bear Gen 6 Trucks that come on most of our completes. We've made improvements to how they handle and feel which is really important to the overall quality of the completes we design. We'll also be releasing a line of Surf Cruisers this summer that have a surf-like carving feeling but are still stable enough to ollie and comfortable to push around. We're excited for these to hit this summer because they're a blast to ride and are a great blend of both skating and surfing.
What have been the biggest influencers on the skate hardgoods market in the past 3 years?
The growth of dance in Europe and Asia over the past three years has started to trickle into the North American market. I'd also say that interest in longboarding has begun to grow again. Cruisers have always been strong for us and it's exciting to see a slow and steady increase in Longboard (36' plus) sales. I feel like one reason for this is that people who have cruisers, and skate them regularly, are adding different styles of boards to their quiver. They are realizing that one style of board is good for certain terrain and another style is good for the other.
Tell us about your One Board One Tree campaign.
It's hard to believe we've been planting for over 5 years now! The decision to plant one tree for each board we sell came because we realized we could do something that would have a long-lasting positive effect on the planet. On average, we can make 60 boards per tree harvested, meaning that every tree we use to produce skateboards results in 60 new trees being planted. We've partnered with some great organizations that ensure trees are being planted in areas that need them. The Eden Project plants in countries where deforestation is a real problem, Tree Canada plants maple trees in regions where we source our wood and Priceless Farms teaches sustainable farming practices that combat deforestation. You can learn more about each of these organizations at landyachtz.com/one-board-one-tree.
Tell us about your best performing regions in your wholesale channel.
Being a North American brand, it's the USA. There's a healthy skate culture, large population and great network of dedicated retailers who believe in what we are doing. We've always had a strong wholesale presence in Canada too, being that we are a Canadian brand, but the USA simply has a thriving boardsports scene with more people and shops moving boards.
What do you see affecting the market the most in the upcoming 12 months?
This year is going to be an interesting year as retailers have been forced to change their business models on the spot. It's clear that online sales are driving business right now. If you had a solid online component to your store, then you are seeing the benefits of people staying at home and shopping online. If you didn't have an online store, chances are you're creating one. A lot of our accounts have adapted and are focusing on growing online business or using social media to arrange store pickups. Retailers need to act fast and look at what retail will be like in a post COVID-19 market. People want to skate right now, because it's something they can safely enjoy. I expect we'll be seeing a lot of first-time board buyers or "I skated as a kid, time to pick it up again" customers and this could be a really great thing for retailers and for skateboarding