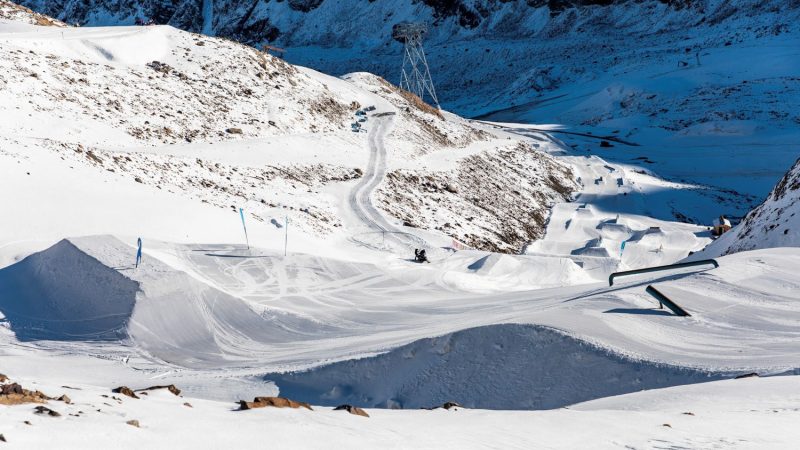 Snowpark Kaunertal Opening Weekend Starts Friday
Snowpark Kaunertal is set for its opening weekend, starting this Friday. With a full schedule of shredding, equipment testing, an art gallery and snow sessions planned, that despite restrictions, the Kaunertal opening is gonna be as big as ever. 
Press Release:
The Snowpark Kaunertal will open in 2 days with an adapted 35th
Kaunertal Snowpark Opening from October 9th to 11th, 2020.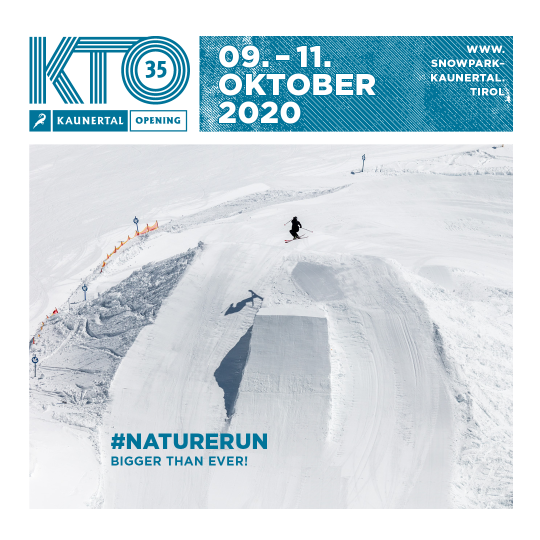 "Ticket to Ride" with mask, distance and personal responsibility for the new "Shredden" snow park.
The Kaunertal Glacier has opened its slopes for two weeks and was able to demonstrate the safety concept developed for glacier skiing in Covid times. Now the opening of the legendary Snowpark Kaunertal follows this weekend. Here the measures are expanded with a people
guidance system, two large and expanded testival areas and a sign campaign asking for personal responsibility. Wearing the mask is not only compulsory, but also a "fashion accessory" in the scene. Nothing stands in the way of a safe first day in the park and / or in the snow.

Snowpark Kauenrtal "bigger than ever"
At the opening, the park will be presented similarly to the spring. On the one hand, the natural snow reserves from the closed spring were available as a good basis and on the other hand there were already a few days with good snowfall in September. Specifically, the park begins in autumn with an upper section and a kicker x rail combo and, similar to the spring, extends over a middle section down to the 2nd section aka "half-mile-jib-line!". In total, the park offers endless possibilities for everyone over 2km. The park map has been available online on the Snowpark website for a few days. It is even better to "check out" the park yourself at the weekend.
Free testival on an extended area and a new accreditation system in advance
This year, anyone who wants to test the latest material from over 30 brands can print the registration form at home for the first time on the Snowpark Kaunertal website. This reduces the hassle of queuing for accreditation and contributes to a secure, almost contact-free rental process.
Shredden, shredden, shredden and 5 Sessions at the Jib´n´Skate Playground
The focus this year is mainly on shredding the park together. The terrace setup aka Jib'n'Skate Playground will also be rebuilt this year for the first time between Friday and Saturday. So the SANE CREW! OPENING Session presented by Method Mag an exclusive setup that no "jibber" can ignore. It continues on Friday with the Ski Cash 4 Trick Session presented by PRIME Skiing. On Saturday, the Desperados Heavy Metal Rail Jam will be followed by heavy heavy metal with great prizes and Desperados vouchers. Sunday is all about girls with a shred unit coaching session and a Rail Cash4Trick session. Before that – the name says it all – this year's new "Sounboks No Hangover Session" powered by Templeton.
Here is a session overview:
SANE! CASH 4 TRICKS OPENING SESSION presented by Method Mag FR, 09.10.2020, 12:00-13:45 Uhr – JIB´N`SKATE PLAYGROUND
SKI CASH 4 TRICKS by PRIME SKIING FR, 09.10.2020, 14:00-15:30 Uhr – JIB´N`SKATE PLAYGROUND
DESPERADOS HEAVY METAL RAIL JAM SA, 10.10.2020, 13:30 – 14:45 Uhr – JIB´N`SKATE PLAYGROUND
SOUNDBOKS "NO HANGOVER SESSIN" powered by TEMPLETON
SO, 11.10.2020, 11:00 – 12:00 Uhr – Open Park/Park Base – listen to the sound!
GIRLS COACHING SESSION by SHRED UNIT SO, 11.10.2020, 10:30-12:00 Uhr – OPEN PARK
GIRLS CASH 4 TRICK SESSION BY SHRED UNIT SO, 11.10.2020, 13:00 – 14:45 – JIB´N`SKATE PLAYGROUND
NEW: ART V(G)ALLERY
As a special attraction, this year the valley is dedicated to art and culture related to the snowboard and freeski scene. The ART GALLERY with protagonists Theo Acworth (Method Mag) and Felix Pirker, which can be visited individually, will be installed in the Quellalpin Saal during the opening. Some selected impressions from 35 years of KTO and 40 years of Kaunertal Glacier are also shown. In addition, the world premiere of the book "BOARDS, a brief history of the Snowboard" written by Peter Radacher (Snowboardmuseum.com) will be available for the first time and invite you to browse. Where else if not in Kaunertal, which is historically linked to snowboarding.
You can find details and updates as well as current Covid-19 information on the Kaunertaler Gletscherbahnen and Snowpark Kaunertal pages