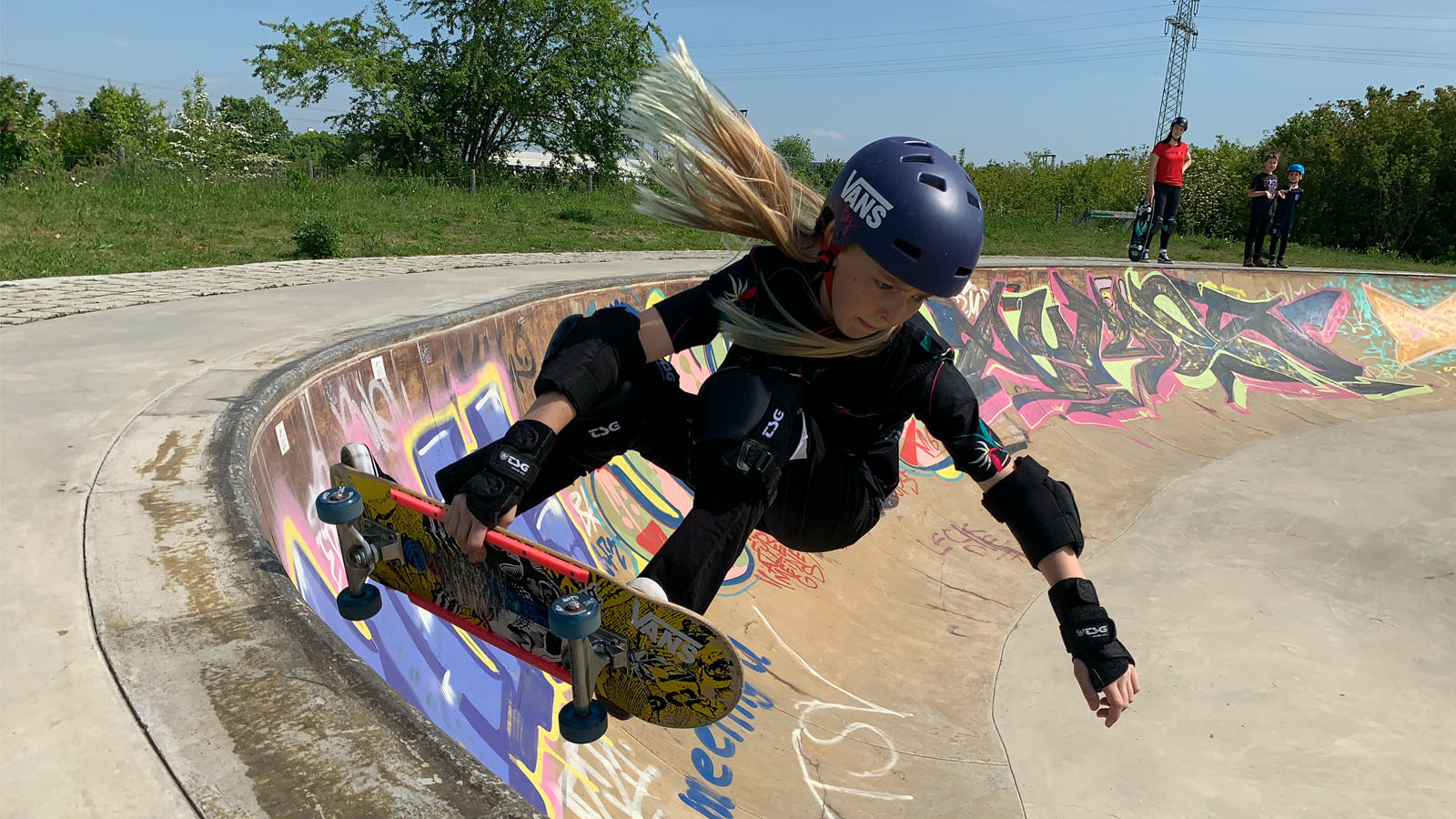 TSG SS21 Skate Helmets & Protection Preview
Brand: TSG
Interviewee: Rudolf Herger, CEO & Nadja Herger, Marketing/Communication
What trends are you noticing in boardsport protection for 2020?
We are pleased to note that dealers are now more sensitive and aware of the importance of CE-tested PPE. We are experiencing increased demand for our products, all of which are CE compliant and have been both mechanically and chemically tested.
Has the coronavirus and lockdown had an impact on demand for protective equipment?
After initial uncertainty, we were surprised by a real boom. April and May were top months for the sale of helmets and protectors.
How has Covid effected your SS21 sell in plans in terms of delays/ range cancellations and carry over etc?
No, we will introduce a few new models and look ahead!
What are your main price points for next season in helmets, pads, protectors?
The main price point for helmets starts at 34-95 €
For protectors, our set (elbow-, knee- and wrist guards)s start retailing at 49.90
How is skate participation developing and how important is protection to new riders?
Skateboarding has always been one of our main pillars. This is where we have our roots and the knowledge from here flows into the development of all our protectors. For new riders and of course kid's protection is a must-have. Here in Switzerland, we can definitely see a boom of kids and beginner skate classes and camps. As protective equipment is compulsory in these courses, beginners learn to use it right from the start.
More and more people also skate on pump tracks and cruise around in easy pools. Surf Skate brings the flow of surfing and freeriding to skateboarding. Again, especially for the beginners, pads are essential if you don't want to settle for scraped knees and elbows.
What are your main stories in terms of protective technologies for 2020?
Safest mega ramp pad ever!
The Kneeguard Force V Pro comes with foam twice as thick as our regular vert knee pads (that are already some of the safest on the market).
You can actually buy it!
Custom protection, helmets or shoes for athletes are a common thing, as the products of the regular collection often do not meet the demands of professional athletes. This is different with TSG. All our Pro Skateboarders ride exactly the same products that are available in the shops. There is no better sales argument than to say: you can actually buy (pro rider's name) knee pad.
How are you communicating safety certification and is it a must-have?
Definitely a must-have for TSG. We have always designed our products with safety certification in mind. You are not allowed to sell PPE without certification in the EU. We make our test reports and the declaration of conformity available on our website. We have a special area on our website that explains the different standards and testing methods and of course, all products and their packaging are marked correctly.
Do your protection products cross over into other sports?
Sure, especially the beginner skate set is also used by kids on balance bikes and by BMX riders. On the other side, some of our thin bike protectors are also used by skateboarders who prefer just light protection that can be worn underneath their denims. But of course, all pads are designed for a specific sport and tested for this sport as they have different requirements.
Helmets however cross over more easily. A skateboard helmet is also used by mountain bike dirt riders. A typical half shell helmet comes with a certification for bike and skateboard helmets.
How are helmet designs trending (full helmets vs. lighter models)?
Nowadays you can find helmets everywhere, from Aldi to Tschibo to toy stores. From the outside, they more or less look alike. So some people don't question the fit and believe a poor fitting and sitting helmet is how these helmets should fit. This is a huge misbelief and at the same time a great sales argument for skateboard shops. If they offer good helmets they can easily convince their customers, why they should not buy PPE at discounters.
So the trend should definitely go into a good fit, what I think is even more important than weight. Our lightest helmet for adults starts at 300g (For a long time the lightest skateboard helmet on the market), our heaviest with full-cut ears ends at 480g. Of course, you feel it when your helmet is more than 100g lighter, but you don't feel discomfort when wearing a 480g lid. I would say the mass wears a normal open hardshell helmet. Some specialists prefer the Superlight Helmet with 300g and some other just like the style and the safety of our full-cut Dawn helmet.
Which colors and graphics are on trend right now?
We offer a large number of solid colors for our Meta and Evolution helmets (between 8-14 colors), so there should be fitting colors for every mood and every market. We have some metallic (gold, misty concrete) and reflective (black without a light source, reflective with a light source) shells in the line. In the kids' segment we bring back a new version of our panda design, play with an all-over lollipop pattern and work again with Kathi Macheiner from the Snowboarding Family, who focuses on gender-neutral kid's illustration.
Looking at the protection gear, black stays the dominant colour. We have some colour options in our Protection Sets with old-school red/blue/white and a blue, beige, black model.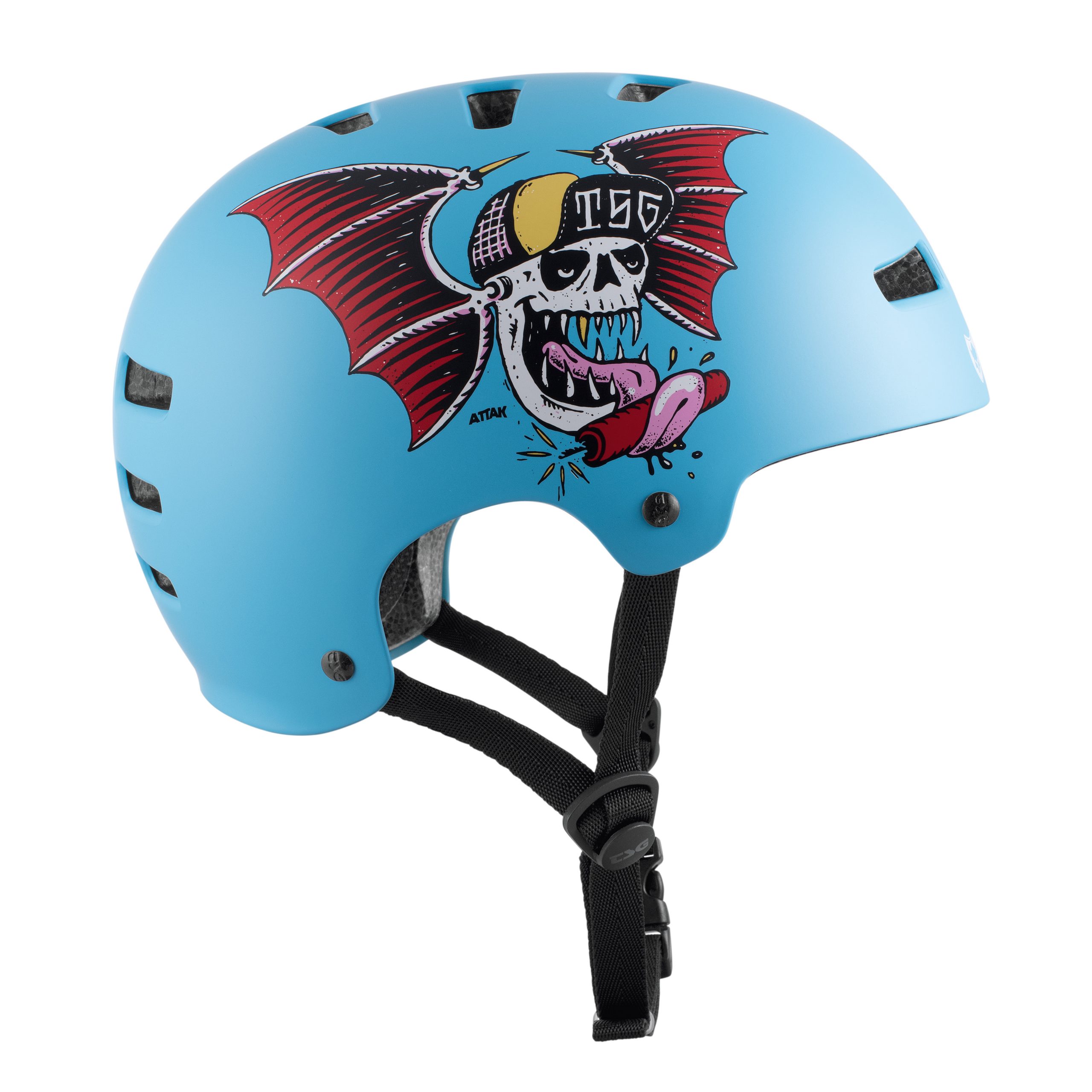 Which technical features are you the proudest of in your protective gear?
Probably of the performance of our ACF Foam that we mainly use in our bike protectors. We have two vert skateboard knee pads that add a layer of our ACF Foam for advanced impact absorption. ACF is engineered to mimic the physical structure of human cartilage with molecular freeflow technology. Flexible and soft in the normal state but when met with the impact the molecules in ACF form a hard, protective shell. The remaining impact energy is converted into barely noticeable heat before it can reach the body.
What impact technologies in helmets are you incorporating?
We stick to EPS foam combined with either ABS (hardshell) or PC (in-mold). In Bike, we also offer some models with the MIPS system.
Are there any crossover technologies from other sports?
I think every sport can profit from the other. If we have a technology that makes sense for other sports, we try to develop it and integrate it into other products. That's what we did with our ACF Foam.
Please name and describe your 3 highlight pieces and items that retailers should definitely order.
Nipper Maxi: Light Inmold helmet for kids
A sleek, compact shell, an amazing fit, and super-lightweight construction – the Nipper Maxi helmet is built for youth-sized heads. The In-Mould construction makes it ultra-light, while our anatomically shaped, low-profile design guarantees a comfortable, secure fit. Rigged out with easy to adjust size pads for fine-tuning your fit.
Protection: In-mold Construction, Standards: EN 1078, TÜV Süd GS, CPSC
Fit: Tuned Fit System, Snug Fit, Low Fit
Comfort: 12 vents with airflow channels, Reflective straps, Basic padding in 3 sizes
Evolution Wmn: Helmet design for women
When it comes to hardshell helmets, women love the Evolution because its Snug Fit flatters female heads. The slim design curves anatomically around the head for a great fit and tailored wearing comfort. It features a tough skate-style hardshell construction, combined with just the right amount of sleekness and attractive colors. Available in two shell sizes (XXS/XS, S/M, L/XL).
Protection: Hardshell construction, Standards: EN 1078, CPSC
Fit: Tuned Fit System, Snug Fit, Low Fit
Comfort: 14 vents with airflow channels, Comfort padding in 2 sizes
Kneepad Sk8 DHP's: Made Downhill Skateboarding
The SK8 DHP knee pad is our extreme downhill protection, developed in collaboration with speed demon Kevin Reimer. Downhill pads aren't just about saving flesh and bone from concrete but also provide a durable pivot for slides and balance. The Sk8 DHP's come in a long design made from durable, tear-resistant nylon and with a large-cap and lateral slide extensions. To keep it in place it also features secure Neoprene butterfly straps with Velcro closure that Kevin can trust.
protection: Hardshell construction, Multi-layer EVA foam on and around the knee, PE knee cap with slide extension, EN 14120:2003+A1:2007, Level 2
Comfort: Pre-shaped design, Strong tear-resistant nylon, Horseshoe shape, Neoprene butterfly straps, Top velcro 360° strap, Double-layer velcro, Bottom velcro strap with snap buckle, Open-back design, Comfortable lining fabric