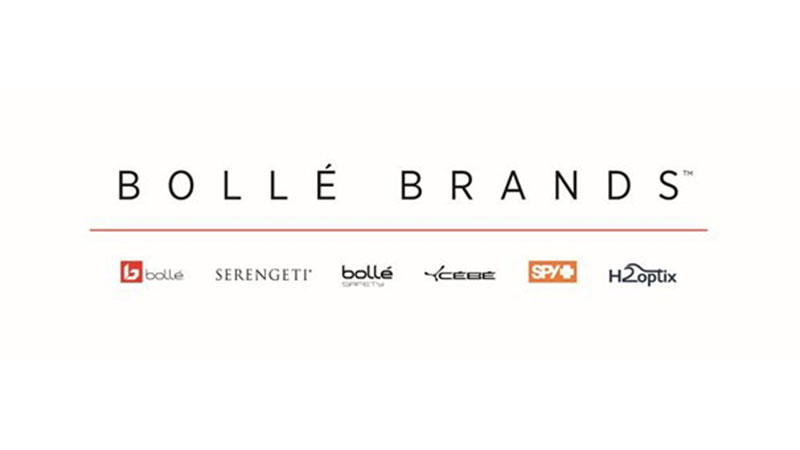 Bollé Expands Augmented Reality Experience To Winter Products
Bollé has introduced an augmented reality experience for their winter products; shoppers can try on the Nevada goggle and RYFT helmet without even having to go into a shop. The AR experience can be accessed via smartphone and by using the front & rear cameras, consumers can test out the full range of Phantom lenses and see themselves wearing the Nevada goggle and RYFT helmet. 
Press Release:
BOLLÉ LAUNCHES A NEW AUGMENTED REALITY EXPERIENCE FOR ITS WINTER PRODUCTS & BEST LENS PHANTOM
Bollé Assists Winter Sports Retailers with A New Phantom Augmented Reality Experience for Touchless Sales
In an increasingly digitized world, the Bollé brand stands out for its product innovations (offering ever more advanced and market-leading technology, such as its Phantom lens) as well as its digital initiatives. The most recent example was its revolutionary app, launched this summer, which allows you to try out the Phantom lens directly from a smartphone (a first in the sports market). Committed to continuing to address current sanitary challenges with innovative solutions, Bollé announces the launch of a new augmented reality filter allowing consumers to not only look out and experience Bollé's exclusive Phantom lens in the sought-after Nevada goggle, but also safely see what they look like with Bollé helmets and goggles on without ever having to physically touch the products. This solution is lending an assistance to winter sport retailers by helping consumers experience Bollé whenever they are and make a more confident purchase at retail, thus increasing sales opportunities and lessening the chance of a return.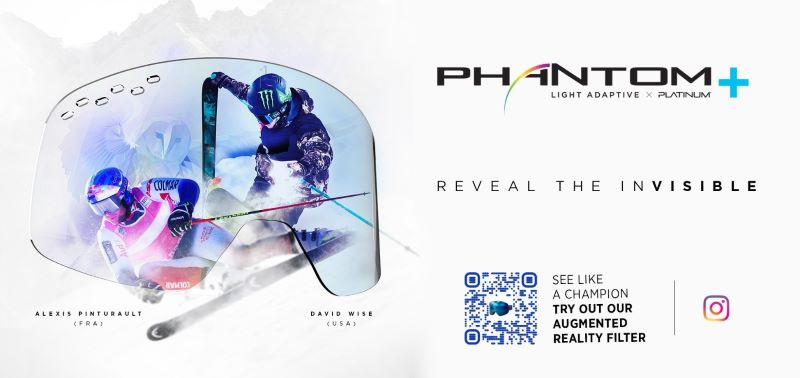 Partnering with QReal and M7 Innovations, Bollé's AR experience is a first for the helmet and goggle industry. Within Instagram, the demonstration invites users to 'try-on' and 'try-out' Bollé's most technical photochromic lens: Phantom, along with the RYFT helmet, which is new for the 2020/21 season. The unique customer experience also goes beyond Instagram with interactive 3D models on the Bollé website, offering informational bullet points that can be moused over for detailed information. An industry-first, these points are also found on the back of the 3D models when spun around, allowing for a truly interactive online experience that no other retail brand has harnessed.
"One of the key pillars of Bollé Brands' strategy is its "Customer First program," an initiative to provide the best solutions to our retailers", said Michael Sakellaris, Vice President Sales at Bollé Brands. "We believe that experience is worth a thousand words, especially when talking about technology. The Phantom AR experience we launched this past summer was a massive success not just because of the innovation it delivered but also because it was a timely response to address the sanitary constraints faced by shops during COVID. With this Winter version of the AR, we extend this support to our winter products retailers and provide them with a full package: a concrete tool to boost sales and consumer interaction, supported by communication plans and merchandising tools."  said Sakellaris.
After seeing the helmet and goggle on their head, users can simply flip their camera from selfie-view to front-facing and Phantom lenses are superimposed on their actual view. Users then introduce goggle effects like high contrast, anti-fog, and photochromatic into their real surroundings to see Phantom lenses in action. Once users select a lens that suits their style and needs, they can purchase the product directly from the newly launched e-commerce Bollé website, or search for a participating dealer.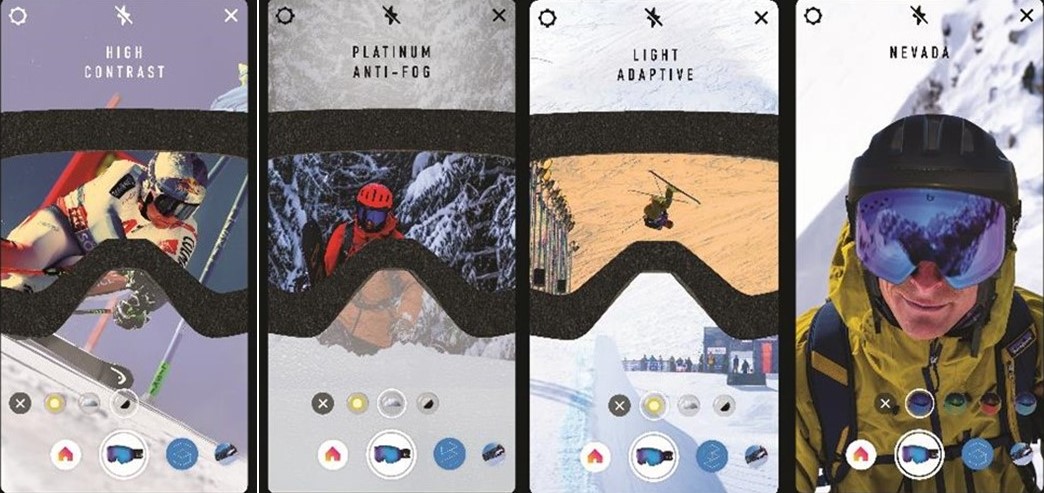 The program roll-out is promoted by its top winter athletes, Alexis Pinturault, French World Cup alpine ski racer with 2 Globes and 27 World Cup victories, and US Freestyle Ski team member and two-time gold medalist David Wise who can be seen in action in Bollé's new AR video: Bollé Winter AR Video
"For this winter version of our Phantom augmented reality experience, we have gone further in the realistic feel of the filter and in our communication," said Louis Cisti, Vice President Marketing at Bollé. "Bollé has one of the strongest winter sports athlete teams in the world. This experience pairs the greatest champions with the best photochromic lens technology on the market. It is a strong statement. Our products are worn by the best, and with the filter, anybody can see like a champion", he concludes.
Using AR, users will experience first-hand what makes Bollé's Phantom the leading lens in winter sports.
Light Adaptive Technology: the user is presented with a slider that allows them to change their exposure, making the scene brighter or darker. They watch Phantom's molecular photochromic filter adapt to changes in ambient light.
Anti-Fog Treatment: the user's view surrounding the goggles begins to fog up, simulating the fogging that occurs from sweat while skiing. This is due to fog condensing on the inner lens surface but thanks to the anti-fog treatment the view remains crystal clear, mimicking the real-world performance of Phantom Lenses in real-world situations.
Low Temperature Sensitivity: The Phantom lens with exclusive LTS Technology (Low Temperature Sensitivity) delivers improved activation, darkening or lightening whether the temperature is -25°C or 5°C.
Bollé's full line-up of Phantom lenses will be available in the AR demo so consumers can select the lens that best works for them. The range includes:
Phantom+ which in addition to all the Phantom technology also includes a semi-polarized film that reduces distracting glare and enhances contrast to distinguish ice from snow.
Phantom Green Emerald lens is ideal for bright light conditions.
Phantom Fire Red lens amplifies color contrast is ideal sunny days.
Phantom Vermillion Blue is a versatile lens offering color definition and depth perception.
For the Try On part of the experience users will be able to see how they look in the Bollé RYFT helmet and Nevada Goggle.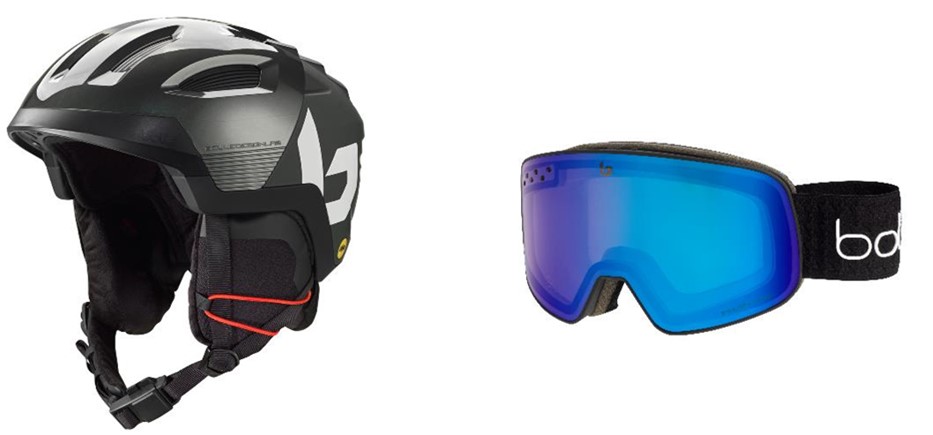 RYFT, the latest high-end helmet from Bollé, breaks all rules thanks to its revolutionary ventilation system. With bigger and wider vents than traditional helmets, the RYFT defies the market's standards: an innovative Active Panel Ventilation system allows an airflow never achieved before in a snow helmet, while still meeting the highest impact protection norms. This exceptional ventilation performance is completed by Bollé's Flow Tech Brim Venting system allowing the hot air contained in the goggles to be evacuated through the helmet's ventings, and by rear vents guaranteeing the efficient extraction of the air transiting inside the helmet. The helmet features MIPS® brain protection system combined with a hybrid shell and the brand's proprietary AVID progressive EPS for perfect protection.
The choice of the brand's Athletes Team, Nevada is characterized by its mix of style and high-end technology. This cylindrical frameless goggle gives an amazingly wide field of view supported by Bollé Phantom lens technology, described above. Last but not least, Bollé's Flow Tech® venting system and anti-fog treatment eliminate fog ensuring that the wearer enjoys excellent visibility even during the most intense action.
To try-on or try-out Nevada goggles with Phantom lenses and RYFT helmets users can scan a QR code that will take them to Instagram for the ultimate AR shopping experience.