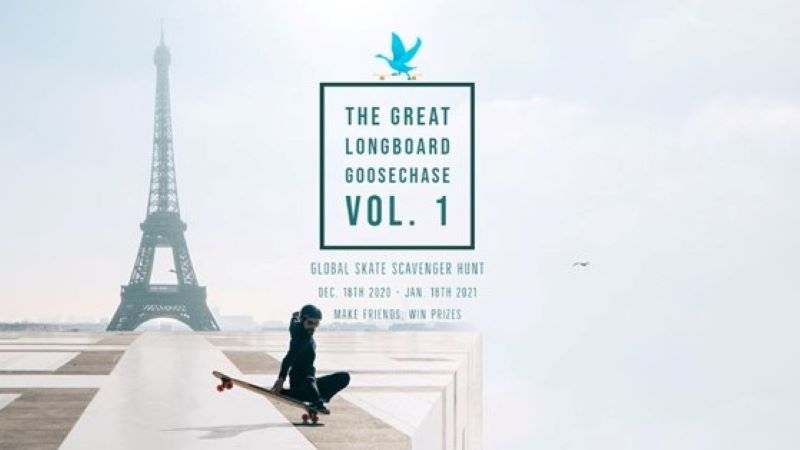 A Global, Socially Distant, Month Long Treasure Hunt: Skate IDSA's Great Longboard GooseChase Vol.1
Complete challenges, earn points, have fun and win prizes with Volume 1 of Skate IDSA's 'The Great Longboard GooseChase'. Download the GooseChase app and from December 18 to January 18 you can work as part of virtual team to complete challenges & win prizes. 
Press Release:
Skate IDSA Presents The Great Longboard GooseChase, Vol. 1
In the spirit of promoting inclusiveness, mental health, creativity, and fun in the face of COVID-19, Skate IDSA is hosting a virtual scavenger hunt event accessible to anyone in the world with a smartphone and a skateboard! The Great Longboard GooseChase, Vol. 1 begins F‌riday, Dec‌ember 18 and runs through Mon‌day, Janu‌ary 18.
Using the mobile app GooseChase, participants will connect with each other in virtual teams to tackle challenges that can be completed almost anywhere and while observing social distancing. Prizes will be awarded to top points finishers, and a portion of fundraising proceeds driven by both participants and sponsors will be donated to the Brain & Behavior Research Foundation.
The organizers strive to show that even in one of the most unprecedented times in history, it's still possible to grow a community, make new friends, and support each other.
The event is live on GooseChase now, and the first challenges will be announced Fr‌iday!
Learn more at theidsa.org/goose-chase