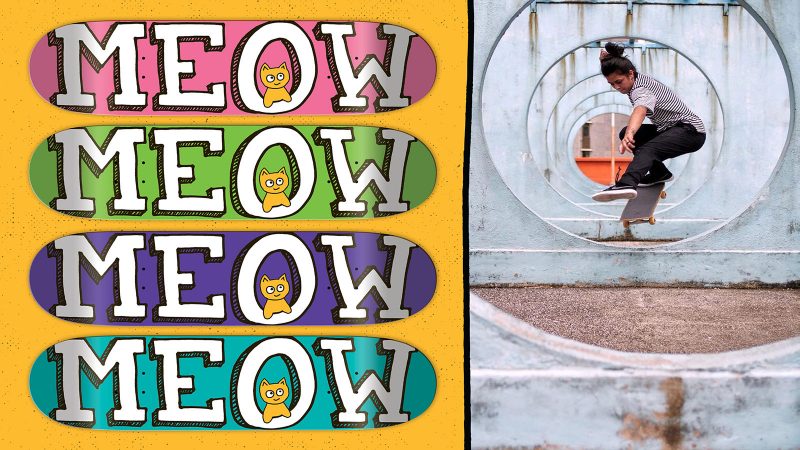 Meow Skateboards On Supporting Women In The Industry & Expanding To Europe
After spotting a gap in the market for a skate brand for women, Lisa Whitaker started Meow Skateboards – a brand run by women that supports women skaters, photographers, videographers, artists, and freelancers. Next summer, Meow looks to grow their presence in the European market via two new distribution partnerships; a perfect time to do so considering the post-lockdown sales boom of skate hardgoods and the continuing increase of women and girls taking up skating. SOURCE interviewed Meow Founder Lisa to discover more about the brand.
Tell us about Meow Skateboards. How did the brand begin?
Meow Skateboards was started in 2012 as a response to a void in the industry. I've skated most of my life, had the opportunity to travel, compete and was sponsored in the late 90's before shifting my focus to videography and documenting the girls skate scene for Girls Skate Network (my website and later YouTube channel). When the economy crashed in the late 00's the small amount of support for the women was the first to get cut. I was covering events with many of the top women skateboarders in the world who didn't have board sponsors, or they were just flow and not included with the team or marketed.
After getting a decent tax return, my husband suggested I start my own company and helped me get it off the ground. Being a part of the team at Rookie Skateboards was such a fun and memorable time for me and now I was in the position to be able to provide that for the next generation. It started off very small and organically grew to what it is today.
Who are the people on the management team?
I handle all of the day-to-day operations and get support from team riders, artists, photographers, videographers and friends.
What is your brand known for? How do you stand out?
Meow Skateboards is known for the talented group of individuals on the team and being a woman-owned and ran skateboard company stands out.
Where is the brand distributed, what is your most successful territory in Europe and why?
The brand is currently distributed throughout Austria, Belgium, Canada, Denmark, Finland, France, Germany, Japan, Luxembourg, Netherlands, Norway, South Korea, Sweden, Taiwan and the United States.
We do well in our current territories thanks to our partnerships with 24/7 Distribution, HOEP Brands and V7, but also really excited to start working with Nineteen76 and Centrano starting Summer 2021 which will make Europe our fastest growing market.
How do you market the brand?
Meow Skateboards has a diverse group of team riders from legends to up-and-comers, X-Games champs and Olympic hopefuls to community leaders and scene builders. We reach most of our audience through social media, supporting girl and queer skate meet ups and team riders at events.
How did the pandemic affect your business?
This has been a crazy year! Once lockdowns and restrictions started happening, I was worried shops wouldn't be able to survive. However, that uncertainty only lasted a week or two before the demand for individual sports/recreation equipment went through the roof and started a global hardgoods shortage.
Growth had been steady, but demand is at an all-time high. We have been going months at a time without boards due to production delays and have a waiting list well into mid next year. I'm fortunate that this is a good problem to have, so many others aren't as lucky.
How do you see the future for girls skateboarding?
I've seen several ups and downs over the last 30 years, but we've hit a tipping point and I don't see it going back. There are more girls getting into skateboarding than ever before and I'm looking forward to the progression over the next few years.