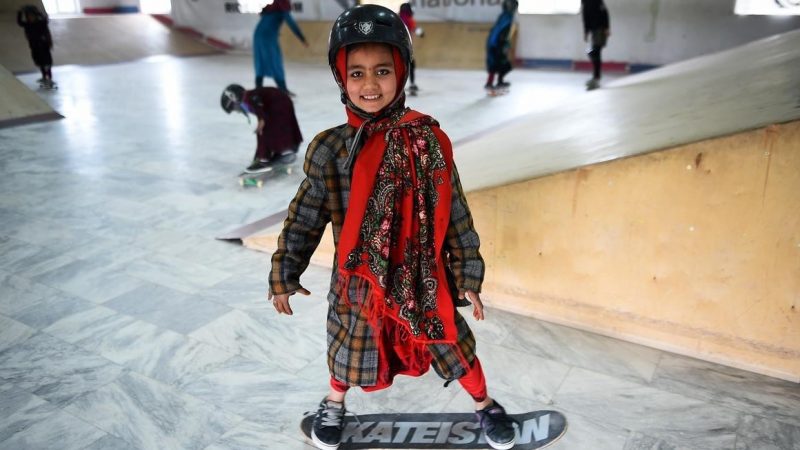 Skateistan x Be That Girl Foundation Form Partnership To Support Girls Through Skateboarding
To enable Skateistan continue their work supporting and inspiring girls through skateboarding, they've formed a 5 year partnership with the Be That Girl Foundation. The partnership will provide Skateistan with funding that will allow them to expand their programs and create and implement new ideas.
Press Release:
SKATEISTAN AND BE THAT GIRL FOUNDATION FORM NEW PARTNERSHIP TO EMPOWER GIRLS
Five year partnership represents major new funding stream to support Skateistan's innovation in supporting girls
Skateistan (Berlin) and Be That Girl Foundation (Steinhausen, CH) have entered into a major new partnership which will span five years, the organizations announced today. The agreement provides funding for Skateistan's programs to empower girls and will allow them to test out new versions of their model in order to reach more girls and young women.
Be That Girl Foundation (BTG) was founded in September 2020 by Cornelia Gantner with the aim of empowering and inspiring girls to determine their own path in life. This mirrors the aims and work of Skateistan, an award-winning international NGO, which was founded in Kabul, Afghanistan in 2008 and empowers children through skateboarding and creative education. Around 50% of Skateistan students are girls and the organization has always prioritized gender equality in terms of participation, as well as in the lessons the students learn at Skate School.
The total value of the partnership is 750,000 Euro over five years and will support Skateistan's existing programs, which combine creative education with skateboarding; as well as an innovation fund, which will allow Skateistan to test new models, such as a mobile Skate School which can be easily set up in places of need such as refugee camps.
The connection between the two organizations was made when Cornelia Gantner heard about the 2020 Oscar-winning documentary, Learning to Skateboard in a Warzone (if you're a girl), which features Skateistan's program in Kabul, Afghanistan. A filmmaker herself (That Girl, 2020), Gantner saw a potential for collaboration and contacted Oliver Percovich, Skateistan's Founder.
Gantner explains her reasons for reaching out to Skateistan: "Skateistan helps girls to believe in themselves – and does so in a fun, innovative and impactful way. That makes Skateistan a great partner for BTG Foundation which particularly supports innovative ways for girls to lead an independent life. As a young foundation established in 2020, we're very proud to help Oliver and his team to "go where no-one has gone before" and thus having real impact on the lives of girls in traditionally underserved locations."
Percovich said of the partnership: "We are absolutely delighted to be partnering with Be That Girl Foundation. The two sided approach of this agreement is especially important for us. On the one hand, we can support our existing programs, ensuring that the girls we support know there is a stable and safe space for them to rely on. And on the other hand, we now have space to innovate and to try out new ways of reaching more girls who need us. This kind of flexibility is quite rare and really enables us to do the best of both worlds. We see so many synergies between the vision of Skateistan and that of Be That Girl Foundation – it feels like the perfect fit to help make the world a better place for girls and young women."
Skateistan supports over 3000 students per week, 50% of whom are girls. Programs combine skateboarding with creative education and focus on children who are frequently excluded from sport and educational opportunities; girls, children living with disabilities and those from low-income backgrounds. Over half of Skateistan's global staff are female and all of its Skate Schools are managed by women. Gender equality is featured in Skateistan's curriculum.