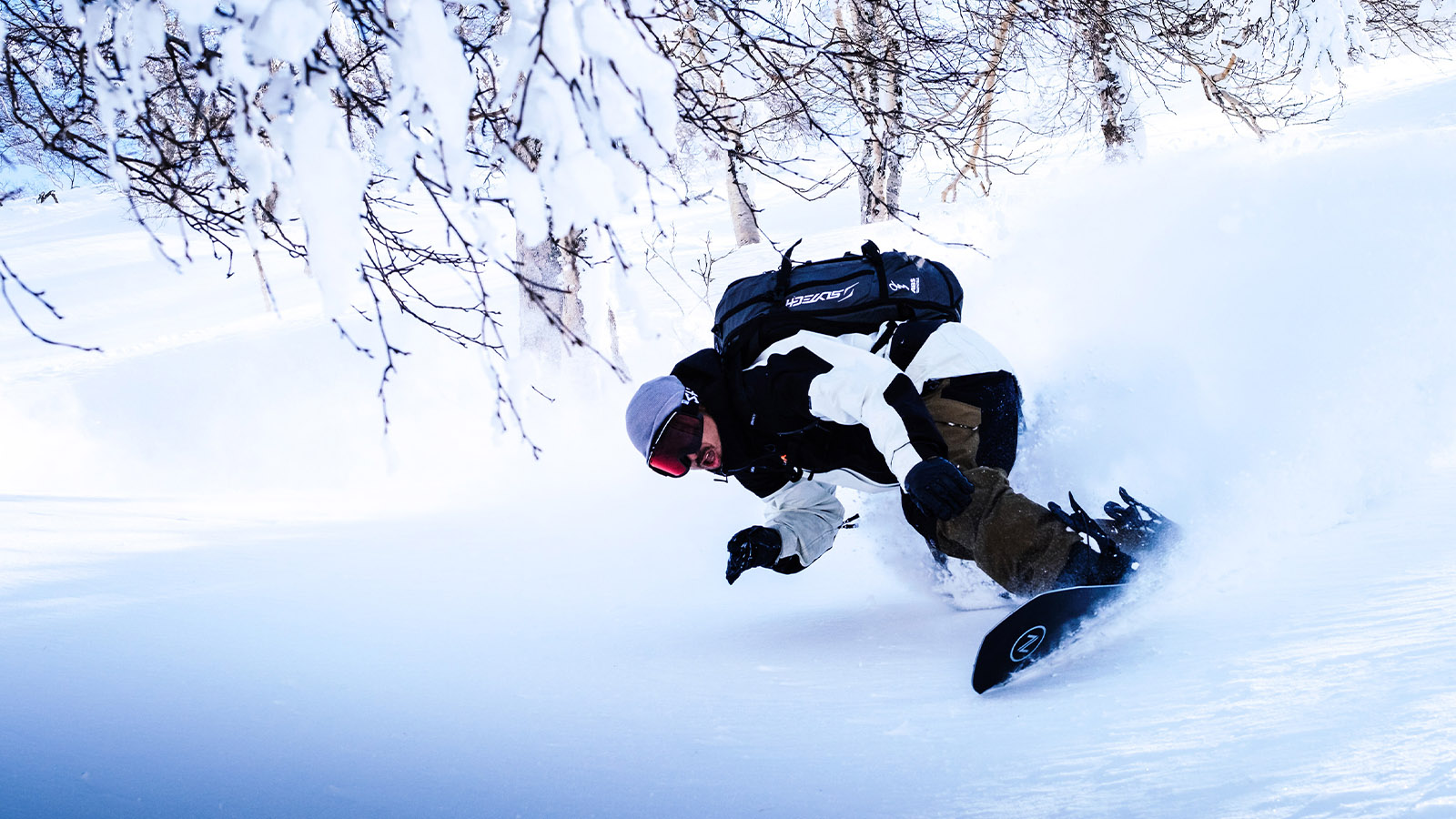 FLOW 21/22 Snowboard Bindings Preview
Retail Buyers Guide: Snowboard Bindings 21/22 Retail Buyer's Guide
Brand: Flow
Interviewee: Lucien Vink, Sr. Product Manager & Designer
Please provide an overview of how 2021/22 is shaping up for your brand. Has COVID-19 affected your line? If so, please explain the changes you've made, and how you came to these decisions.
We definitely scrutinized our line, to see where we could trim some fat, and where we could help create opportunities for our retail partners as we all head into the uncertainty of the seasons ahead. We have an amazing product with very unique selling points, and we believe that with our refreshed 21/22 product-line we will continue to strengthen demand and sell-through for our brand and partners.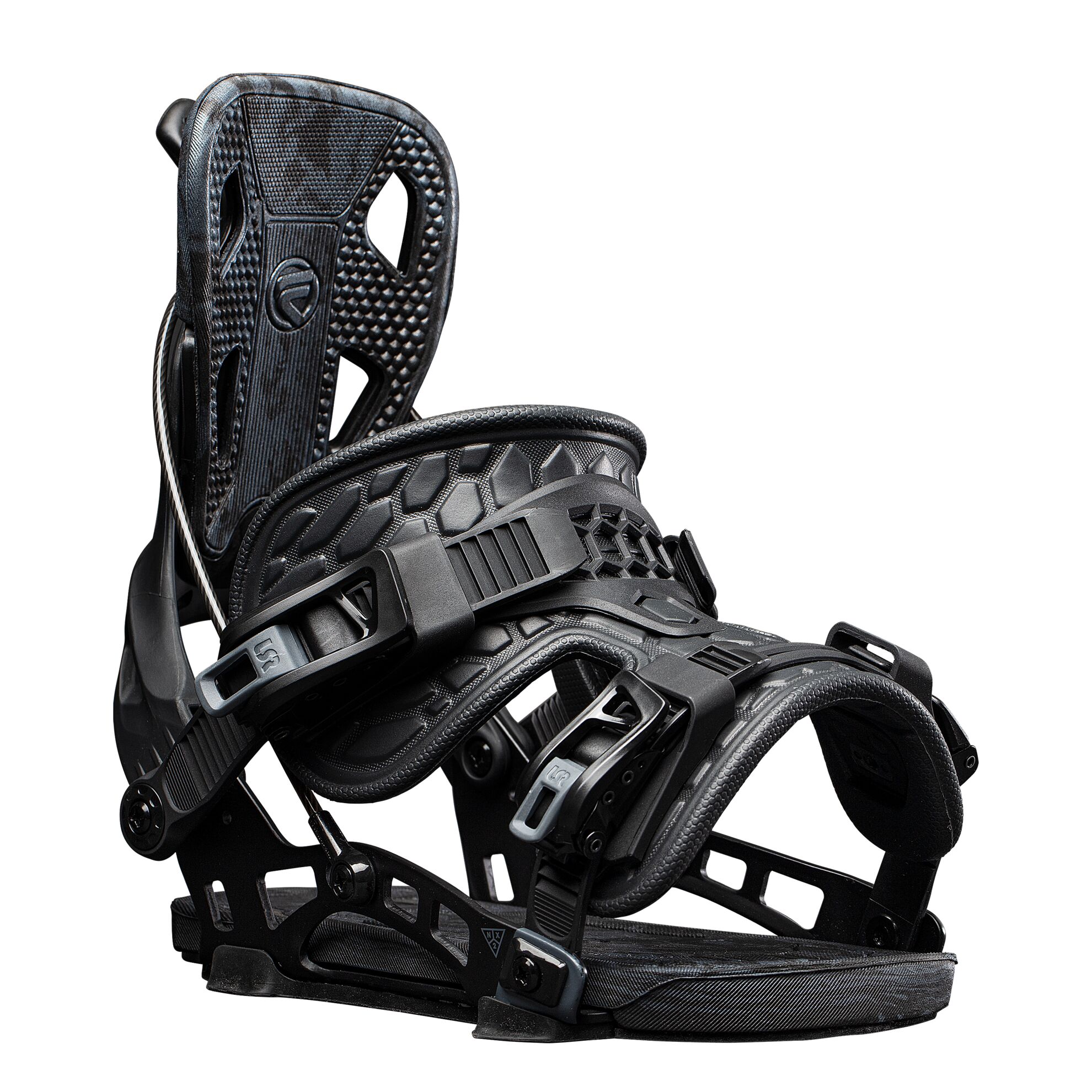 How much of your new line (pre-COVID) is normally dedicated to new models and artwork, and how has this changed, percentage-wise, for 21/22?
Typically, 75% or more of the line would see new development and refreshed colors & designs. For the 21/22 collection we have chosen to adjust this balance and carry over around 50%, but offset this by introducing completely new models with great strategic opportunity and add some cool new colors and collaborations. All in all, we have retired 2 mens models, but are introducing 3 new mens and 1 new womens model, and the final SKU count for 21/22 has even gone up slightly.
If you will be carrying over a larger proportion of your products than normal, how do you hope this will be received by retailers?
We expect that they will be happy with our choice to carry over a larger portion of especially the 'safe' colors and high-volume models, because nobody will know for certain how the W21 season will affect the W22 market. This way there will be less stock risk and pressure. But we are also sure that they will be very excited by the NEW! products and stories which will certainly create demand, and to help keep excitement on the wall and engage with customers.
If you're pressing ahead with new items, what are the top three most important products of next year's line, and why? Please refer specifically to new products here, and not just new marketing stories.
The Fenix-Plus (and womens Mayon-Plus). Brand-new for W22, we duplicated the popular Fenix bindings and upgraded them with ExoKush Powerstraps and custom graphics to turn it up a notch on riding experience, comfort and style. They feature the freestyle-friendly rockered-baseplates with canted footbeds, Expanded-EVA ExoKush straps with LSR-ratchets for extra comfort, the Asym hiback for support and playfulness, and Flow's PowerTriangle cable for a locked-in and responsive feeling. As always, getting in&out of Flow bindings is super easy through the ActiveStrap assisted reclining hiback. The Fenix-Plus is for riders looking for something between a freestyle and a freeride binding that will let them explore the whole mountain, and comes in either a wild MagentaBurst colorway or a more stealthy GunmetalBlack. The Mayon-Plus comes in the colors Midnight and SnowDye. And both these models and colors come in Hybrid strap versions too, bringing the Hybrid option down into a lower price-point for both mens and womens.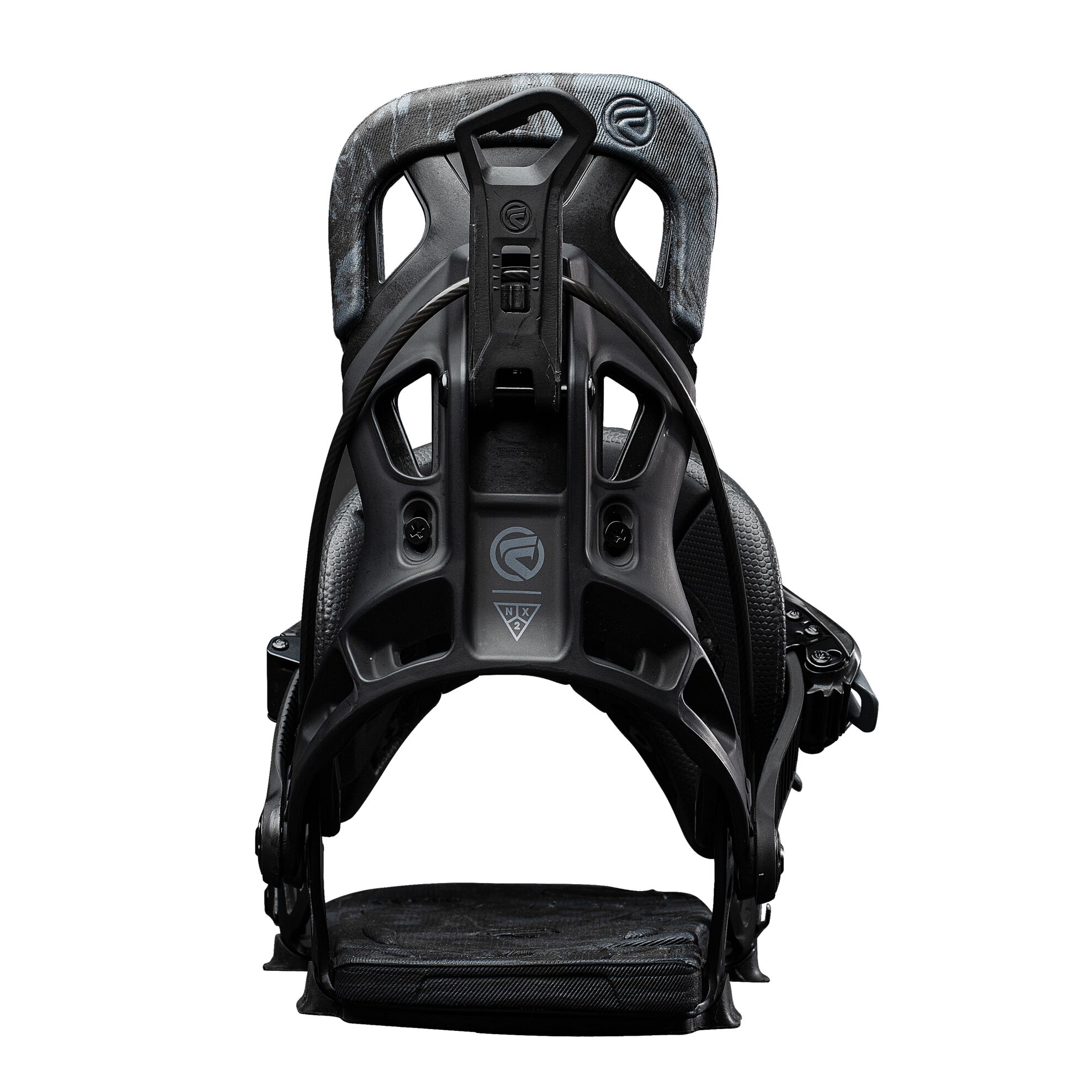 NX2-TM. The all-new NX2-TM is light, lean and functional, and an instant team-rider favorite for it's simplicity, efficiency and reliability. The rockered Aluminum NX2 baseplate is famous for being stiff and responsive, but still allows natural boardflex, and this new model brings the popular NX2 platform down into an exciting lower price-range! Other features are the medium-stiff Asymmetrical hiback, linked to the baseplate by the PowerTriangle cable. The ExoFrame PowerStraps are minimalistic in design but form-fit your boots really well and transfer all your energy without excessive pressure-points. The LSR-ratchets are easy to use and lock down to keep your straps at the same tightness. Getting in&out of Flow bindings is super easy through the ActiveStrap assisted reclining hiback, which automatically creates a wider entry and exit. Less is certainly more for the NX2-TM's, which makes them ideal for doing what our team loves; riding everywhere on the mountain with total confidence and fun. The NX2-TM's come in the colors Camoss and Black (both in Fusion and Hybrid strap-options).
FUSE-CARBON. The new Fuse-Carbon basically replaces the old Fuse-GT model, but takes it up a notch as it's engineered for speed and precision. The baseplate and hiback are injected in the same Carbon-Infused Nylon material as used for the NX2-CX hiback, to give these parts increased strength and stiffness for maximum response while maintaining that molded binding feel and lightness. The canted BankBeds with toe&heel N-gel inserts, and the expanded-EVA of the ExoKush PowerStraps with Aluminum LSR-ratchets, deliver a perfect combination of form-fitting, control and lightness, and assisted by the PowerTriangle cable the Fuse-Carbon is made for lightening quick edge-to-edge transitions. As always, getting in&out of Flow bindings is super easy through the ActiveStrap assisted reclining hiback.  Clearly the Fuse-Carbon Hybrid does not compromise on performance and it doesn't compromise on comfort either, making it the ideal binding for all-mountain attacks and all-day charging. The Fuse-Carbon is available in the color Graphite, and in a Hybrid version too.
Are you using any new materials in your bindings for 21/22? If so, what, and why?
No not really, for most components we rely on our true and tested materials, specifically engineered for the uniqueness of Flow bindings.
Please tell us about the dominant visual themes in next year's binding line, including any interesting artist collabs you have lined up.
A big part of the line lives in the safe and tonal zone but we strive to keep them visually interesting and rich with nice badging, material selections and small details. But as always, we create some pop colorways and especially on the new Fenix-Plus and Mayon-Plus models we chose to have strong visual graphics, and on the Fuse Instinct we have an exciting graphic collaboration inspired by the new Nidecker Instinct Series snowboards.
Prices: Where is your brand going? Higher? Lower?
We are keeping the main go-to models on steady price-points, but with some of the new models we expect to help the retailers hit some new strategic price-points for Flow. Especially the Fenix-Plus (and womens Mayon-Plus) models bridge a price-gap we had in our line between the Fenix and Fuse. And the new NX2-TM brings the popular NX2 platform down into an exciting lower price-point which we are sure will create demand and conversion.
Looking at the specific components, have you made any new advancements in buckles, straps, highbacks, bases?
W20 and W21 were pretty exciting for us on new development; completely revamping the lower price-points line with the introduction of the new Axis-Series platform, and introducing the new ExoFrame and ExoKush PowerStraps on a lot of Fusion and Hybrid models. So, when COVID hit we were fortunate enough to have a little breather planned already, and we focused on refining and creating new opportunities by utilizing the modularity of our components. The new NX2-TM BankBeds with Slip-N-Slide plates for even more effortless sliding your boots in&out are pretty cool to check out though.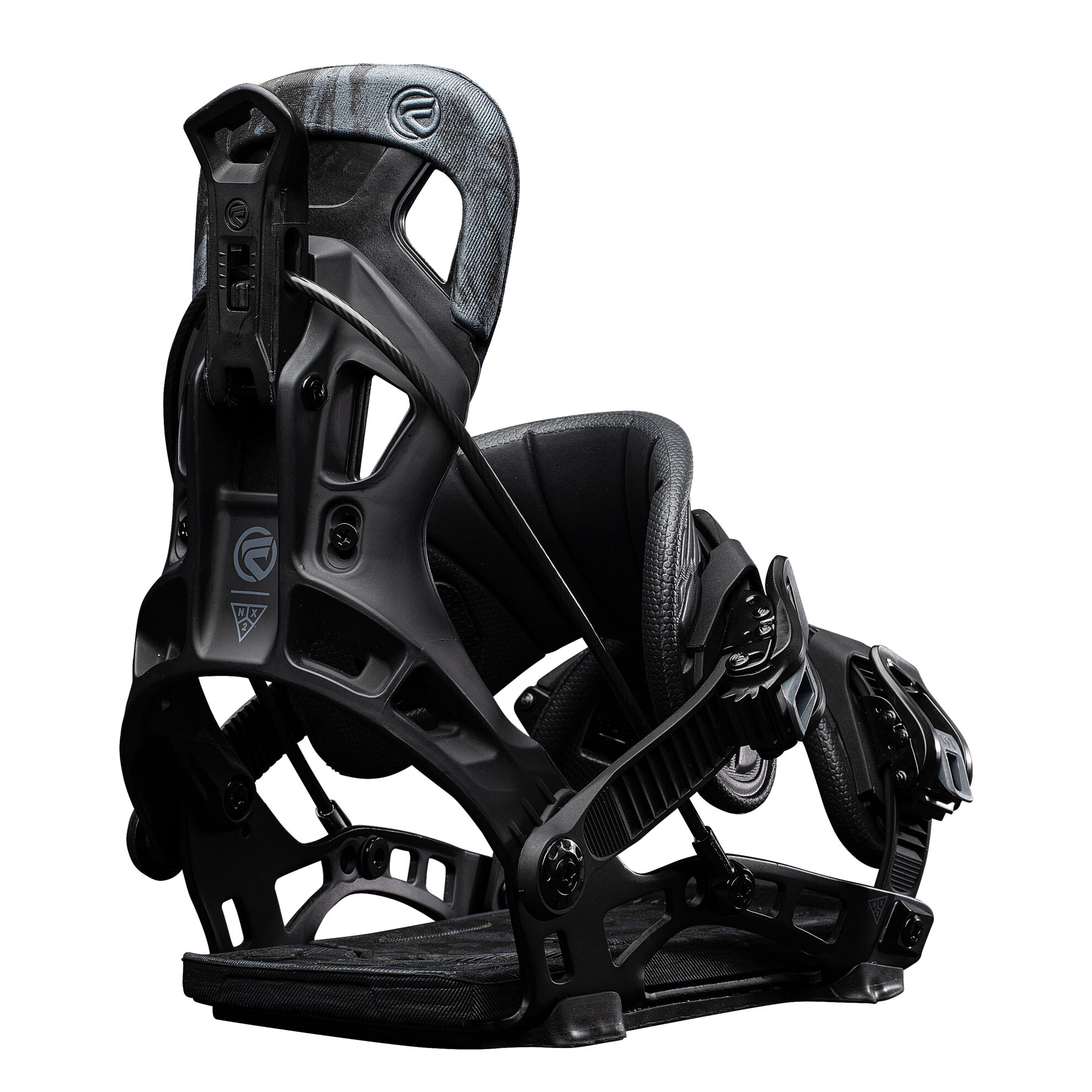 Will you be doing step-in, or similar, in 21/22? If so, are you licensing or developing it yourself?
Flow is basically the inventor and market-leader of the modern-day easy-in easy-out binding solution. Our SpeedEntry system has the perfect mix of convenience, comfort and performance to suit everybody's needs, whether it's a customer who is new to snowboarding, or a long-time rider who loves powder, park, groomers and/or everything in-between.
Will your production process (factories, equipment) be changing at all for 21/22?
No. COVID has definitely made it a challenging year for design, development and production by not being able to visit our manufacturing and supply partners and work with them in-person. But luckily all Flow bindings are made and assembled by the same team that we have been using for many many years, and this partnership has allowed to mitigate those issues and with frequent visual calls we were able to stay on point. In addition, we employ our own local QC personnel, who monitor the full production process full-time, to ensure that we continue to offer the best and most consistent product quality even in these extraordinary times.
What are your top marketing stories for next season?
SpeedEntry: Flow bindings are convenient to use, easy-in easy-out, without sacrificing comfort or performance. In fact, because of the energy transmission of the steel PowerTriangle cable, and the energy transmission and comfort of our boot-hugging and pressure-relieving PowerStrap footstraps, even if you were to not use the reclining hiback feature, Flow bindings are arguably the most comfortable and performance-oriented bindings on the market!
Set-it and Forget-it: Adjust your Flow bindings to your boot once, and then enjoy the simple easy-in and easy-out convenience of the reclining hiback.
Versatility: Flow bindings fit almost all boots on the market, are offered in 2 types of straps to suit your personal preference (a boot-hugging 1-piece Fusion PowerStrap or a toe-gripping cap-strap in our Hybrid PowerStrap), and feature full-sized Locking Slap Ratchets for the option to get in and out of your bindings through the easy-in easy-out reclining hiback or use the ratchets to get in&out through the side by opening the footstrap. The possibilities are limitless!
For full line information goto Nidecker-flow.online and enter the Password : yourmountainiscalling