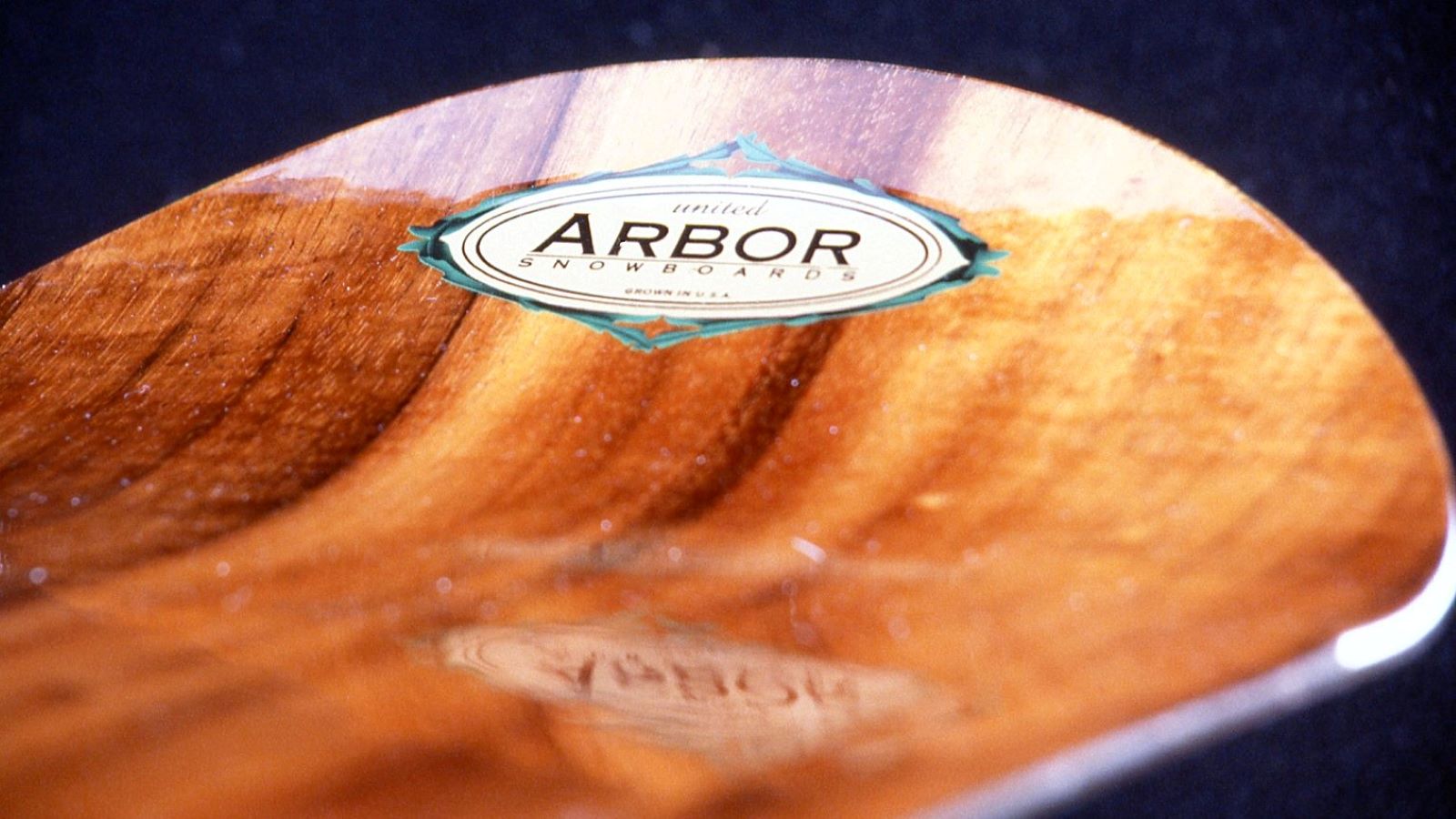 The Story Of Arbor: Celebrating 25 Years
Back the 90s, the ideas of sustainability and protecting the environment were limited to the minds of hippies and weren't shared by the wider population. Fast-forward 25 years and the push towards environmental responsibility is at the forefront of people's, industries', and governments' minds. Choosing products that are made locally, made using sustainable/ recycled materials and manufactured using renewable energies are now factors that influence consumer purchasing and stockists.
Back in 1995, Bob Carlson and the late Chris Jensen founded Arbor, the first action sports brand to focus on protecting the planet. Arbor is built on the importance of using sustainable materials and giving back to the environment; principles that are still at the brand's core today. SOURCE caught up with Bob Carlson to find out more about Arbor's 25 year journey.
Please talk us through the history of Arbor – key founders to key managerial figures over the years to today's management team
I started Arbor in 1995 with my friend Chris Jensen. We had grown up in the same town in California and became great friends in high school. Surfing, skateboarding, and just getting outside as much as possible were a big part of both our lives and the connection we shared. We began working together in our early 20's, when we started a business selling sustainably sourced woods to the forest products industry. How that happened is a longer story. What I think is important, is what that first, early 90's endeavour taught us. It was not a successful business, mostly due to the difficulty of introducing expensive, environmentally friendly alternatives to an industry that, at the time, was resistant to change. Nevertheless, the effort gave us experience in all aspects of wood working and production, environmental stewardship, and the growing, often challenging conversation around sustainability. These were lessons that totally underpinned the founding of our next business, Arbor.
Chris and I had both started snowboarding in the late 80's. My love for snowboarding completely changed the course of my life. During those early years, running our first business, life was simple – single, no kids, not a ton of responsibility. So, we spent as much time as possible snowboarding, and working up in the mountains. For us, that meant a lot of road trips, from Venice, where we lived, to Mammoth where we rode. It was on those trips that we first started talking about building a snowboard and skateboard brand. We felt a focus on environmental conservation was missing in the surf, skate, snow industry. We thought we could introduce the idea of sustainability and the kind craftsmanship that would tie natural materials to improved durability and performance.
We made the decision to go for it early in the '94-'95 season. We spent a year working on prototypes and ultimately founded Arbor in November of '95. We launched with a line of snowboards made with sustainably sourced wood topsheets and cores, and a reduced reliance on plastics. Our skateboard line would come out a few years later. Arbor's first catalogue talked about the importance of sustainable materials and our founding commitment to donating a portion of sales the restoration and preservation of old growth forests. We called the brand Arbor, the Latin word for tree, because we wanted to reinforce our sustainable wood materials, and our forest give-back efforts. Arbor ended up being the first traditional action sports brand specifically founded to be mindful of the planet in the production of its' products and formally commit to donating a portion of every sale to the conservation of the environment. We were also the first boardsports brand to publish an Environmental Policy, so we could be held to our founding commitments.
For 25 years, the vision for Arbor has remained straight forward and unchanged: Utilise sustainable materials and manufacturing practices to produce innovative snowboarding and skateboarding gear, including a range of related outdoor and travel softgoods and accessories. Through the years, this has proven to be the best way to deliver responsible quality and honest performance to the life-long pursuit of snow, skate, and all the good times that happen along the way. Arbor is here today thanks to a new generation of riders who understand that protecting the planet is about looking after our shared playground.
Today, I still own and operate the Arbor brand, which has evolved into a Collective of athletes, artists, managers, people, and partners who love to skate, snowboard, and surf, and who share Arbor's values and goals. We learned the hard way that staying relevant involves empowering people around the development of our products, marketing, and the ongoing presentation of Arbor's core ethos. Chris Jensen sadly passed away a few years back. Our new documentary, Crossing the Grain, is dedicated to his memory.
What have been the highlights of the past 25 years for Arbor?
I've been very blessed – there are a lot of highlights. For me personally, I have to say the main highlight has been the rewards that come from working with and trusting great people, and the foresight we had to build Arbor around a collective model that draws strength, insight, change, connection, and energy from the wider Arbor family. Beyond that, I'd have to include finally achieving 100% solar powered production at our snowboard factory, which is a game changer. Partnering with Bryan Iguchi, who I've followed since his days in Big Bear. Collaborating with Craig Stecyk on snowboard graphics, who influenced so much of the culture I grew up in. Interviewing Gerry Lopez, my first surf hero, about the connection between surfing and snowboarding, for Arbor's first film. Starting our own, stand-alone forest restoration project on the Big Island, with our partners the Hawaiian Legacy Reforestation Initiative. And probably most important, watching my kids fall in love with snowboarding and skateboarding. There is so much more, but those are a few stand out…
And the biggest challenges the brand faced?
That's easy. Believe it or not, it was convincing the market in the 90's that sustainability was relevant to their purchasing decisions. We barely survived the impression that our promotion of sustainability left on the brand in the early days. I know it's hard to fathom but people that mattered in those days thought the message was soft, not cool and not interesting. We used to get called "that hippy brand," which was not a complement in those days. It was not until we brought in more endemic athletes and artists, who shared our ideas around sustainability that we started building relevance inside the industry for Arbor. It was a difficult challenge to overcome, but it made us the brand we are and continues to define our culture.
What have been the key product developments of your 25-year history?
It hard to list our achievements without reminding myself of how we stumbled along the way; how we had to learn hard lessons about the industry, business in general, and building bridges to our message, and how I had to get out of the way and elevate other voices in our business to succeed. Today, thanks to the work of so many dedicated people, we survived, we continue to grow, and our founding mission has endured. It's been a crazy, often difficult journey, but I'm proud of our firsts.
Arbor was the first snowboard brand to offer sustainably sourced wood topsheets and cores, to reduce our reliance on plastic, to introduce highly renewable bamboo as a topsheet and core material, and to promote the importance and use of non-forest, farm-grown wood cores, recycled steel edges, and bioplastics. Arbor was the first skateboard brand to offer sustainably sourced wood topsheets and plies, to introduce grip made from crushed, recycled glass, and one of the first to promote the importance and use of bio-urethane in wheels. Arbor was one the first apparel brands to adopt organically grown and reclaimed cotton, and recycled polyester, and the first brand to introduce sustainably grown, bamboo-based fabrics. We were also the first action sports brand to push for the up-cycling of the bi-products of production at our factories.
What are your anniversary celebration plans?
Our big effort has been the documentary on the history of Arbor, Crossing the Grain, which premiered Thursday, February 4, at 6pm PST on www.arborcollective.com. How we got from our idealistic start to the brand we are today is a story that has never been told. The film is an account of how of how we launched the company into an extremely crowded mid-90's market as outsiders with a purpose. It takes you through our struggles to find acceptance, as the industry consolidated in the early 2000's. It covers how we built a unique, collective path forward, and eventually earned a place as one of today's most enduring snowboard and skateboard brands. I think you'll find the story honest and open about the mistakes, lessons, and good times we've had along the way.
Please tell us about any collabs or special product mentions being released to commemorate this landmark?
As I mentioned, we launched with a small collection of environmentally friendly snowboards. Each board was made with a sustainable Hawaiian Koa wood top and other alternative materials. Over the next 15 years, Koa became our calling card, anchoring the brand's vibe and our sustainability, craftsmanship, and performance message. The Koa was always secured by me and Chris, who believed the best way to ensure something is sustainable is to know its source. The first Koa came from a forest restoration project on Maui, where dead trees were removed by helicopter and sold to fund the effort. That work was done, and the land was added to the Haleakala National Park, where it will be forever protected. When we founded Arbor, we also started our Returning Roots program, which is dedicated to the preservation of Hawaii's Koa Forests. In 2000, we stopped using Koa, as sustainable sources became hard to find, but we continued on with Returning Roots, giving back to this critical natural and cultural treasure that is so closely tied to the roots of the surf, skate, snow way of life.
To celebrate our 25th Anniversary, we used the last two Koa logs sourced by co-founder, Chris Jensen, to create a collection of limited-edition Koa topped snowboards and skateboards.
Happy 25th Anniversary, Arbor!