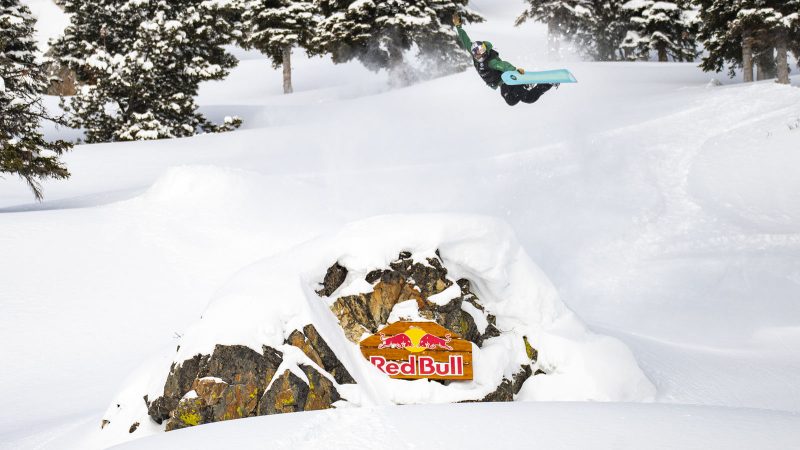 Where Is Snowboarding Right Now? A Natural Selection Inspired Thought Piece
If you've been living under a rock for the past week, you'll still have seen re-runs of Travis Rice's Natural Selection Tour Stop 1 on your IG. Contemplating our role as snowboard media, the job of brands and taking a look at just where snowboarding is today, industry vet Jonathan Weaver reflects on one of the most exciting snowboard contests in history and asks how we can lower barriers to entry.
Article author Jonathan Weaver is a former British pro snowboarder who worked at Burton Snowboards for five years and worked at Nike for 10 years. Jon launched The Anti Blueprint Project last year, his coffee table book which explores the different routes interesting people have taken through life. The book features stories from Michelin Star chefs, to Oscar winning film makers through to action sports athletes, journalists, photographers and more.
Where is snowboarding right now?
Last year I was lucky enough to be featured on the Looking Sideways podcast with Matt Barr, and we had a right old catch up and despite me worrying about what was said on tape, in the end it came out nicely and Matt steered me towards sounding coherent throughout.
Something that has stuck with me was one of the questions he gave me; where do you think snowboarding is today? I gave some answers around my positive outlook for the sport but to be honest, if I don't know what I want to say 100% in my head, I lean on my crutch and just ramble and hope it comes together as we go. I know I mentioned Korua and how they have made turning cool, at least. I suppose this question always comes up because we hear about the downfall of the media in action sports but it did make me think about our sports, especially snowboarding, from the weekend warrior's perspective. Those eyes (mine in this case) got to watch Natural Selection on Friday – the brainchild of Travis Rice – launch day one of its much-anticipated event. We got to watch live on Red Bull TV. No adverts, no buffering, no Wendy's chicken commercials.
I honestly haven't been that excited for a snowboard event in years, decades in fact. It turned into quite an event. Between a few of us (well 16 in fact) we held a fantasy league draw; $20 a head entry and then you had to pick your rider. I got Austen Sweeten so was hyped to watch his high-speed front 360 overshoot in that first run. Forum Forever! As the event went on, we had a Whatsapp chat exploding, we had a live feed screening the event and getting to watch some of the world's best ride a course that dreams are made of.
It felt like a real snowboard event again.
The thing it did was make me WANT to go snowboarding. I've thought a lot about this over the last few years, maybe it's having kids, but in the media; from brands to the riders themselves, are we actually making snowboarding look aspirational? Does it look like something I would want to try if I had never seen it before?
I suppose a lot of this is because juxtaposed to this, only six days prior we had all been signing up for accounts on ESPN, VPNs, finding links on Reddit etc to watch X Games. An X Games that whilst undoubtedly saw some of the most progressive riding of all time – especially in big air with quads now being a reality for the guys and cab 12 doubles being a thing for the women – it just kind of left me feeling pretty removed from it and not really wanting to go snowboarding the next day.
Add to that, the multiple Monster logos on every shot, a fried chicken company sponsoring it, being held in a resort where lift tickets are over $200 a day, the whole thing just felt a little redundant.
When I watch some of it now, I question if I want my own kids to try and learn quad corks? Not really. Do I want my kids to learn to ride powder, throw a method like Ben Ferg off that hit in the middle of the course? Hell yes! To be clear, this isn't about the riding or the riders, they throw down in a way I can only imagine and the way someone like Jamie Anderson lands a cab 10 double deserves all the plaudits thrown her way, but yes, the last two weeks did get me thinking and I have to say, that Natural Selection did really make me reflect and be thankful for all the people who are doing their best to make snowboarding feel and look aspirational again.
There was a great Bomb Hole episode with Russel Winfield last week in which he fires shots at Shaun White for never giving back to snowboarding, never creating something comparable to the Tony Hawk Foundation and his work building skateparks around the world. Of course, Shaun did Air and Style China but to be fair, having been three times it always felt a little like we were attacking the problem of participation in the wrong way. It feels like with the void of a figurehead without Shaun giving back to the sport, we now are looking to Travis for that leadership. His films have defined the industry for the last 15 years and from here on out maybe it's his events that will be equally as pivotal.
One of the best things I've witnessed over the last few years has been the rise of the banked slalom having attended Mt Baker LBS, Rat Race and Double Tap (my Lyndsay Jacobellis moment). The thing that those banked slaloms do is make participation the key. Yes, there are people trying to win, but for young and old alike it's more about getting your turns in on a fun and challenging course. It's crazy because for years I was someone who thought snowboarding just needed more parks, bigger jumps, crazier rails. And for the select few they are great, but seeing the smile on people's faces just turning makes me realise the error of ways in terms of getting people into the sport. And that's where kids fun slopes are amazing at simply getting kids to enjoy a day on the hill.
Talking of turning, we even see brands like Korua making that their thing. Beautifully curated, focused on something we all do, turning. Whilst also revolutionising the snowboard model of keeping boards for multiple years with the same graphic rather than changing out every year. Other brands have been doing the multi-seasonal boards thing for years, but credit where it's due, Korua have really sparked energy into the segment. I love that Burton have gone in on the various shapes too with their Family Tree line with some favourites coming back season in and out like the Fish and the Pow Wrench just showing up for a year or two so you have to get them whilst they are around.
Seeing the way Nitro have embraced the quiver too keeps things interesting. I remember not long ago when each trade show, it was basically just new graphics on display and now you have all kinds of shapes and it makes you get excited to try it all out. There are lots of amazing brands doing really great things with snowboard shapes and designs, all aimed at stoking out riders of all ages and abilities. (Sidenote: Source issue 105 dropping next week, check out the 21/22 snowboard product pages; more shapes than a night on the dancefloor with Jon Weaver)
It's not only the kind of snowboarding but also the people. Who would have thought that 10 years on since winning Air and Style, Grillo would be one of the most influential riders in the world. His edits with his kids are one of the things we now watch as a family and it makes our kids stoked to ride watching his. Credit to Burton for seeing that potential. Burton have been doing such great work too with their kids range. Our kids are now warm, dry and have boards that help them learn. I promise when I learnt it was in hard boots, some janky goggles, gardening gloves and a hoody. Completely soaked but loving it.
This winter I also discovered the love of pow surfing thanks to the Asmo pow surfer. Any day with 10cms of fresh and you can have one of the best days of the year, easy. It's been amazing to see the evolution of the boards and also how Salomon have taken on their input to create the hillside series.
A few years ago board selection was pretty much just a graphics choice, it now feels like we have so much more on offer.
Going back to my earlier point around the death of the media. Yes, print media has really suffered and it's been a shame to lose so many titles but at the same time I feel like the last few years I've found some of the richest content I've ever been served up. Whether it's Curator magazine (Halldor interview especially), The Reason from the UK or the podcasts we now have every week, we are being fed content with the world's best. Go back through any of the Looking Sideways episodes (recent favourites include John Basset and Selema Masekela) and you will get a chance to understand the stories behind the people who make it happen in our industry. Every week on the Bomb Hole there are amazing guests. The Jake Price one this week was an amazing look at someone who made many of the most influential movies of our time.
It's not just in print or audio, but look at some of the content just living on YouTube now, whether it's the Beyond Medals film, Scandalnavians or my personal favourite the SHE trilogy. Again, snowboarding, made to look easy and accessible, except we just don't have landing gears like Arthur Longo.
So to go back to the original question. Where is Snowboarding today?
I feel like it's representing us better and closer to who we really are. Yes, the media landscape has shrunk in size and big brands have pulled out, but we have heroes who seem attainable, events that make us want to actually pick up a snowboard and new media giving us deeper insights than we ever had before. It seems that we're slowly getting better at representing the many aspects of riding. Turning, splitting, dadding, mumming, quad corking, method grabbing, video part creating, side hit jumping frothers, that we are.
I hope that just as X Games propelled our growth 20 years ago that Natural Selection is what drives us forward for the next 20 years. Great snowboarding delivered in a format for people who don't have cable, with a focus on the prestige that comes from winning this kind of very aspirational event. Congrats Travis and team, I can't wait for Tuesday night.
Jon
Tune in for finals day today from 5:30pm CET. Live on Red Bull TV!