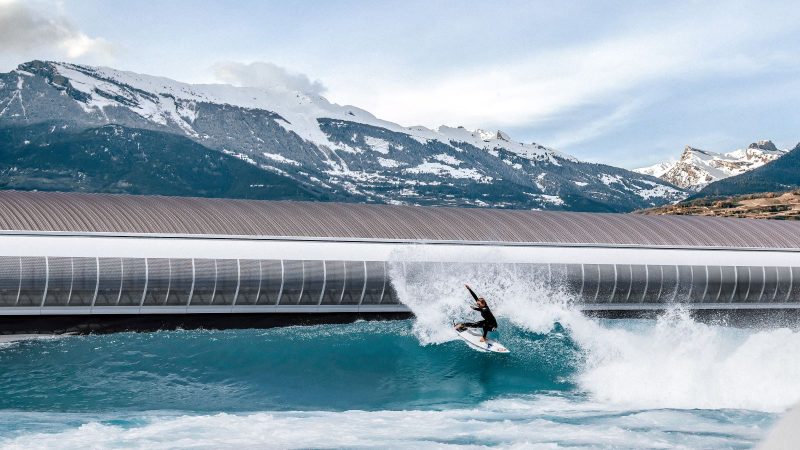 Boardriders Announced As Official Sponsors Of Swiss Wavepool Alaïa Bay
Ahead of its May opening and public launch in June, Alaïa Bay has announced Boardriders as its official sponsors. Boardriders brands, Quiksilver, ROXY and Billabong will see the provision of surfboards, wetsuits and experiences to surfers, while also opening a new retail concept store on the site.
Press Release:
ALAïA BAY ANNOUNCES BOARDRIDERS AS OFFICIAL SPONSOR OF THE NEW SURF DESTINATION
The new wave pool will open in Switzerland and be accompanied by a 300m² Boardriders store
Alaïa Bay – the highly anticipated 8,300m2 surf pool opening in Switzerland this May – has announced today that the likes of Quiksilver, ROXY and Billabong will be joining as official sponsors as part of the Boardriders group.
Long-awaited by the European surf community, the new surf pool is set in the heart of the world-renowned Swiss mountains, giving visitors the unique opportunity to ride waves and snow on the very same day.
Alaïa Bay will cater for all levels, from beginner to advanced, and ensure each visitor enjoys an optimal experience with quality wetsuits and surfboards by Quiksilver and ROXY. There will be a specialised cleaning system in place to clean and dry all wetsuits and equipment, ensuring a premium experience at every stage. The brands will also host a variety of exciting experiences for Alaïa Bay visitors, including athlete and surfboard shaper residencies, regular surf showcases and events hosted by both brands.
Alongside these experiences, visitors will also be able to enjoy a brand new 300m2 Boardriders retail concept store, which will showcase the best products from all brands in the group including Quiksilver, ROXY and Billabong. The new store will house one of the biggest assortments of high-end wetsuits and surfboards in Switzerland, including 150 boards from Bradley, Pyzel, Mark Richards and Firewire displayed on a state-of-the-art rotating board carousel.
Now filled and currently going through final testing ahead of launch, the 8,300m2 lagoon has been fine-tuned for 20 types of wave which range from 0.5m to 2m high, the first mainland Europe surf pool and fourth project overall to use Wavegarden Cove Technology. Alaïa Bay will have 40 staff members including 20 surf coaches, and have a restaurant for surfers to enjoy between sessions. With this incredible facility, alongside the unique service that Quiksilver, Roxy and the Boardriders concept store are set to bring, the opening of Alaïa Bay is set to transform the surf pool experience.
Alaïa Bay will open to the surf community on 1st May 2021, with the official public launch on 21st June 2021.
For more information and booking, head to https://alaiabay.ch/en/