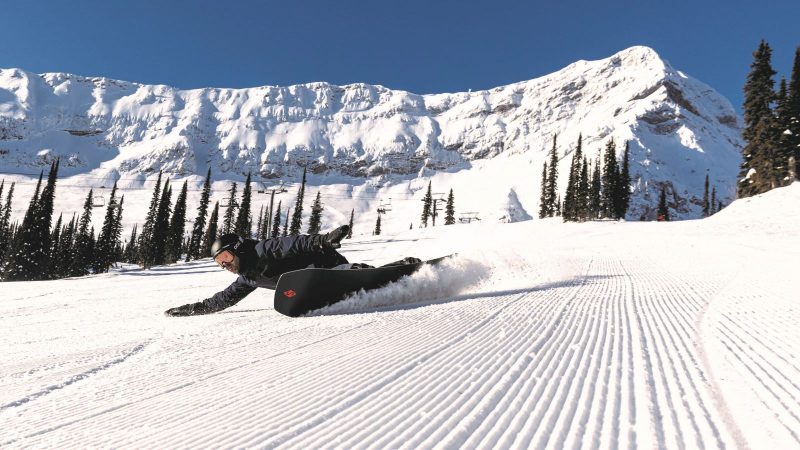 Stranda Founder Mats Drougge Tells Of Brand's Best Season Yet
Bringing surf carving style to the mountains, Stranda founder Mats Drougge has been standing sideways since the 1970s. The brand makes products that are built to last and don't follow a seasonal production flow. With that in mind, we sat down with Mats to find out about the brand, which started in 2015, and is currently witnessing its best winter to date, despite the pandemic.
Please take us through the history of the brand.
The roots of Stranda goes back some 20 years ago to when I – by luck – met Mike Doyle and Joe Cabell in Aspen C.O, both 60's surf legends. Mike and I became friends and I learned massively from him. (R.I.P.) His style of carving was very surf inspired, riding the undulating terrain in Buttermilk like it was a giant wave – surf style carving. We were all riding in hardboots back then and I couldn't find boards fitting the kind of over fall line riding I was looking for. Skinny race boards with too big of a sidecut didn't do it for me. So I set about creating my first shape in 2003, collaborating with Chris Prior of Prior Snowboards, creating niche brand Alpinepunk. Fast forward to 2015 and I could see that there was a renewed interest in carving and freeride. Building on what I had learned I started Stranda and today we can offer a more or less a complete quiver of directional snowboards and splitboards, staying away from freestyle and twin tips.
What is your brand's USP?
All our boards incorporate ash in their cores, a hardwood with outstanding tensile strength and vibration dampening, giving our boards a superior ride quality and durability. We can offer a 4-year limited warranty due to the bullet proof construction. We're doing carry over design, there's no risk of getting stuck with last year's models, thus avoiding fire sales. Environmentally, we're low on plastic, using bamboo top sheets covered with nine layers of waterbased laquer on all snowboards except the Descender and using plant-based plastic on our splitboards.
How is it being the owner/manager of your own business?
Most of the time very rewarding as I can use so many of my skills. From product design to business plans over to meeting passionate snowboarders all over the world and ride with them. Last season I spent 123 nights in the Stranda Camper van – starting with glacier openings in Austria in October and ending the season splitboarding above the polar circle in Riksgränsen in mid-May. If you love snowboarding, I'm living the dream.
How were your supply chains affected by COVID, and how have you worked to overcome these problems and futureproof your supply chain?
Deliveries were delayed into early November, as sourcing materials for cores and bases was cut due to lockdown in spring. But otherwise the have been no hiccups due to COVID.
Please talk us through your backcountry product successes this winter. Have you been able to keep up with demand?
The new Descender Backcountry split has been a real hit for us. And the fact that we got some really good reviews in specialist magazines and sites didn't hurt either. The first run sold out already in mid-December. Luckily, we reordered before running out and got new splitboards almost seamlessly, being able to meet demand. Our round tail Shorty Backcountry is more or less sold out now. It's been the best season by far for snowboards. The previous four years of hard grafting has paid off.
Who's on the pro team?
We work closely with two time Scandinavian Big Mountain champ Stefan Östling and Finnish big mountain rider Niklas Hollsten on splitboard development. But for brand building Stranda relies more on ambassadors, partnerships with guides and sharing the stoke of riding powder and groomers than names riding our boards.
How are you working with retailers to promote the brand and products?
We have a selective approach to retail, wanting to work closely with a few shops. Our goal is definitely not going mainstream as we want to stay a premium brand. We're doing Stranda nights and on snow demos and splitboard tutorials in partnership with retailers; building local following from word to mouth.