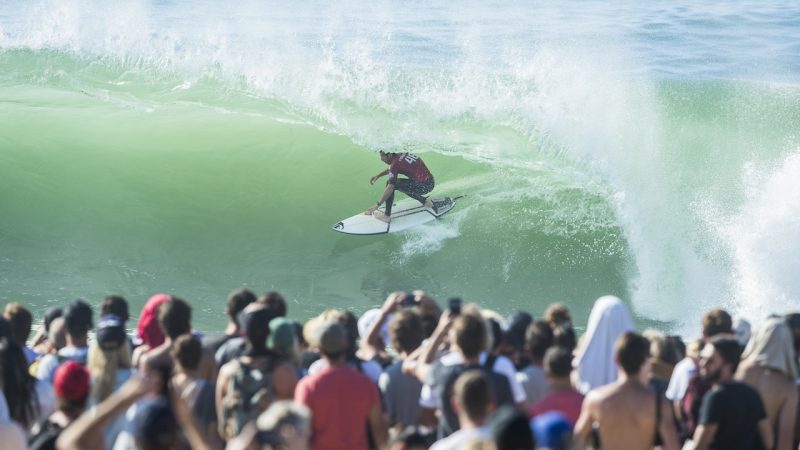 Source Speaks To WSL's Francisco Spinola + Brodie Carr On Future Of Brand Partnerships
Following the news that the WSL had partnered with the Front Foot Agency (FFA) to progress their commercial development within the EMEA region, SOURCE Ed-in-Chief Harry Mitchell Thompson interviewed FFA's Brodie Carr and Francisco Spinola, WSL's EMEA General Manager, to find out more.
Brodie tells us what he's been up to the past 10 years since leaving the ASP, explains more about his company FFA and what they bring to the WSL. The WSL's Francisco Spinola tells us about the new partnership from their end and we discover their pair's thoughts on the future of brand partnerships in the surf industry.

Brodie, can you tell us a bit about what you've been up to? It's nearly 10 years since you left the ASP…
When I left ASP, I set up my own sports marketing brand sponsorship agency called Front Foot Agency, based in the South West of France. We focused on the youth lifestyle space, especially in surf. We ran events and did the first ever women's world longboard tour event in China, which was the first ever professional surf event in China. We ran the first stadium event at Surf Snowdonia with Red Bull. We went to Peru. We did a lot of event activations, sponsorships, and partnerships. Then, I basically closed the company down. My wife and I decided that we wanted to move to Australia. At the time, I didn't have much of an idea of what I'd do there. And then I landed a job with Tourism Western Australia.
I'm from Western Australia. So, I feel like I sell Western Australia every day of the week, telling stories that no one has ever heard, selling Western Australia because it's a great place. So I was really lucky when I got a job with the government there.
Tourism Western Australia is a government entity, which focuses on tourism and events. Tourism WA are long-time partners with the WSL for Margaret River, and now for Rottnest as well. It's an amazing, amazing job; it's allowed me to broaden my skillset, and it's more than just sports marketing and events, the job has involved viewing events from a tourism perspective: why you do events and what drives visitors to come.
Also, Tourism WA funds pretty much the whole event, which is very similar in a lot of other markets around the world. Building dream destinations and marketing them, really can pay off. There are a lot of visitors, but it also brings a lot of growth to the economy.
And then I ended up back in Europe… my wife is French and she wanted to move back to Europe. As a result, Francisco and I started talking about how we could work together, and how I could help him and the WSL here in Europe and EMEA. And this is where we've landed.
From your side of things Brodie, what does FFA bring to WSL, EMEA? Is it endemic surf brand partnership or mainstream?
I might just step a little bit sideways here, but what you find with a lot of traditional sports marketing agencies that don't live in this space, is that they can't do the final sell of a product because they're not passionate about it. And it's something that Francisco is really passionate about and something I'm really passionate about. So that's what FFA brings. We're confident that if we can get brands to the table where we can do the final sell, then we can do exactly that, sell to them. We know the product.
And I guess to answer your question directly, what does FFA bring? We bring a good network of brands and partners across both core and non-core. The WSL has core pretty covered. And really, my remit is to go wider than the core, but to help with the core where I can. But they've got it covered. FFA will enable the WSL to go wider by using my network and contacts which will enable growth of the sponsorship and partnership landscape in Europe.
And when you think about it, a lot of your major companies and brands have a very strong European footprint, mostly in France, Germany, the UK and so forth. So, it's just having that dedicated resource to be able to sell the dream, sell the lifestyle that live every day. A major benefit of being here in France is that we are in the same time zone as everyone else is to be able to talk to people.
Primarily my initial focus is going to be on brand partners and not so much on the events space, we'll focus on brand partnerships for the existing events that we have. We already have a good portfolio, but we want to grow our event platform. Our existing events are already great events; however, we want to make sure that we are bringing in the right level of partnerships to the existing events we have.
For me something really interesting is how the partnership and brand partnership model has changed so much recently in the last five to 10 years. In terms of 10 years ago, you had a banner, you did events, but now, everything's so much more quantifiable digitally. What does a brand partnership look like for you nowadays for 2021?
I'll talk about it in a few different ways. One, WSL has really grown their portfolio of properties that they offer. When I was with ASP, we really just had events. Now there's tours and events and there's the original content that they're making, and then there's the digital platforms. They  work better with the athletes and influencers these days than they did in the past. That didn't exist as a digital footprint. Athletes didn't have their own audience. Now they have their own audience. So the actual spread of offering WSL has, has probably gone from one to five now. We didn't have that before. Therefore, the environment is a lot more complex, but it's a lot easier to find the right platform for a sponsor.
When a sponsor comes on board, in the past, we weren't always be able to leverage in an athlete or leverage in original content or leverage in some other element. We can do all those facets now, which is great, and because they all want different outcomes, having that whole suite of offerings is brilliant.
The other thing, which I think is really, really attractive, especially for this year for brands, is that beaches are going to be packed this summer – we're already seeing it. It's going to be the biggest summer ever on the beach. A lot of brands haven't been able to do their typical marketing at sports events. There's no people in stadiums or at music festivals. But the beach and the outdoors are environments that are still open and happening.
I think this is probably one of the best opportunities a brand is going to have to be able to get that authentic fit, marketing a great lifestyle, being at the beach, being in the sun, and to have your brand right in there. In some ways, we're really fortunate because we've got most of the market cornered in some way.
Francisco, could you give me your perspective, and the WSL's perspective, on why you guys are bringing in Brodie and FFA please?
I've been around the WSL for a long time. At ASP, I was a licensee. I initially worked in retail and that's how we started. We had the Rip Curl Pro Surf in Portugal back in the day, 12 years ago. I had really strong relationship with ASP and Brodie was the CEO at the time, and as a result we had a really strong relationship. I experienced and lived through this process of transition from the old ASP to the WSL. And like Brodie said, the WSL grew a lot. We're no longer just event organisers or an events company. Obviously, our main purpose will still be to crown the world champions in world class events. But the WSL has a lot more things now with much larger media deals and media rights deals around our events and our platform.
We created, as you know, a really, really strong digital platform, one that very few sports have the ability to do. We've done this through combining the content created via our studio strategy with the content from the athletes that we've been working with a lot, a few of which are big global stars. On top of creating content, we were also able to create new products; and both of these together have grown the WSL.
Although the WSL is such an old institution and the ASP had been around for many years, we felt like these last five/six years have almost been like a start-up business; where you invest a lot, where you experiment with a lot of different things to try to reach the biggest audience you can, to reach the biggest brands in the world, to try to lure them into this fantastic world of professional surfing.
And yes, we initially had a lot of people from outside of surfing and outside of the industry on board because we were so focused. We're surfers and I'm a surfer as well. We were so focused on the core, on professional surfing itself that we felt like we needed something that's more like a mainstream approach.
Then when we started to work on the long term. We're at a point where I felt it was right the time to bring in people that really understand, to help out, to achieve this balanced mix between the mainstream and the core. You need people that can talk to both. People that understand the specifics of surfing, people that live and breathe surfing, and people that are passionate about surfing. Because it's not easy.
I mean, Portugal these days is a perfect example, it's a lot easier for me now than 15 years ago when I first started, when I would go to a company in Lisbon and try to sell surfing. It was a bit awkward for them to invest so much in a sport that didn't have the reach that the traditional sports had, like football.
Since then, we created a platform and a greater following by demonstrating our passion and through our living the dream, by selling the dream. And I think that Brodie has that. He's obviously very experienced, knows WSL and ASP really well. He's a surfer, he's from a surfing family. His company and the company's culture can bring and add value to our organisation.
Are there particular parts of EMEA that you're looking to develop? What do you see as being the biggest opportunities for development in EMEA?
Francisco: EMEA is such a big and challenging region, there are so many different countries and so many different languages and cultures. Subsequently, it's really hard. Brodie and I, we know that we will need to work with partnerships locally, whether it's agencies or individuals, the same way we have been doing.
But we don't want to tackle everything at once. We are reinforcing and increasing, this is our initial strategy; increasing the existing products and properties that we already have, which are really good. And with a little bit more effort, we can really boost it, such as the events that we already have in France, which are amazing world-class events, and we want to show these events to the businesses that will be definitely interested in being part of this world.
Also, we will start working on reinforcing Portugal's position, which is really good at the moment. It's been a very good operation for the World Surf League. Then we want to reinforce the traditional surfing countries like UK and Spain, doing so in Europe is very important. Because we really need to set up in regions where it's already possible to hold world class events first. Then you have countries that have really strong audience on our platform which don't have good surf, like Germany for instance, where we have such a huge fan base and such big opportunities for brands that have the ability to become pan-European, or even for global brands to partner with us.
But definitely now, over the next six months – one year, what we really want is to reinforce the countries where we know we can set up our operations and solidify them to get that. In the EMEA region itself, we have an event in Israel at the moment, where we have a partner there. It's a very specific country with a very specific event.
And obviously, we have Africa where we had to postpone the event because of COVID. But we have that really great event that we had organised last year near Agadir, in Taghazout (Morocco) which was amazing, it had really good waves at a perfect time of the year. So, it's an event that we really want to boost as well.
Then there's South Africa, where we have two important events, like the WCT and the Challenger Series in Ballito. But in South Africa, we also have a proper tour manager working with us, a long time WSL employee. But definitely, it's a country and an area that we're going to be focusing on immediately, in the same way that we focused on the countries where we run our main events.
Are wave pools part of your DNA and your footprint going forward in EMEA?
Francisco: Well, at the moment we don't have any projects in the pipeline. We had some discussions with governments and some partners and developers, but we don't have an ongoing project in EMEA at the moment.
I know that things are obviously pretty unknown at the moment, and obviously the WSL CT was supposed to hit Portugal last month, but what is plan A at the moment for the rest of the year, and what's plan B?
Francisco: At the moment, it's ongoing as you know. The surfers just finished quarantine and the whole tour is in Australia. We're very lucky to have made it to Australia. Everything is completely lined up for the four events that we're running there. At the end of the Australian leg, five events of the world tour are already done.
And this is exactly what we are planning at the moment. We're in discussions with what's coming next. Because, as you know, this is such a challenging environment at the moment with the different scenarios changing.
What we can assure the fans and everyone in the surfing world is that the safety of our athletes and staff is definitely our number one priority. So, we're not going to take any risks whatsoever. And obviously we never forget that crowning the world champion is the company's main goal. But definitely, the safety of our athletes and staff, and the ones around them, are priority number one. So, we're going to keep assessing and talking to the government and officials to see how we can make it happen. And if we can make it happen, with regards to the safety of everyone involved.