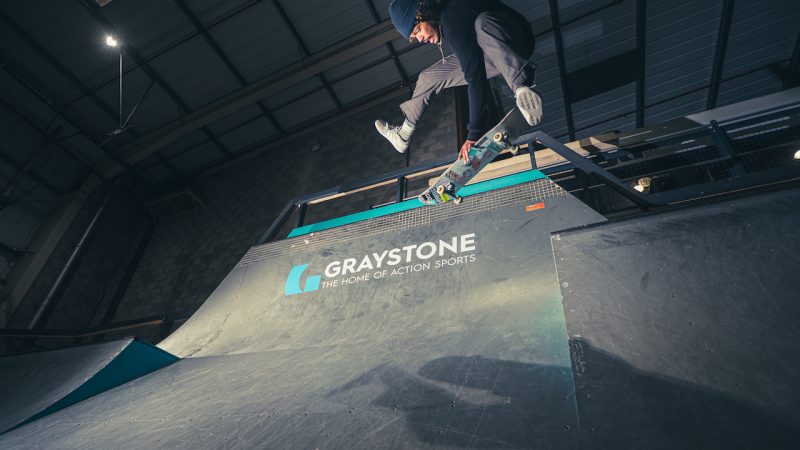 Graystone Action Sports Hosts British National Champs of Skateboarding This Weekend
Graystone Action Sports in Manchester will host the 2021 British National Championships of Skateboarding on Sunday, April 11th. Originally scheduled to take place in March 2020, the event has been given the green light to go ahead – albeit it behind closed doors – this weekend and holds significant weighting towards qualification for the 2021 Tokyo Olympics. The event is invite only for competitors and will be available to watch on the BBC Red Button plus Graystone's YouTube Channel.
Press Release: Skateboard GB announced that the Skateboarding National Championships will be held at Graystone Action Sports Academy in Manchester on 11th April 2021.
The one-day competition will be the only British Olympic qualification event leading up to the 2021 Olympic Games in Tokyo, with skateboarders competing for qualification points and £7,000 in cash prizes.
The event's hosting and timing will enable British skateboarders hoping to qualify for the Tokyo Olympic Games the opportunity to gain Olympic qualifying points. It will also allow them to compete in the other upcoming qualification events, which skateboarding's International Federation has recently announced will re-start in May.
The competition will feature both Olympic skateboarding disciplines of street and park, will be contested by 32 men and women from across the UK, with eight skaters per discipline. Equal prize money will be awarded to both.
The event will feature some of the UK's finest skateboarders on an invite-only basis, including the five Skateboard GB Aspiration funded riders; Sam Beckett, Sky Brown, Alex Decunha, Alex Hallford and Jordan Thackeray. Skateboarders have been invited based on World Skate ranking and points scored at the 2019 National Championships. Girls Skate UK has helped the selection committee to fill the women's quota places, taking into account world ranking places, previous competition experience and results as well as reviewing recent video footage.
Due to strict Covid-19 restrictions, permission had to be obtained from Government to hold the event, which must meet extensive Covid-19 regulations and protocols. The event will look very different from what it has previously, with a reduced number of skateboarders, no spectators and Covid-19 lateral flow tests for everyone taking part.
Skateboard GB's 2020 National Championships had to be cancelled at short notice due to the first national lockdown. With continued restrictions limiting the number of skateboarders able to take part this year, Skateboard GB has plans to host a "Virtual National Championships" during the summer. This virtual competition will give skateboarders across the UK an opportunity to compete on a national level.
Skateboard GB CEO James Hope-Gill said: "We are really excited to be hosting the National Championships in an Olympic year. It's been incredibly difficult to organise with current Covid restrictions and we are happy to have found a solution that adheres to legislation and where the top skateboarders can compete in a safe environment and gain essential Olympic qualifying points."
Abba Newbery, Chief Marketing Officer, Habito, the online mortgage company, said, "It's great to be back supporting the UK Skateboarding Championships for the third year running. While mortgages and skateboards aren't worlds that often collide, at Habito we do things a bit differently. We know just how much a vibrant skateboarding scene can add to an area's sense of community, to its culture, and make a town or city a great place to live. With potential Olympic glory waiting for Team GB in Tokyo, it's a really exciting time for skateboarding and we're excited to be back as the main sponsor at the UK Championships 2021."
Kevin Gray, Co-founder at Graystone Action Sports said "As The Home of Action Sports, Graystone is once again delighted to be hosting the National Skateboard Champs in 2021. We feel privileged to be part of such a momentous year for skateboard," Kevin Gray, Co-Founder of Graystone Action Sports."
The competition will be broadcast live on BBC iPlayer, BBC Red Button and the BBC website from 6 pm on Sunday 11th April 2021.
Skateboard GB's 2021 National Championships is kindly supported by Habito, Tech Deck, Skatehut, DC, AquaPax and Triple 8.
Invited skaters:
MALE STREET⠀
Alex Decunha @alexdecunha ⠀
Joe Hinson @joehinson ⠀
George Poole @georgep00le ⠀
Rikk Fields @rikkfields ⠀
Eddie Belvedere @eddiebelvedere ⠀
Adam Keats @keatsy09 ⠀
Tom Keatman @tomkskater
Niall Gillroy @niallgilroy ⠀
⠀
FEMALE STREET⠀
Freya Brooks @freyabrooks ⠀
Amy Ram @amy_ram ⠀
Lily Grace @lilygraceae ⠀
Roxanna Howlett @roxsk8girl ⠀
Lucy Adams @lucyadamsskate ⠀
Bethany Rickard @bethany_rickard ⠀
Jess Russell @jeffruffell ⠀
Kizzy Yuill @kingkizla
⠀
MALE PARK⠀
Alex Hallford @siddhallford ⠀
Matt Beer @beer.mat ⠀
Jordan Thackeray @jthaxx_hys ⠀
Sam Beckett @stew_bacca⠀
Rio O'Byrne @rioobyrne
Chris Baillie @captainpinger
Sox @libertyandwisdom
Akin Hendricks @akin_hendricks
⠀
FEMALE PARK⠀
Bombette Martin @bombette_martin
Lola Tambling @lola_t_
Stefani Nurding @stefaninurdingxx
Lily Strachan @lillyskate28
Miriam Nelson @miriam_sk8
Paige Bassom @original_bassom
Molly Seed @molly.seed_skates
Zaynab Miah @zaynabmiah_