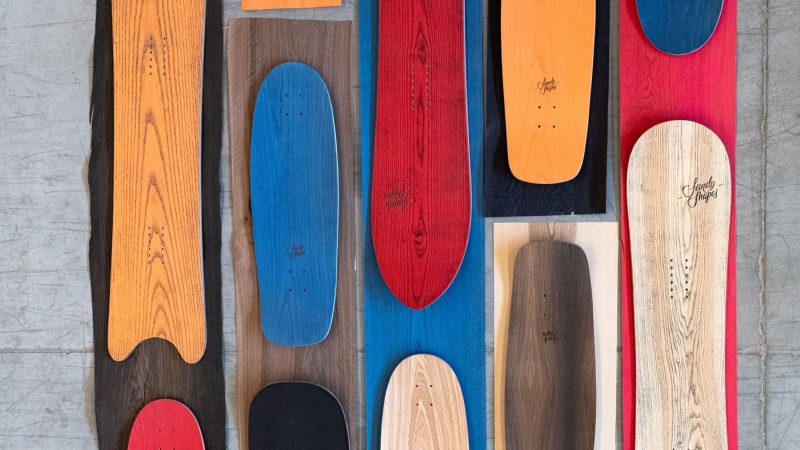 Sandy Shapes Slides Into Skateboarding With Surfskate Collection
Utilising the natural wood cut offs from their snowboards, Italian snowboard brand Sandy Shapes has expanded into the world of skateboarding.
For their first foray into skateboarding, Sandy Shapes has launched 3 surfskate models: the short and playful Mediterraneo, the easy-rider Pacifico and speedy sea-front cruiser, the Tropicale. Sandy Shapes Founder Alessandro 'Sandy' Marchi gave SOURCE an insight into the history of the brand, their dedication to sustainability and their new surfskate line.
Please give us a brief history of Sandy Shapes.
Based in Friuli Venezia Giulia in Italy, Sandy Shapes officially appeared on the market in 2016, when the company began to design and produce snowboards. However, the idea was born many years before, from the experienced gained by Alessandro 'Sandy' Marchi in the worlds of snowboarding and surfing; first as an athlete and coach, then entrepreneur and shaper. The independent company stands out thanks to a combination of artisanal production with state-of-the-art design and processing tools. Since the first 80 boards in 2016, Sandy Shapes has now produced over several hundred pieces, has dealers all over the world and also has its Wood Evolution™ patent. But the constructive philosophy has remained the same as the original one: to design and create snowboards that are unique thanks to the dedication to sustainability, fine Italian craftsmanship and the constant search for innovation.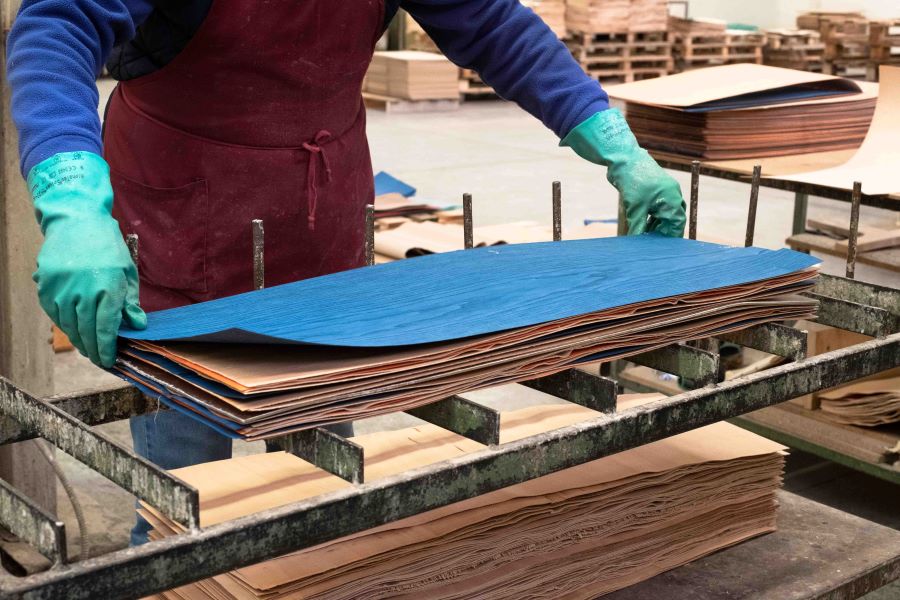 Please tell us about your move into skateboarding. Why did you take this step?
Sandy Shapes has grown alongside boardsports culture and experienced its evolution first-hand. Our interest in this culture has always been transversal and since the beginning it has influenced everything we have done. Currently, we see that the surfing, skateboarding, and snowboarding worlds are influencing each other more and more, evolving new disciplines and equipment. So, moving into skateboarding is a natural step for us, our skateboards maintain not only the same aesthetics but also the same values as our snowboards, such as sustainability and the world-renowned Italian design and production.
What do you see as being the benefits of being involved in both skate and snowboarding?
To grow, many snowboard brands end up moving into accessories or clothing, but we've decided to expand into skateboarding as it allows us to maintain the consistency and the values of our core business, as well as using some of the same materials and facilities. A huge benefit for us is that it provides a balance to the winter season snowboard business; this helps us both from an economic and communication point of view, not only with our end customers but also with our shops and resellers, who deal with all the boardsports.
Describe the skateboard line you are offering in your launch season.
Our first line consists of three different surfskate models:
Mediterraneo is our 'short' surfskate, a snappy and manoeuvrable deck for slides and fast cutbacks. It is designed for those want to take manoeuvres from the asphalt to the playful waves of the Mediterranean Sea. Its small size makes it portable and perfect for cruising around town, and suitable for small-footed riders, girls, and children.
Pacifico is our all-round surfskate, inspired by classic cruisers. Pacifico is not only the name of an ocean, but in Italian it also means peaceful, calm…like riding on this board. Its gentle concave and wide surface allow a greater control and stability while carving, and thanks to its smooth and comfortable ride it's the right deck to cruise around the city or to have fun with when snow or waves are scarce.
Tropicale is our most 'exotic' shape, a fishtail surfskate inspired by the surfboards. It's our largest model, with a good length and wide wheelbase that makes it comfortable and stable. It's also suitable for speeding and wide turns, as its generous concave shape delivers good grip and controlled movements. This board is best suited for old school surfers and long rides in open spaces, such as on the seafront promenades while waiting for the swell.
We've heard that you use the snowboard scrap materials in your skateboards.
Yes, our aim is to minimise our production waste, which led us to create a line of skateboards made directly from the scraps of the natural wood surfaces used for our snowboards. Since the raw material consists of 2.5m sheets, and the snowboards measure between 140 and 180 cm in length, we constantly had leftovers too small to be reused. We so decided to re-use them to create something new and unique, and that's how Sandy Shapes skateboards was born! Each deck is composed of 6 layers of beech wood, to obtain an optimal structure, and completed by the natural or coloured ash surface characteristic of our snowboards. At the moment we have announced our first line, but we will have different ones for all tastes, depending on the type and quantity of wood used.